Stammen taking positive approach to injury
Official prognosis on elbow injury to be made following surgery on Sunday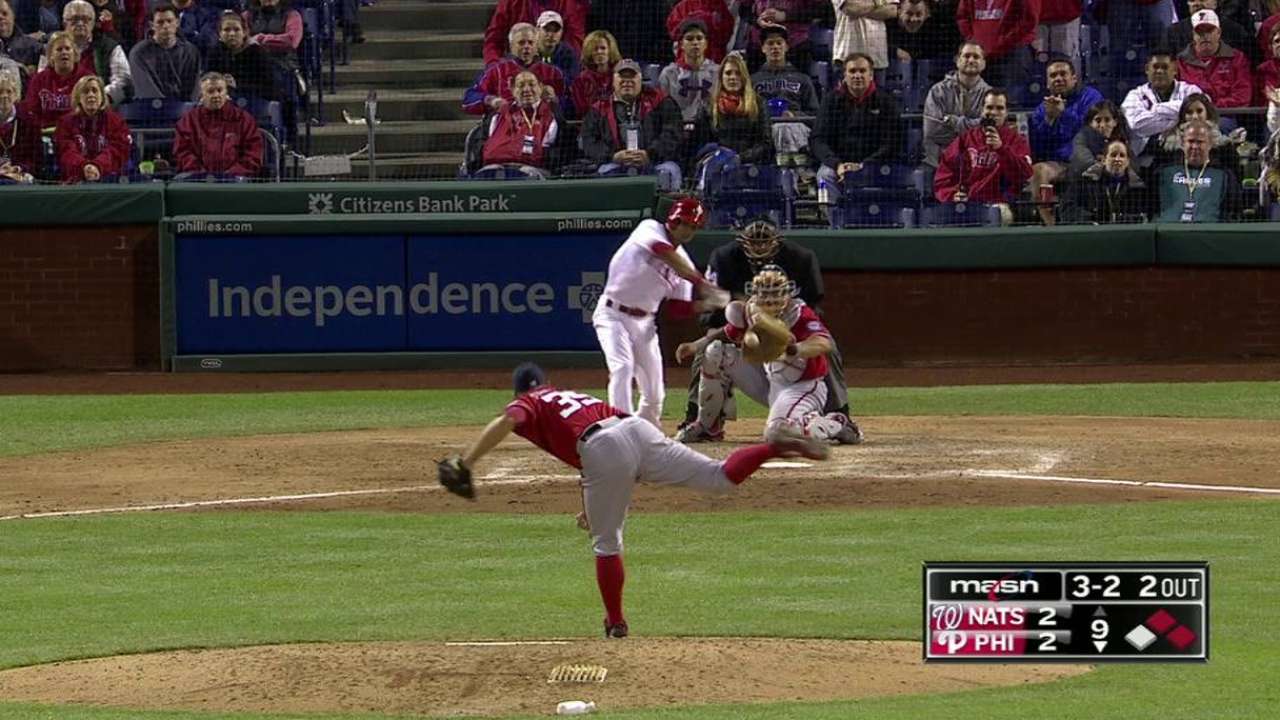 WASHINGTON -- When an MRI this week revealed that Craig Stammen had suffered a flexor tear in his right arm, the Nationals reliever didn't turn to self-pity. Instead, he accepted the challenge presented by a potentially season-ending injury.
"My initial reaction was probably like, 'Bring it on,'" said Stammen, who is scheduled to undergo surgery on Sunday in Washington. "There's just no point in having a bad attitude about it. If you have a bad attitude, you can't get anything from it. So I'm going to choose to take the good approach and stay positive and try to overcome it."
Stammen said he first developed discomfort while warming up on Sunday in Philadelphia, before pitching a scoreless inning. He then felt well enough to make himself available on Tuesday, but the pain worsened during a two-batter appearance that day in Boston.
While the flexor muscle near Stammen's elbow is partially torn and must be repaired, tests revealed no ligament damage. Still, it's quite possible Stammen's 2015 season is finished, though that won't be determined until the surgery.
"It kind of depends when they go in there what they see and what they find," he said. "So, we'll see. I'm praying for something that's good. But you never know -- it could be the rest of the year, it could be more than that."
The injury ends a long run of durability for Stammen, who is on the disabled list for the first time. His only other significant injury came in his rookie year, 2009, when bone spurs in his elbow kept him out of action in September, though expanded rosters made the DL unnecessary.
"This will definitely test my patience," Stammen said. "I'll miss the game, for sure, and find out why I really am playing this game."
The 31-year-old became a full-time member of the Washington bullpen in 2012. Since then, he leads the Majors with 246 2/3 relief innings, posting a 2.88 ERA in the process.
Throughout Stammen's baseball life, he always had been able to throw a lot without getting sore. But as manager Matt Williams said, pitching is "not a natural motion." For most pitchers, injuries strike eventually, and Stammen is no longer an exception.
"I think being a pitcher, you kind of go in knowing if you pitch long enough -- and I'm 31 years old -- sooner or later something's probably going to happen," Stammen said. "It's probably something you'll have to deal with at some point. A lot of people have overcome injuries, and I'm going to be at the top of that list."
Andrew Simon is a reporter for MLB.com. Follow him on Twitter @AndrewSimonMLB. This story was not subject to the approval of Major League Baseball or its clubs.