A-Rod collects first multi-HR game since 2012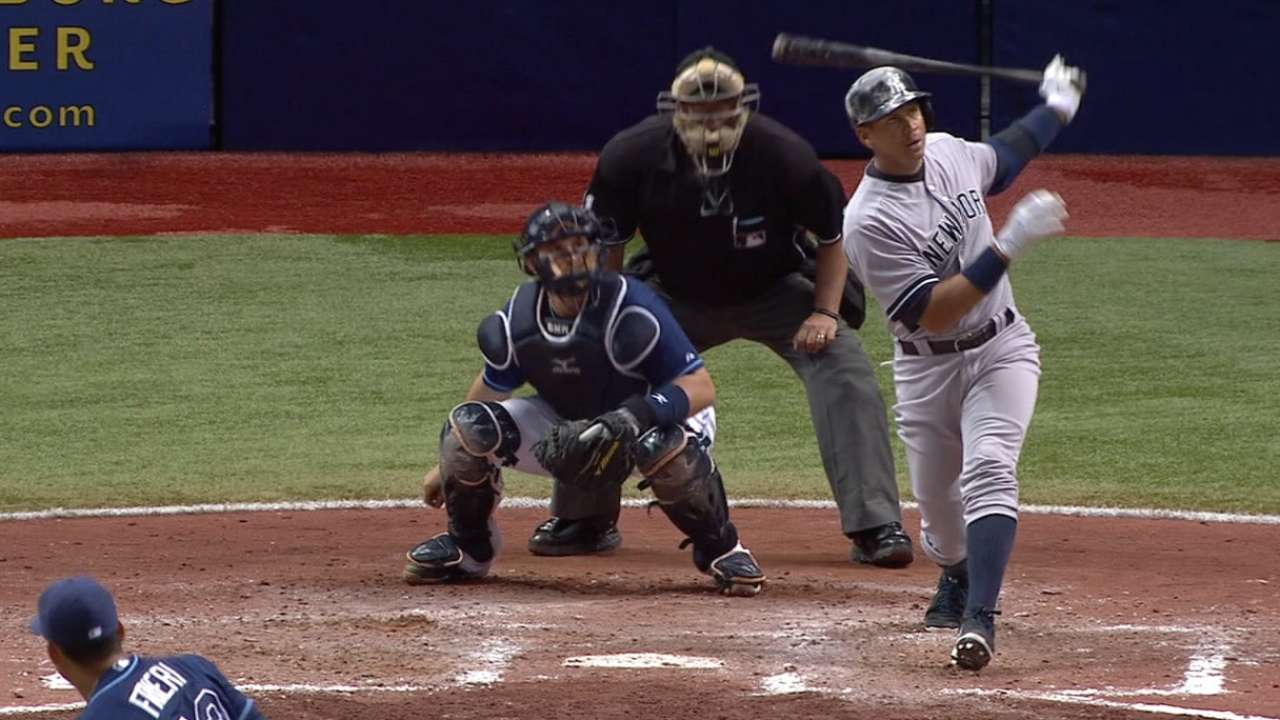 ST. PETERSBURG -- Alex Rodriguez insists that he isn't thinking about how many times he has circled the bases in his big league career, though his teammates seem well aware that the number now stands at 658. The slugger says that his focus is on continuing to hit the ball hard and help the Yankees win games.
Rodriguez continues to swing the hottest bat in the Yankees' lineup, celebrating the 61st multi-homer game of his career on Friday and powering New York's 5-4 victory over the Rays at Tropicana Field, collecting three hits and driving in four runs.
"I saw the ball well tonight," Rodriguez said. "I got some good pitches to hit and put my 'A' swing on [them]."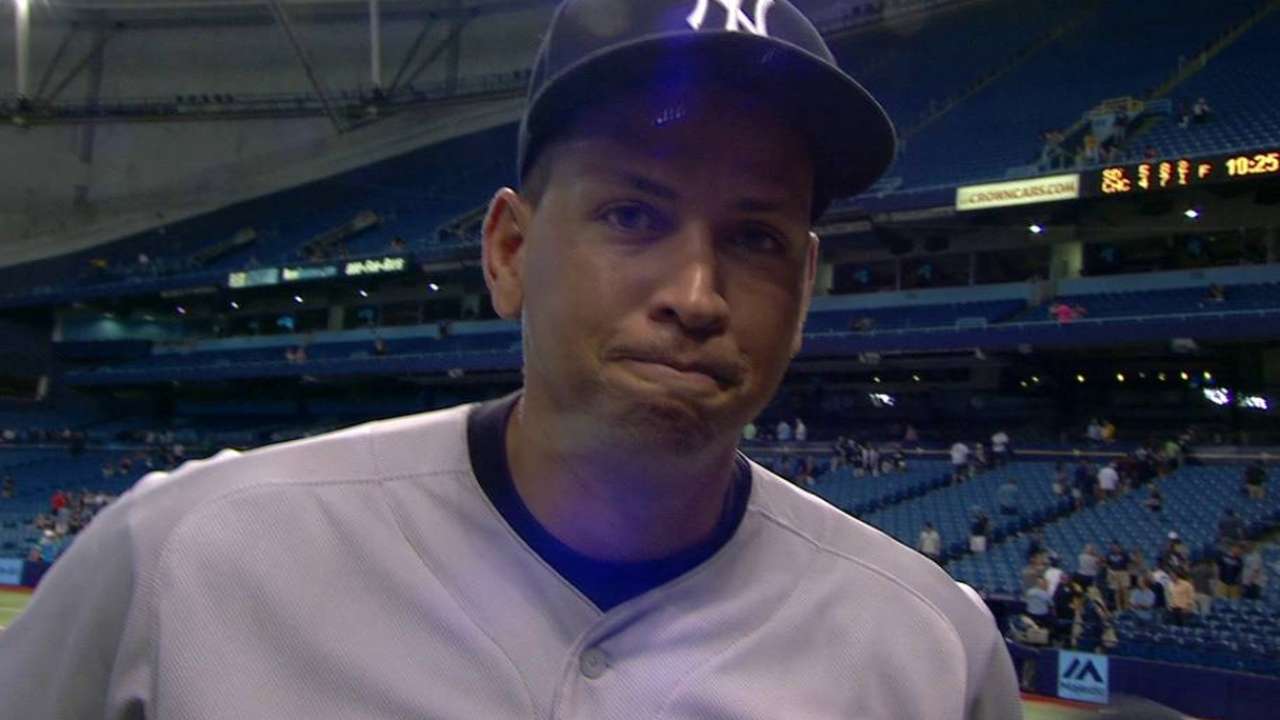 Both of Rodriguez's homers were impressive highlight-reel shots. His second-inning blast to left-center field off Tampa Bay right-hander Nathan Karns was estimated at 471 feet by MLB Advanced Media, making it the longest homer hit in the Majors this season.
"It felt good," Rodriguez said. "It certainly felt good."
Rodriguez added to his total with a game-tying two-run shot off Ernesto Frieri in the sixth inning, a drive to left field that came off the bat at 111 mph -- the hardest-hit homer in the Majors this year -- and is said to have traveled 400 feet.
"He's hit 658 homers now, is that right?" said Yankees reliever Andrew Miller. "We shouldn't be surprised that Alex knows how to hit. He's a professional hitter and he's really good at that. We're just glad he's healthy and he's on our side, because right now, he's been a big part of our offense."
It marked Rodriguez's first multi-homer game since May 23, 2012, vs. Kansas City. At 39 years and 264 days old, Rodriguez became the third-oldest Yankee with a multi-homer game since 1914; the only ones to do it at an older age were Enos Slaughter (1959) and Raul Ibanez (twice in 2012).
"First of all, more than anything, I'm just feeling very grateful to be back playing baseball," Rodriguez said. "I'm very grateful to Hank and Hal [Steinbrenner] for giving me the opportunity to put the uniform on again. It's something I don't take for granted, and it's much appreciated. It just feels good to be playing baseball. I'm having fun out there."
Rodriguez is batting .344 through 32 at-bats, most of which have come as a designated hitter. Yankees manager Joe Girardi said that he plans to continue working Rodriguez in at first and third bases on occasion.
"I thought he would be productive," Girardi said. "I didn't know what exactly we were going to get or how much we could play him when we got him back. As I've said all along about Alex, one thing he does is he works and he's very mechanically sound, and it's paying off."
The homers were worth buzzing about, yet the hit that the Yankees seemed most excited about was Rodriguez's eighth-inning single to center field off Kevin Jepsen, driving home pinch-runner Brett Gardner with the go-ahead run after Gardner's steal of second base.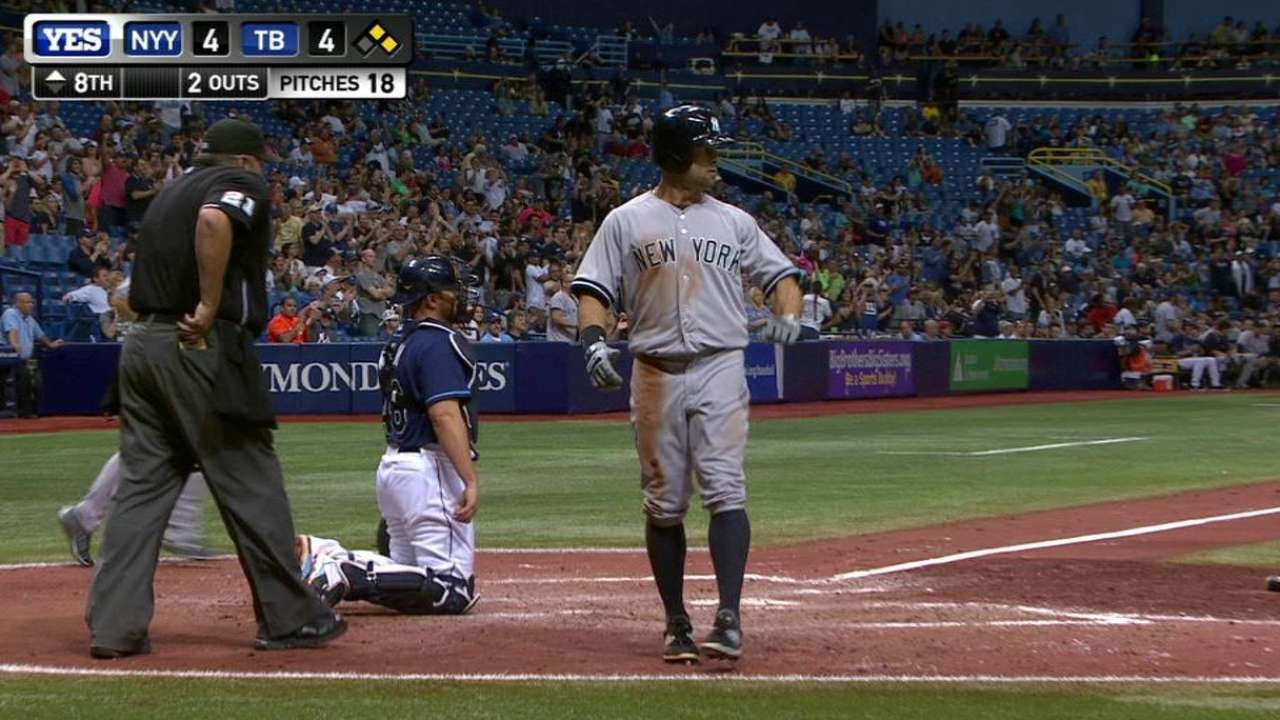 "He looks pretty good," Gardner said. "It's pretty impressive, you know, to take all the time off that he's taken off. He's no spring chicken anymore, either, but the bat speed, his bat's really, really quick through the zone. He's taking good swings. It's a lot of fun to see."
Rodriguez is currently fifth on the all-time home run list. Willie Mays (660) is fourth.
Bryan Hoch is a reporter for MLB.com. Follow him on Twitter @bryanhoch and read his MLBlog, Bombers Beat. This story was not subject to the approval of Major League Baseball or its clubs.