Miller finishes off solid effort by Yanks' bullpen vs. Rays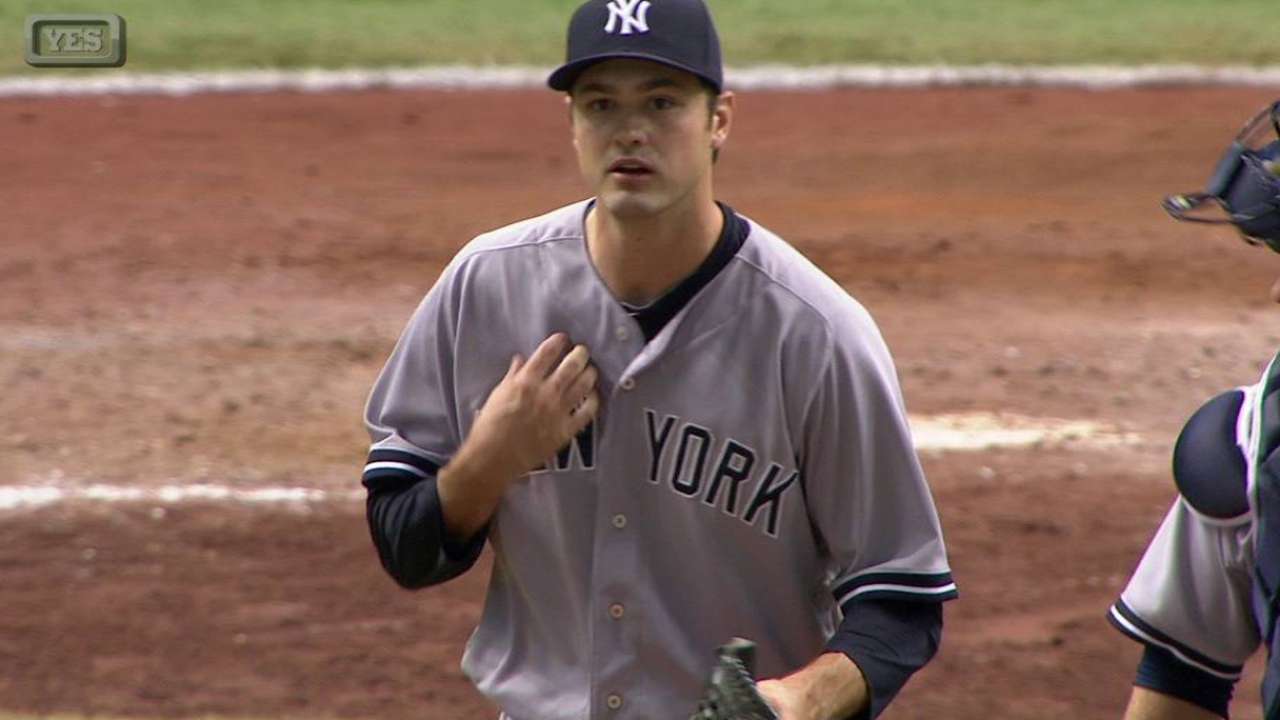 ST. PETERSBURG -- The bullpen phone rang last for Andrew Miller once again, and though the Yankees have not officially named Miller as their closer, he certainly appears to be comfortable handling the duties of the ninth inning.
Miller recorded the final four outs of the Yankees' 5-4 victory over the Rays on Friday at Tropicana Field, securing his third save of the season in as many opportunities. He was preceded by Dellin Betances, who logged three outs around a hit in his sharpest outing of the young season.
"This is what I signed up for," Miller said. "That's what I told them all along. They asked me if I needed to be told I had a certain role or anything like that, and I told them no, and that was the truth. I've been telling you guys that all along, and that's really what it is.
"I think for me, I'm fortunate. I've got a nice contract that's going to take care of me for a while. However they see fit to use me, they can go for it. I'll do whatever they ask and give them everything I've got."
Miller, who inked a four-year, $36 million pact with the Yankees this past winter, has permitted just one hit over his first four appearances for his new club, spanning five innings. Betances endured a shaky spring and has permitted 11 baserunners in 5 1/3 innings, yet has not allowed an earned run.
"If this is him struggling, we'll take it every time, because he's putting up zeros and giving us a chance," Miller said.
The Yanks' bullpen as a whole worked spotlessly in relief of starter Adam Warren, who allowed four runs and six hits in four innings.
"They were huge. They did a phenomenal job, picked me up," Warren said. "Obviously, that we won makes me feel better about the outing. There's a lot of things I want to work on between this and the next outing, but I think they did a great job picking me up, and they've done a great job so far this year."
Esmil Rogers retired seven of eight and Justin Wilson struck out the only batter he faced, getting the ball to the tandem of Betances and Miller for the final seven outs. It's a formula that Miller wouldn't mind being a part of a few dozen more times.
"We've shown bits and pieces of it, and over the course of the season, you want to be able to put whoever in the game and trust them," Miller said. "I think we've got everybody to do that, we just need to go out there and take care of business."
Bryan Hoch is a reporter for MLB.com. Follow him on Twitter @bryanhoch and read his MLBlog, Bombers Beat. This story was not subject to the approval of Major League Baseball or its clubs.