MLB.com Columnist
Hal Bodley
Rays exceeding outside expectations early in season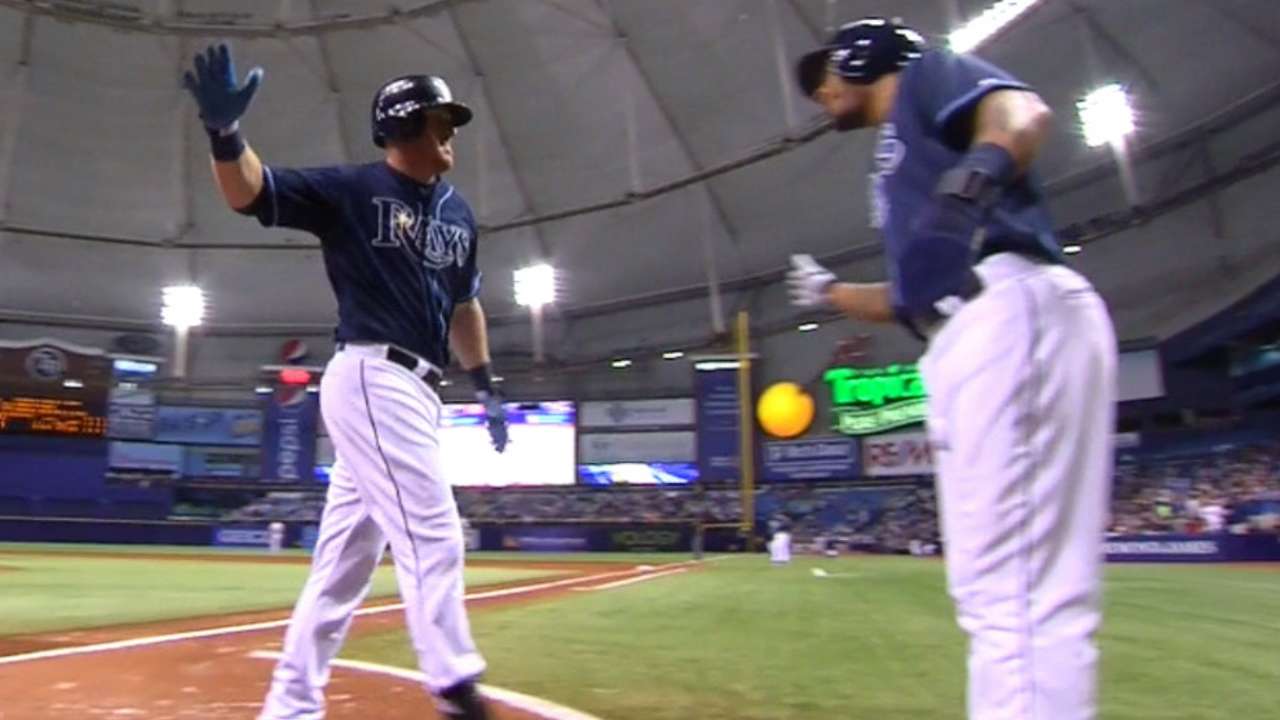 ST. PETERSBURG -- Alex Rodriguez single-handedly dealt the Rays a jarring 5-4 setback Friday night, and the much-maligned Yankees slugger obviously created most of the buzz as fans filed out of Tropicana Field.
It was a different story inside the Rays' clubhouse.
Sure, the young Rays praised A-Rod's two homers and game-winning single, but even in defeat, this team took another step toward maturity.
"Alex had a pretty big night, but I like a lot of the things we did," rookie skipper Kevin Cash said. "It was another good ballgame."
The season is barely underway -- just 11 games old -- but nobody expected the Rays to play as well as they have, especially with 11 players, including four starting pitchers and their closer, on the disabled list.
Instead of being at the bottom of the rugged American League East, as predicted, the Rays are in second place, a game and a half behind Boston. They've won five of their last seven games, and Rays fans are suddenly becoming attached to spirit and energy the club is showing.
Putting it bluntly, the Rays have been able to plug a lot of leaks.
The Yankees and their $218.7 million payroll? They're dead last with a 4-6 record.
Even in defeat Friday night, Cash kept repeating how many good signs he saw.
Like the way rookie pitcher Nathan Karns battled through five innings. And the three-run homer by Allan Dykstra, another rookie -- his first in the big leagues vaulting Tampa Bay ahead, 3-2, in the fourth inning. Moments later, Logan Forsythe tacked on another run with his homer.
With so many key pieces of this recast team out with injuries, much is being asked of the youngsters, many of whom thought they'd be in the Minor Leagues this spring.
"I heard a pretty interesting quote yesterday," Cash said. "Somebody said something about [pitcher] Chris Archer needing to step up. I probably have said that guys need to step up, too, but what [Archer] said makes more sense.
"Arch replies [to that comment]: 'Well, we don't need to step up, because if you weren't stepping up before, what were you doing?'"
When the 37-year-old Cash took over for the iconic Joe Maddon, who is now managing the Cubs, Cash had never managed at any level.
But after these 11 games, he's been able to patch this team together with rookies like Karns, Dykstra, Steven Souza Jr., et al. More importantly, he has them believing in themselves.
"These guys have gone out there and done it," said Cash. "The best thing is it brings you a little bit closer together, because there are newer faces, faces we maybe didn't anticipate in the clubhouse. It's been impressive to watch."
The corps of rookies?
"They've been providing some extra energy at times," Cash said. "You see some things and hear some things. It kind of lightens the clubhouse a little bit. It excites us as coaches to get to work with guys you haven't gotten to work with. It's been really good."
Rodriguez, suspended all of last season because of his involvement with PEDs, blasted a mammoth 471-foot homer off Karns in the second inning, then tied the game at 4 in the sixth with a two-run blast to left field.
His 200-foot single to center in the eighth scored pinch-runner Brett Gardner and gave the Yankees a 5-4 edge and the eventual victory.
Cash said, "The guy can hit. He can flat-out hit. It's almost funny when people say that he can't. What he did tonight, he's done for a lot of years."
If the early going is an indication, the 2015 Rays have a chance to be better than anyone expected.
When starters Alex Cobb, Drew Smyly, Alex Colome and Matt Moore return, along with closer Jake McGee, the Rays' pitching should be as strong as any in the division.
By early May, we should know for certain if the Rays are capable of playing winning baseball this season.
Between now and May 6, all their games are against AL East opponents.
You couldn't ask for a better shakedown cruise.
Hal Bodley is the senior correspondent for MLB.com. Follow him @halbodley on Twitter. This story was not subject to the approval of Major League Baseball or its clubs.