Longo serves as DH; Brett recalled for infield depth
Andriese announced as starter for Sunday's series finale vs. Yankees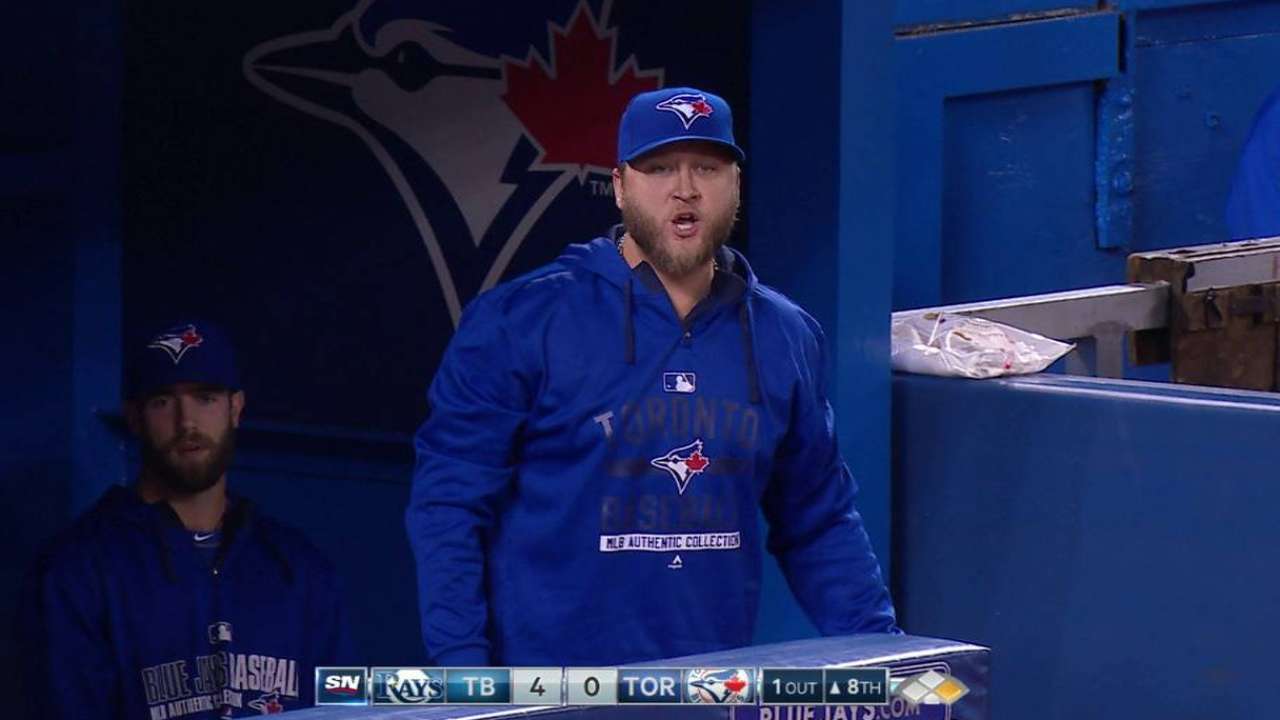 ST. PETERSBURG -- The Tampa Bay Rays announced several roster moves Friday afternoon, and named their starting pitcher for Sunday's game against the Yankees.
With Evan Longoria being used as a designated hitter Friday after being drilled in the hip during Thursday's game with Toronto, the Rays made a move to shore up their infield depth, recalling infielder Ryan Brett from Triple-A Durham.
To make room for Brett, Mikie Mahtook was optioned to Durham.
"With Longo getting hit last night and DHing today, we figured we needed some coverage in the infield," said Rays manager Kevin Cash.
With Longoria feeling well enough to DH, is there a return to the hot corner in the near future?
"I think so, he looks good," said Cash. "We were contemplating a DH day pretty soon, anyway. We didn't want it to come in this fashion, but hopefully just a day and then he'll be back out there."
In another roster move, left-handed pitcher Jeff Beliveau was placed on the 15-day disabled list with left shoulder soreness, with lefty C.J. Riefenhauser being called up from Durham to take his place.
"Jeff just hasn't felt right, a little shoulder stiffness, and [we] figured it's early, let's get him right," said Cash. "So now, it gives an opportunity for Riefenhauser to come up.
"In Spring Training, Jeff kind of complained of some dead arm a little bit here and there. Not a big issue, a lot of pitchers go through dead arm, but he just never got over that hump. Hopefully, 15 days will help with a little bit of rest. We expect to have him back soon."
Cash noted that Riefenhauser's skill set makes him a solid choice to fill Beliveau's spot on the pitching staff.
"He'll play a very similar role. He can provide left-on-left, and if we need a little length, he can pitch for a while also," said Cash of Riefenhauser.
Cash also confirmed that Matt Andriese, who made the first start of his Major League career on Tuesday against Toronto, will take the ball in Sunday's series finale against the Yankees.
This will be Andriese's first turn on four days' rest.
"And hopefully that will help," said Cash. "He did not have his best stuff [on Tuesday], but I thought that, for a young pitcher, he kept competing, kept us in the ballgame. A lot of times, when a guy doesn't have his best stuff, you can see that go in another direction, so credit to Matty for keeping us in the ballgame and giving us a chance to win."
Michael Kolligian is a contributor to MLB.com. This story was not subject to the approval of Major League Baseball or its clubs.