Mesoraco hopes to avoid trip to disabled list
With veteran limited to pinch-hit duty, Reds recall catcher Barnhart from Triple-A Louisville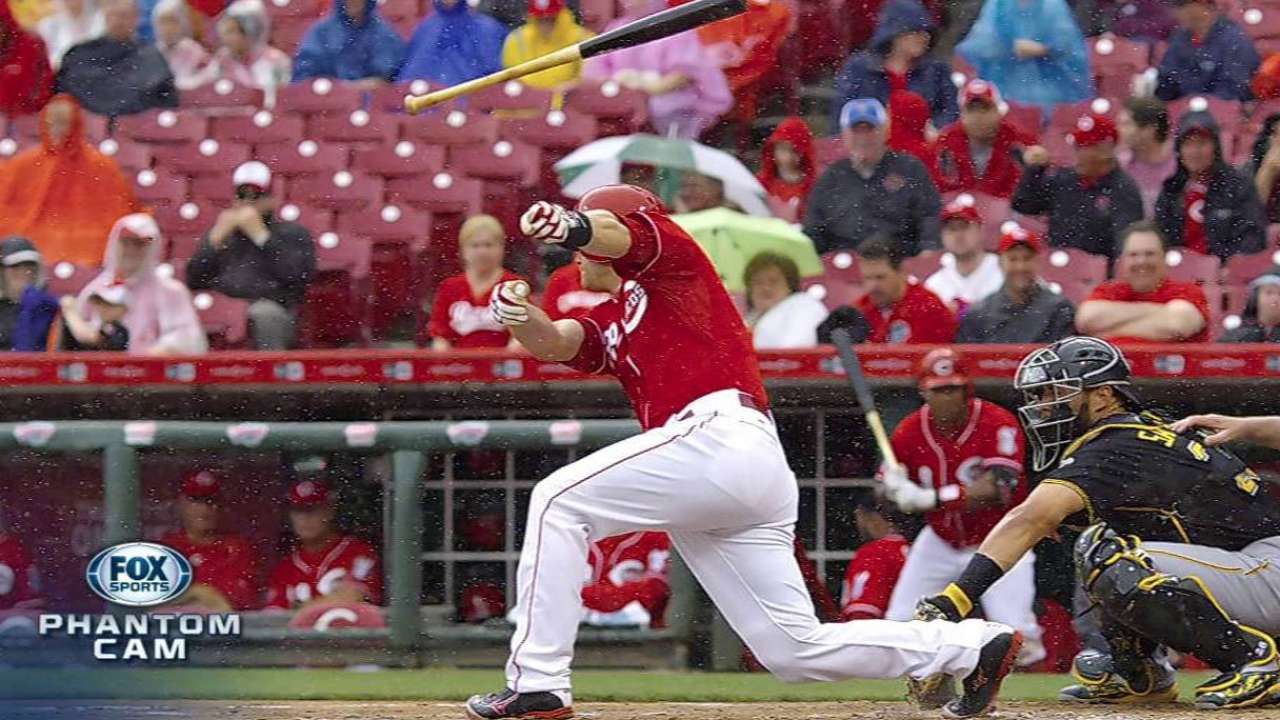 ST. LOUIS -- It appears the Reds are willing take some of what Devin Mesoraco can do rather than nothing at all. Following a three-game absence while the Reds were in Chicago, and he was in Cincinnati getting treatment for a sore left hip, the All-Star catcher rejoined the club at Busch Stadium on Friday.
However, Brayan Pena started a fourth straight game when the club opened the three-game series vs. the Cardinals. Mesoraco, battling a sore hip since playing all nine innings on Saturday, was available to come off the bench to hit on Friday, but he's not ready to catch in a game. The club is trying to avoid putting Mesoraco on the disabled list.
"I think at this point, if I wasn't able to contribute at all, I'm sure it'd be a DL thing. But right now, there will be certain ways I'll be able to go out there and be used," Mesoraco said. "I guess the biggest problem is there's an impingement there in my hip that is causing problems. We're just trying to see if we can't alleviate a lot of those problems to where it's not affecting anything."
Cincinnati also made an adjustment to its catching depth when Tucker Barnhart was recalled from Triple-A Louisville. Catcher Kyle Skipworth was optioned to Louisville to make room for Barnhart. Skipworth did not get into a game after he was called up from Double-A Pensacola on Monday as added catching protection when Mesoraco was injured.
As for when Mesoraco can catch in a game, the decision will be on a day-to-day basis.
"He has a little bit of inflammation in there, so we have to be sensitive to that and don't want to aggravate it and set him back any further, but he's available to hit," Reds manager Bryan Price said. "If we had to put him back there, we could, but we have other alternatives now with Tucker Barnhart here."
Of course, if the Reds use Mesoraco as a pinch-hitter and his hip worsens to where he needs to be placed on the DL, the clock starts over on time missed. He last appeared in a game as a pinch-hitter on Sunday.
"It's kind of a Catch 22," Price said. "In the end, if there's a situation to win the ballgame, and Devin's the best guy we have on the bench, I think it makes sense to utilize him. That's why he's here."
The hope is that rest will help Mesoraco's hip improve.
"I'm definitely worried. It's not a pulled muscle or something that you can easily do rehab to fix," Mesoraco said. "Hopefully it's a problem we can calm down and make it bearable to go out there and play. At the end of the day, it's definitely not a good thing."
Barnhart was batting .313 (5-for-16) with three doubles in five games for Louisville.
"I felt like I got off to a good start on both sides of the ball. It's always nice to get off to a hot start," Barnhart said. "I feel good at the plate, good behind the plate and just hope to keep it rolling."
Also, right-handed pitcher Daniel Corcino, who was designated for assignment on Monday, was claimed off waivers by the Dodgers.
Mark Sheldon is a reporter for MLB.com. Read his blog, Mark My Word, and follow him on Twitter @m_sheldon. This story was not subject to the approval of Major League Baseball or its clubs.