Bucs activate Stewart from DL, option Sanchez to Triple-A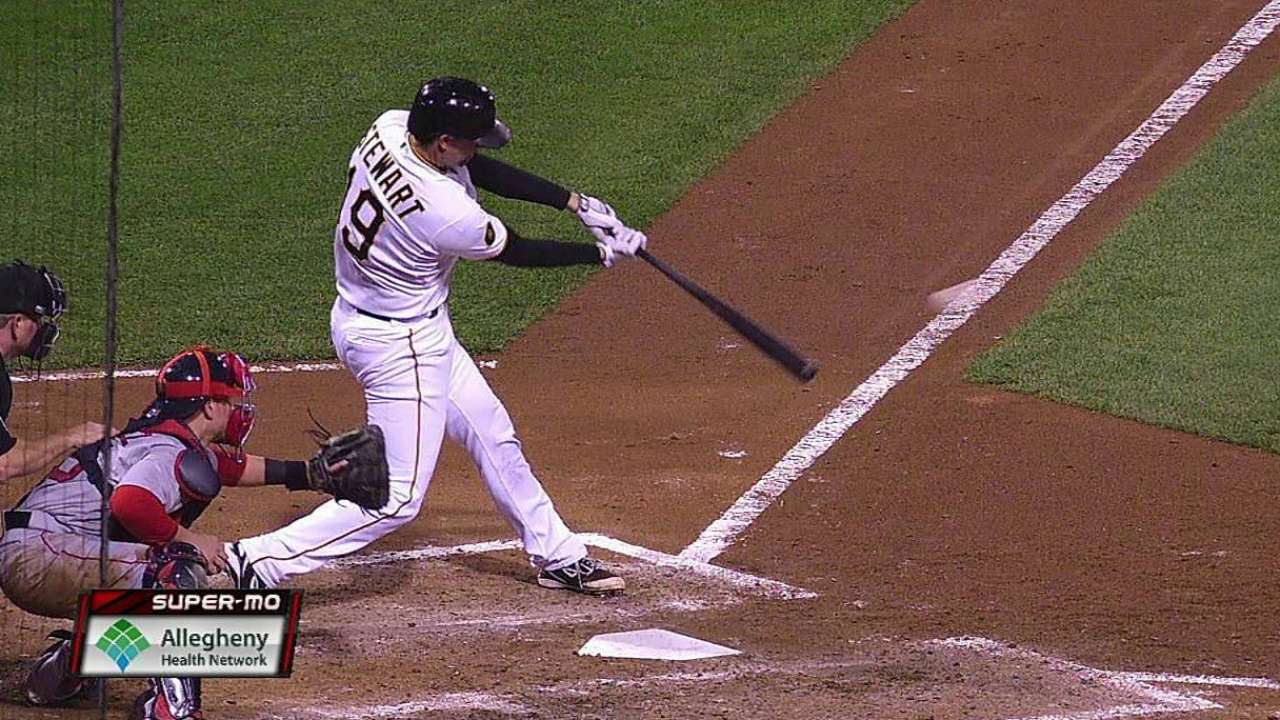 PITTSBURGH -- This was not the first time Tony Sanchez had been optioned to the Minor Leagues. Friday's news, however, was the toughest for the Pirates to deliver and for Sanchez to accept.
"It really stinks when you do everything they ask you to, and you still get sent out. But it's the nature of the beast," said Sanchez, who understood the necessity behind his fifth trip back to the Minors since his big league debut in June 2013.
He had to make way for veteran Chris Stewart, who had finished rehabbing from the right hamstring strain that had cleared room for Sanchez on the Opening Day roster.
The catcher had hit .364 in Spring Training and went 3-for-7 in his two regular-season starts, all along also getting props for all-around defensive improvement.
"He did nothing but add value to his position as a player in our organization," said manager Clint Hurdle. "We had a very professional conversation and told him this move, unlike any of the others, was because of player allocation. This was a mechanical move."
It doubtless was a professional conversation, but also heated.
"Yeah, I was upset," Sanchez said. "But that was the time to be upset, in the meeting. Now it's time to go to work. Nothing will motivate me more than getting optioned again."
At Triple-A Indianapolis, Sanchez will find himself in another awkward situation, sharing catching duties with Elias Diaz, late last year anointed by Pirates' decision makers as the team's new top catching prospect. When both were on the Indians' roster for the last month, Diaz caught and Sanchez played some first base.
"We're setting up a model. We'll figure out playing time," said Hurdle, "because we want to continue cultivating Diaz. But we want Tony to play, too. He needs to continue to build on what he has done, and be ready for the next opportunity. We'd go to him in the snap of a finger if there was an injury here."
As for Stewart, he went 6-for-18 in five rehab games with Double-A Altoona and Indianapolis and is likely to make his season debut during the weekend set with the Brewers.
"He's healthy, moving around," Hurdle said. "He met every marker on his rehab schedule. The reports from both (Curve and Indians) managers were very positive."
Tom Singer is a reporter for MLB.com and writes an MLBlog Change for a Nickel. Follow him on Twitter @Tom_Singer. This story was not subject to the approval of Major League Baseball or its clubs.