Sale-Martinez incident in rearview mirror
White Sox have no hard feelings, only care about beating division rivals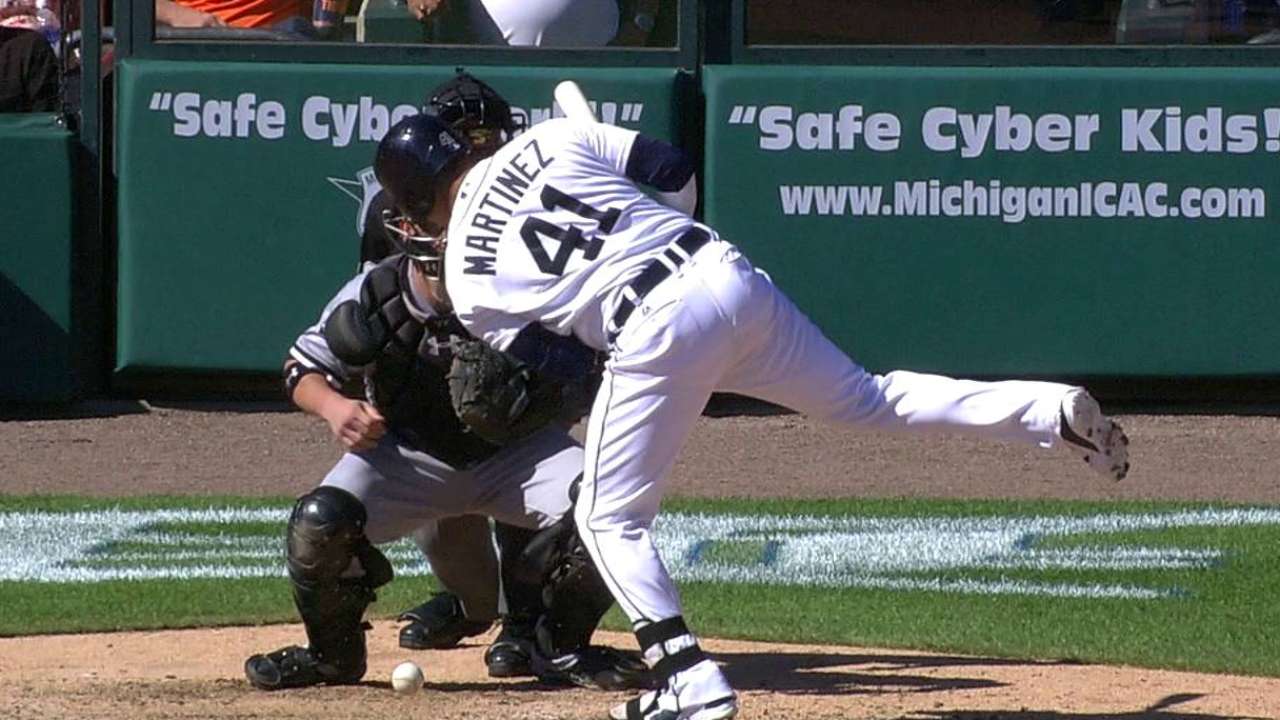 DETROIT -- If any residual hard feelings linger from last year's incident between Chris Sale and Victor Martinez on Sept. 24 at Comerica Park, the White Sox don't believe they will be on display this weekend in the teams' first meeting of 2015.
"We're here to play baseball. You guys can carry on what you want," White Sox manager Robin Ventura said, "but we're here to win a game."
"It hasn't been brought up at all this season until today by you people," White Sox catcher Tyler Flowers said. "So no, I don't think so. I think that was heat of the battle in the game kind of thing. We haven't discussed it since that time."
Martinez, the Tigers' usual designated hitter who was not in the lineup Friday afternoon, has dominated Sale career-wise to the tune of 15-for-29 with three homers and six RBIs. It was a head-to-head battle that the White Sox southpaw often joked about, until his final start of 2014.
The brief chaos started when Sale fanned Martinez in the third and tipped his cap twice toward center field. Flowers visited Sale twice on the mound during that at-bat.
In the sixth, Sale hit Martinez with a fastball and both benches cleared after the two exchanged words. No punches were thrown, although Sale pointed again toward center field, with warnings issued to both benches.
According to Martinez, he was told at the time by White Sox right fielder Avisail Garcia that the team believed Martinez was stealing signs with the help of someone in center field.
"And I'm like, 'Give me a break,'" said Martinez after the game last September.
That warning, and the fact that Detroit was pushing for the postseason and couldn't afford a retaliatory suspension, left some believing that the Tigers could carry over their anger into 2015.
Sale will start Saturday for the White Sox at Comerica Park. He declined comment on the matter Friday through a White Sox media relations staff member.
Ventura said that he talked to Tigers manager Brad Ausmus at the end of last year and saw him during the offseason at the Winter Meetings. But the White Sox haven't given the incident a second or third thought.
"Everybody else can scare up whatever they want," Ventura said.
"To my knowledge, nothing has been brought up about it," Flowers said. "You are probably talking more injuries or something to carry over through an offseason. That was the heat of the battle toward the end of a long and competitive season playing against each other, beating each other up. That was just part of it during that game."
Scott Merkin is a reporter for MLB.com. Read his blog, Merk's Works, and follow him on Twitter @scottmerkin. This story was not subject to the approval of Major League Baseball or its clubs.