Following pitchers' duel, Tigers walk off vs. White Sox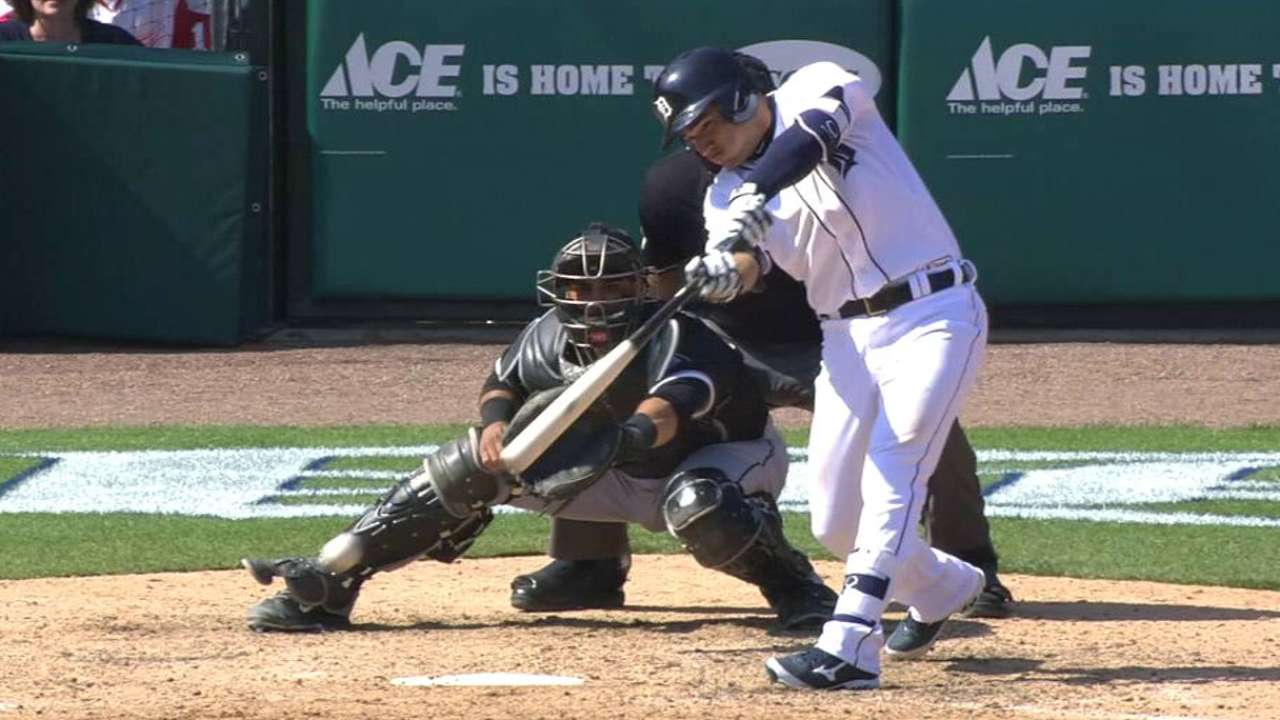 DETROIT -- A true pitchers' duel between Jeff Samardzija and David Price ended with a 2-1 Tigers victory over the White Sox when Jose Iglesias delivered a walk-off single against Chicago reliever Zach Duke at Comerica Park on Friday afternoon.
Nick Castellanos started the winning rally when Avisail Garcia couldn't hang on to Castellanos' sinking liner to right. Garcia fired the ball in to second as Castellanos tried to stretch his single into a double, but shortstop Alexei Ramirez missed the tag although the throw beat Castellanos to the bag. Alex Avila dropped down a sacrifice bunt to move pinch-runner Andrew Romine over to third, and then Iglesias laced a single into right-center field past the drawn-in infield.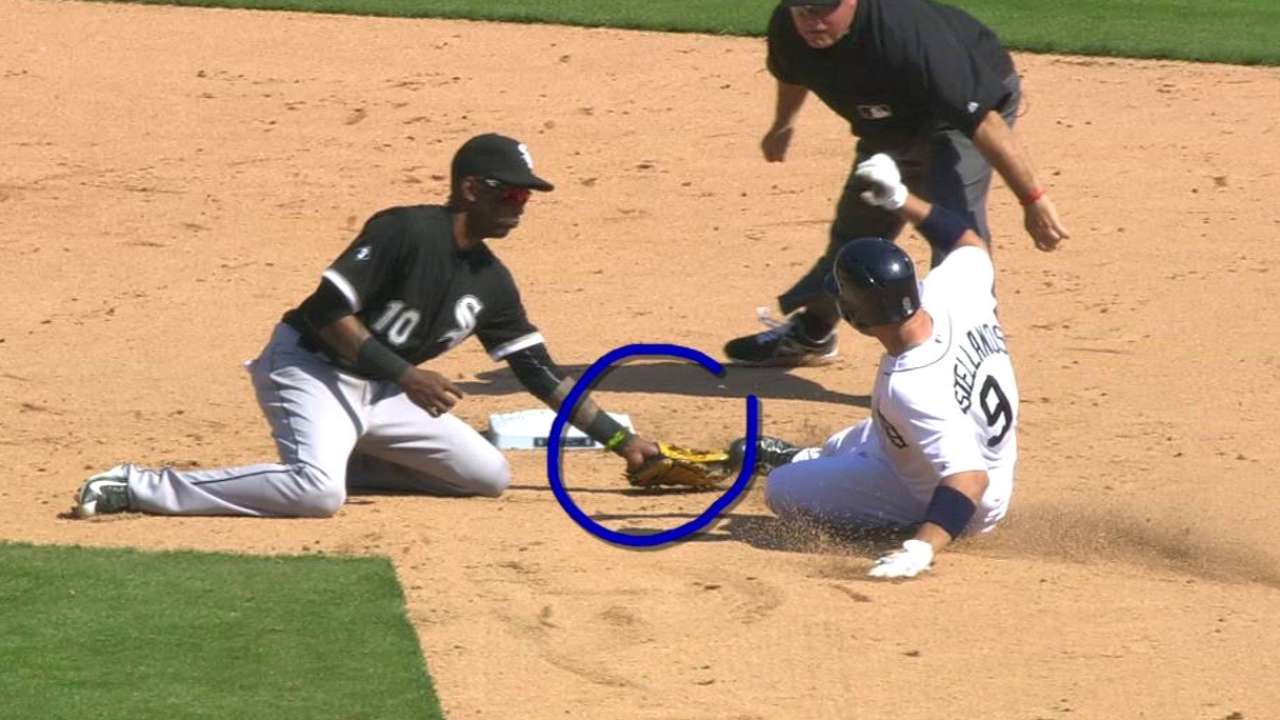 Price worked eight innings and threw 108 pitches, striking out nine and walking two. He yielded just one run on four hits and finished strong by fanning Geovany Soto, Emilio Bonifacio and Melky Cabrera in the eighth.
Samardzija had his best game as a member of the White Sox, working eight innings and allowing one run on eight hits. Samardzija pitched out of jams in the first, third and fifth, and he then struck out Miguel Cabrera and Yoenis Cespedes to end the eighth.
Both starters gave up their lone run via the long ball. Garcia hit his first home run of the season on the first pitch in the second, while Cespedes hit his first with one out in the fourth.
"You get both of those pitchers hooking up like that; they are fantastic, both of them," White Sox manager Robin Ventura said. "Jeff did a great job navigating through a lineup, and I think both sides were limited with what they could do, because both sides were so good."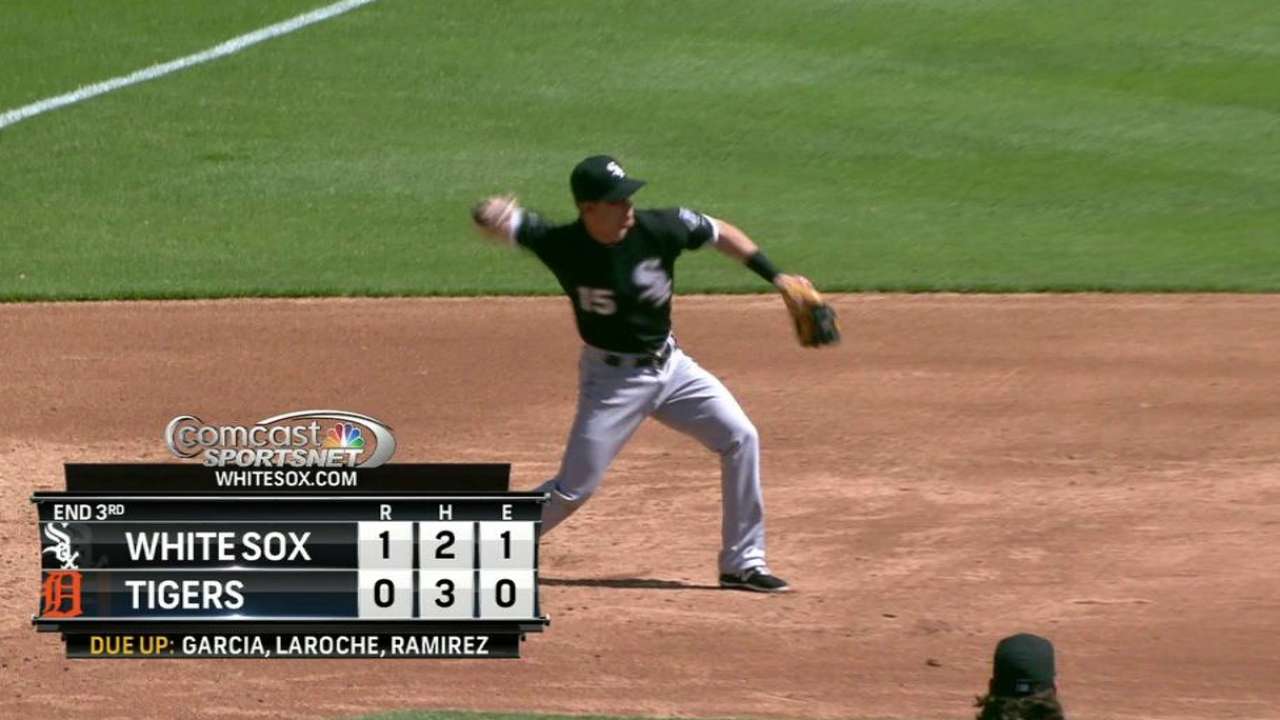 MOMENTS THAT MATTERED
D is for defense: Gordon Beckham was known for his stellar play at second base during his first go-around with the White Sox, but he proved in the third inning Friday that third base also works for him. Beckham threw out Rajai Davis at the plate on an Ian Kinsler slow roller with runners on first and third and one out in the third, and he then started an inning-ending double play by snaring Cabrera's hard one-hopper over his left shoulder.
"Unbelievable. He played great out there, saw a lot of pitches at the plate and made those two heckuva plays," said Samardzija of Beckham. "A lot of guys throw it to first and give up a run, but Beck has played long enough to understand the situation of a game and the importance of it. He made that play and the great double play. I tip my hat to him. It's tough to come off the bench like that and play like that. I think we'll see a lot more of him."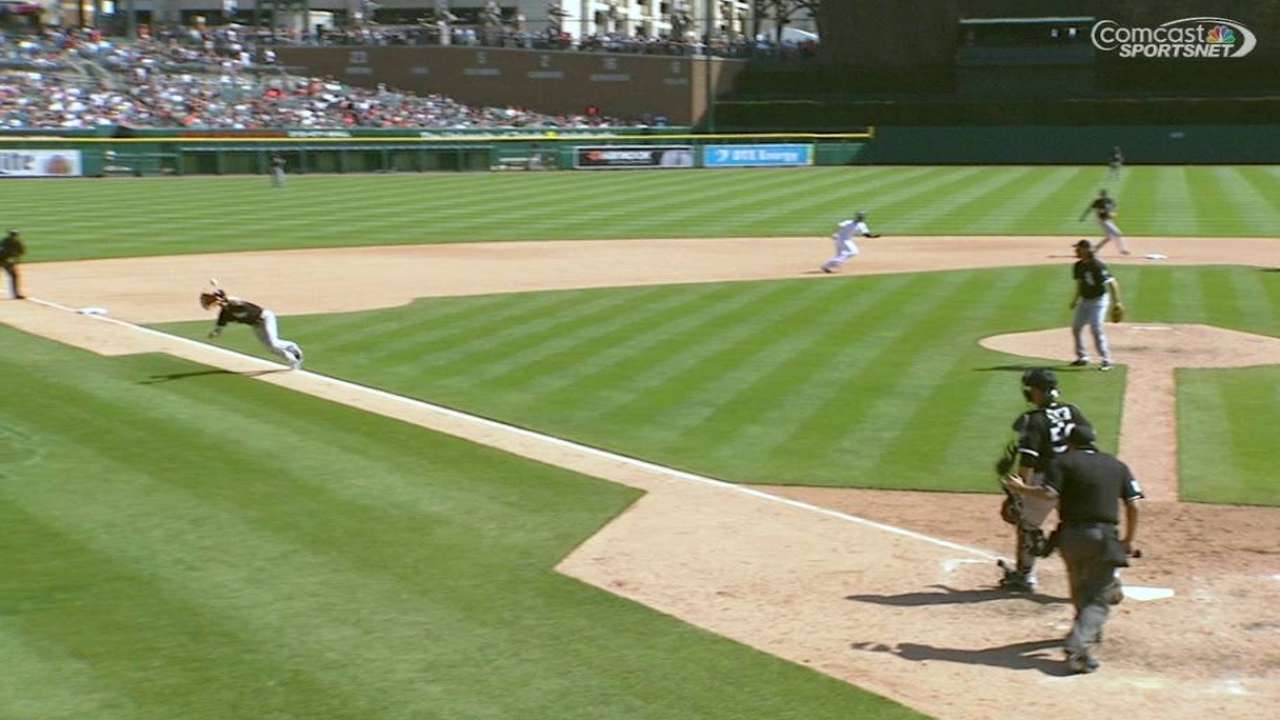 Tigers miss early opportunities: Detroit had several chances to get on top of Samardzija early in the game, but it couldn't put together the right hits at the right time. In the first inning, the Tigers had runners on second and third with one out, but they couldn't score. In the third, Detroit had runners at first and third with no outs, but it got nothing again, allowing Samardzija to get into a groove. The Tigers were 0-for-8 with runners in scoring position, until the game-winning hit by Iglesias.
"We definitely felt like we were getting opportunities we would be able to break open. We just couldn't get that big hit," Kinsler said. "Credit to Samardzija. He kept us at bay, did a great job throwing the ball and working with runners in scoring position. But we did enough to win, and it was a good win for us." More >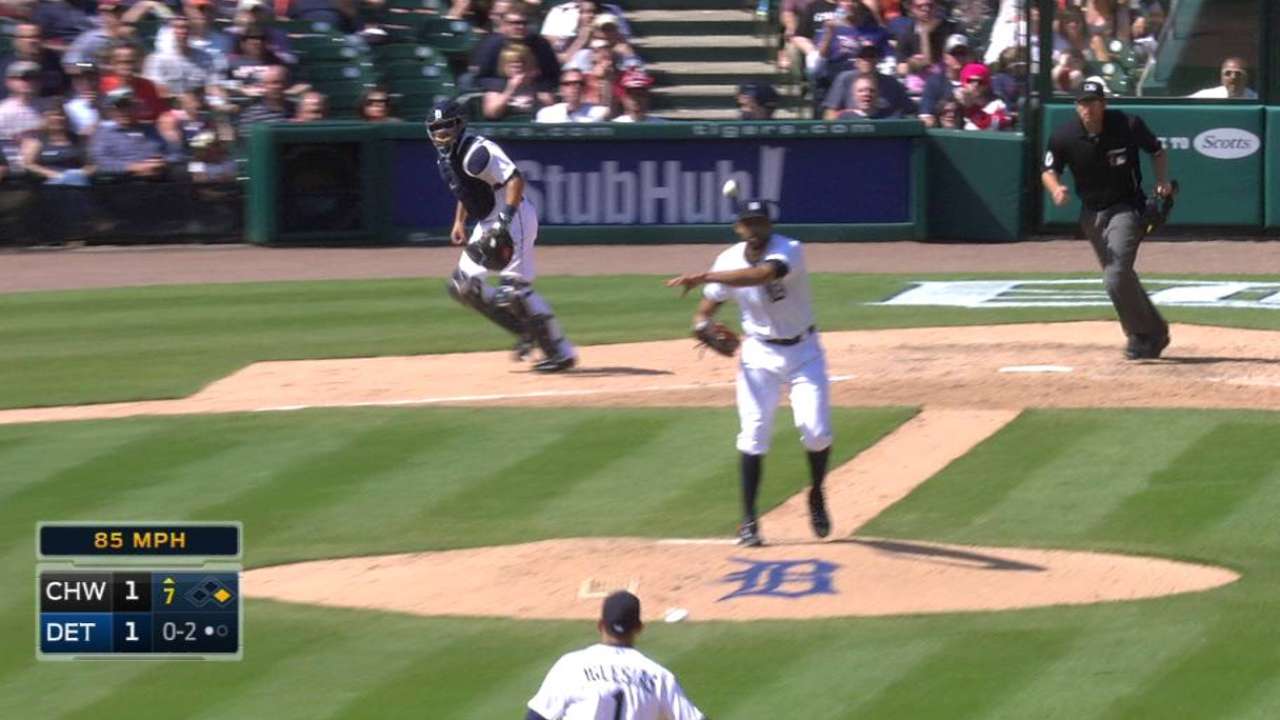 Patience is a virtue: There weren't many scoring opportunities for the White Sox against Price, but a quick-swinging seventh might have cost the visitors a chance. Adam LaRoche drew a leadoff walk, covering six pitches, but Ramirez popped out to Cabrera on the next pitch, and Beckham grounded into a double play three pitches later. Price walked two over eight innings, so the aggressiveness was understandable.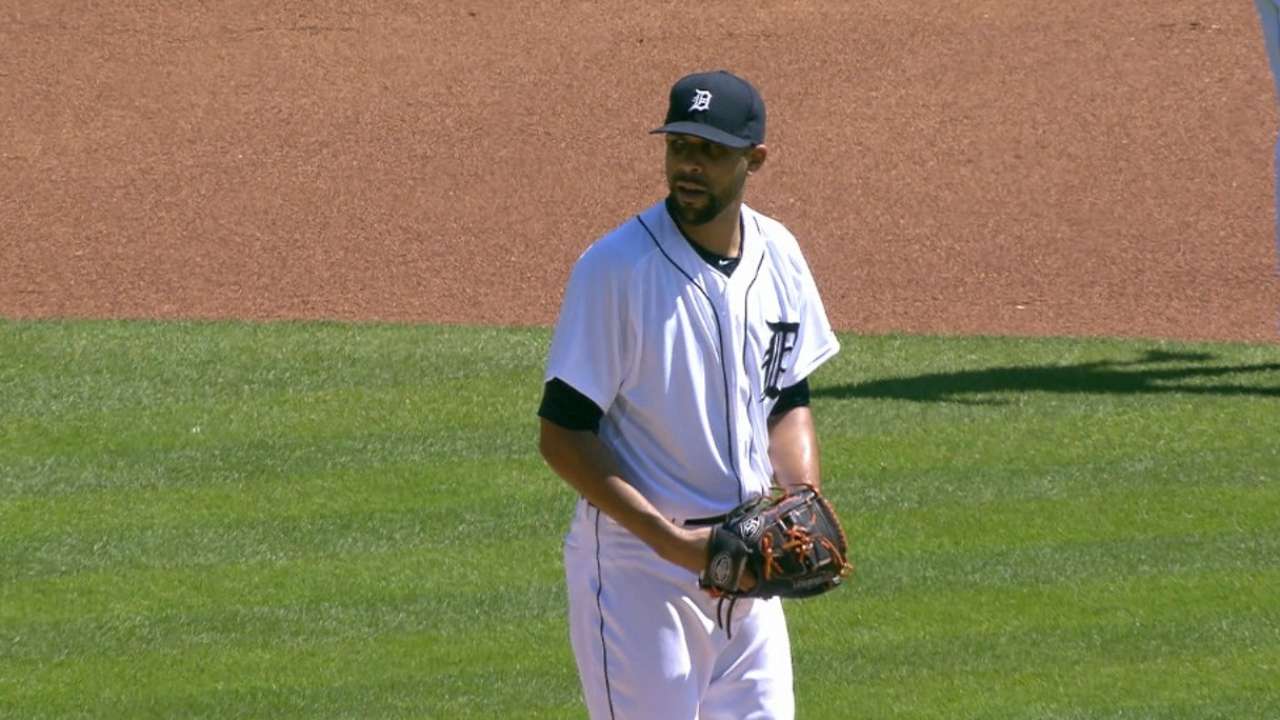 Price is right: Price mowed down the White Sox, and he saved his best for last. After two strikeouts to start the eighth, Price allowed a single. But he followed that with a four-pitch strikeout of Cabrera to get out of the frame, for which he got a standing ovation from the home crowd. Price finished with nine strikeouts.
"That's the best I've felt all year," Price said. "I've felt better each start of the season. I felt good five days ago, and I didn't get the results I feel I should when I feel that good. But today, I got good results. It was just a great win." More >
QUOTABLE
"You're not sitting down for too long, so you're staying in a rhythm the whole time and going back out there. There's no chance to take a deep breath with a guy like that on the mound. You understand that going into the game." -- Samardzija on facing Price
"If you ask me, he threw the ball better than I did. He was in first and third, nobody out, runner on second with nobody out a couple times. He did a great job of allowing nobody to score. I know how tough that is, especially with our lineup and the guys he had to face." -- Price on Samardzija
SOUND SMART WITH YOUR FRIENDS
• Price's second-inning walk to Beckham was the first free pass allowed by a Tigers pitcher since the eighth inning of Sunday's game against the Indians, spanning 30 2/3 innings. Detroit had been looking for a fourth straight walk-less game for the first time since at least 1914.
• Adam Eaton has two multihit games this season, but he has just two hits combined in his other seven games.
WHAT'S NEXT
White Sox: Chris Sale makes his second start of 2015 after suffering an avulsion fracture in his right foot at his Arizona home in late February. He showed no rust in his season debut, throwing 72 of 98 pitches for strikes and allowing one run on five hits in six innings of work, striking out eight Twins in a victory.
Tigers: Anibal Sanchez will look to bounce back after recording a loss to the Pirates on Monday. Sanchez gave up five earned runs on eight hits, including three home runs, over 6 1/3 innings. Sanchez allowed seven earned runs in two starts against the White Sox last year, recording two losses.
Watch every out-of-market regular-season game live on MLB.TV.
Scott Merkin is a reporter for MLB.com. Read his blog, Merk's Works, and follow him on Twitter @scottmerkin. Chris Vannini is a contributor to MLB.com. This story was not subject to the approval of Major League Baseball or its clubs.