Shift doing little to slow down Alonso
Padres first baseman off to hot start despite opponents' defensive measures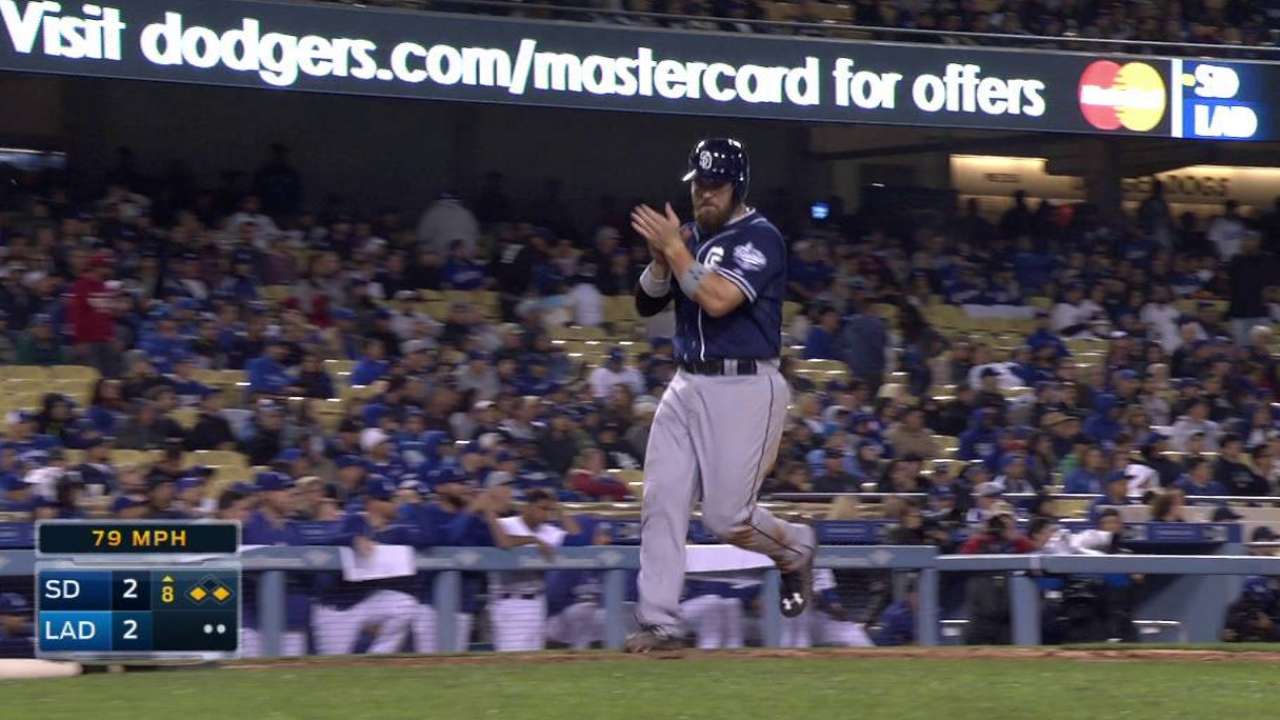 Bill Center, longtime sportswriter for U-T San Diego, is an employee of the Padres.
All three of the Padres' opponents this season have employed a defensive shift against Yonder Alonso, positioning three infielders on the right side.
And the left-handed first baseman has been beating the shift with base hits to the left side.
Which makes you wonder how long opposing teams will continue to use the shift against Alonso -- who is off to an 11-for-31 (.355) start with two doubles and a home run with four RBIs while starting nine of San Diego's 10 games. Five of those 11 hits have been to the left side of the diamond.
Padres manager Bud Black doesn't mind if the opposition continues to shift against Alonso.
"Yonder's going to hit to all fields, hit for average and be productive," said Black.
In addition to hitting .355, Alonso has also drawn six walks, giving him a .459 on-base percentage. Add that to a .516 slugging percentage and Alonso has a .975 OPS -- the second-highest mark among San Diego's regulars to Justin Upton's 1.108 OPS.
Notes from the scorebook
• Catcher Derek Norris is not only hitting .270 with three doubles and four RBIs in nine starts, he is already approaching his career-best mark for throwing out runners. Norris threw out two would-be basestealers Wednesday night. It was the first time he had thrown out two runners in the same game in his career. Norris has thrown out six of the 11 runners who have tested his arm in the season's first 10 games. He threw out a career-high eight runners all of last season with Oakland. The six runners caught this season leads the Major Leagues.
• Center fielder Wil Myers was 5-for-12 with three doubles and four runs in the three-game series against Arizona. Myers has multiple hits in four of his last five starts, going 9-for-21 with five doubles and three RBIs. He has hit safely in eight straight starts, going 12-for-37 (.324).
• Although he missed three starts while working on his swing, second baseman Jedd Gyorko's struggles continued Wednesday with an 0-for-3 with a strikeout. Gyorko is 3-for-24 this season, with six strikeouts while grounding into three double plays. He has one RBI. Gyorko has drawn one walk and yet to score a run. He has a .167 slugging percentage and a .192 on-base percentage.
• In his four starts at second, switch-hitting Yangervis Solarte is 5-for-11 with three doubles, three RBIs and a walk for a .455 average, a .500 on-base percentage, a .727 slugging percentage and a 1.277 OPS.