MLB.com Columnist
Tracy Ringolsby
Bryant sparks memories of other highly anticipated debuts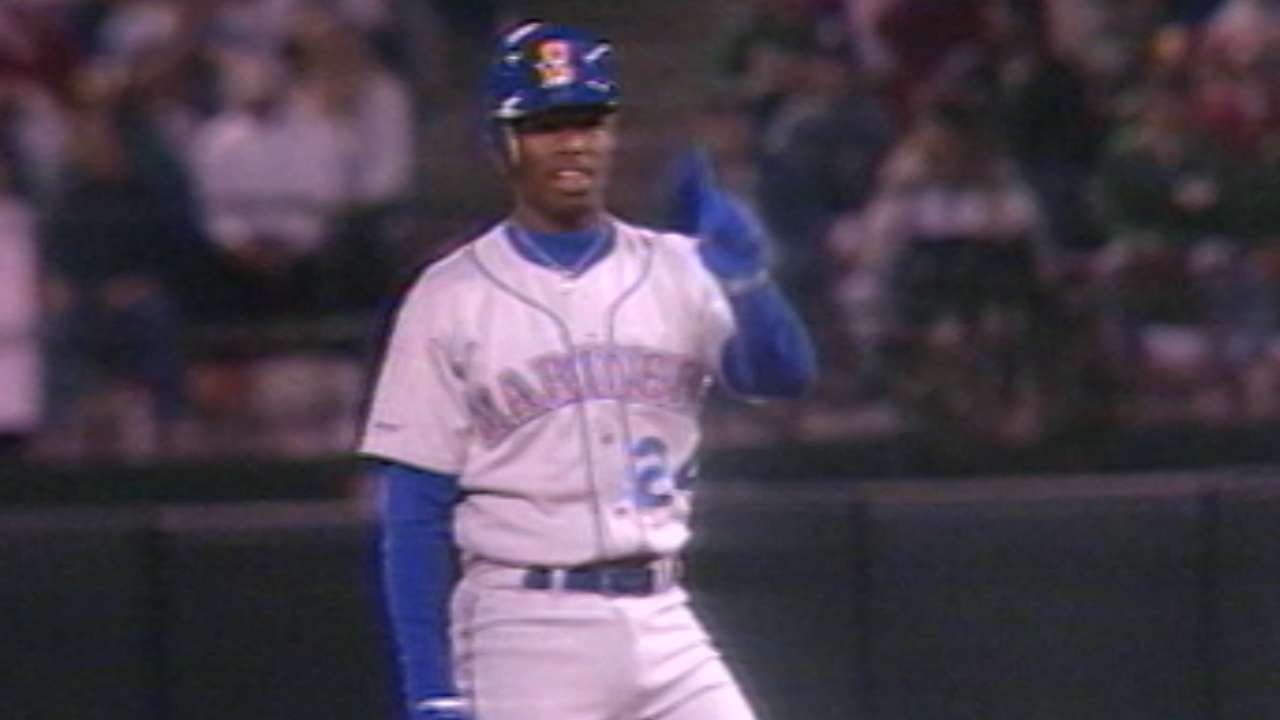 Rays third baseman Evan Longoria knows all about the road Cubs phenom Kris Bryant followed to the big leagues. And he certainly has no complaints.
Longoria, who was selected by Tampa Bay third overall in the 2006 First-Year Player Draft, made his Major League debut on April 12, 2008, the day after he had spent enough time in the Minor Leagues to mean he would have to spend six additional full seasons in the big leagues before he could become a free agent.
Turned out, in Longoria's situation, it didn't matter. Six days after being called up, Longoria signed a six-year, $17.5 million deal, and in November 2012, he signed a six-year extension worth $100 million that committed him to the Rays through 2022.
• Get an authentic Kris Bryant Cubs jersey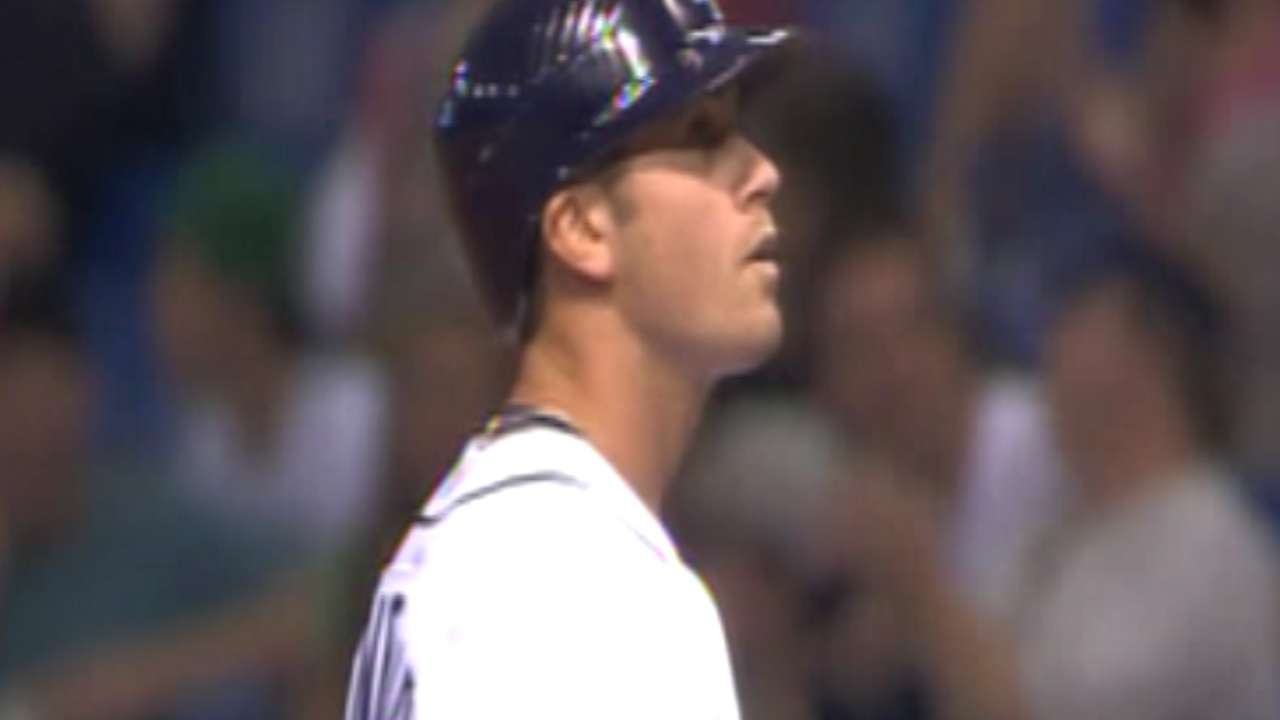 Bryant, who was selected second overall by the Cubs in the 2013, got the call on Thursday night that he would join the Cubs on Friday in what is one of the more anticipated debuts in recent years. He batted cleanup in Friday's game against the Padres at Wrigley Field.
Let's take a look at 10 players whose big league debuts stirred fans' excitement:
David Clyde, LHP, Rangers: June 27, 1973
In their first year after moving from Washington, Texas used the first pick in the 1973 Draft on this Houston high school product and tried to pump life into the franchise. Clyde, who was 18-0 and allowed three earned runs in 148 innings for Westchester High, came directly to the Majors and made his professional debut in a 4-3 victory against the Twins. He allowed two runs on one hit and seven walks, striking out eight in five innings. The big number for the Rangers, though, was how many fans were in the seats as they had its first sellout in franchise history. The Rangers averaged 27,000 for the six home starts Clyde made that season, nearly 21,000 more than the average for their 75 other home games. The price? Clyde's big league career was over before he turned 26, with baseball executives in agreement that his quick trip to the Majors led to the quick end of his career.
Andre Dawson, OF, Expos: Sept. 11, 1976
An 11th-round Draft pick in 1975, Dawson was so dominating that by the middle of the '76 season he was playing for the Triple-A Denver Bears. The Bears were in the midst of an 18-game road trip when Dawson was promoted, and he was so hot that Denver general manager Jim Burris feared he'd be called up before he ever played a game in Denver. Turned out Dawson finished the season in Denver, where he hit .350 with 20 home runs and 46 RBIs in 74 games. With a Minor League resume that read .343, 41 homers and 123 RBIs in 186 games, Dawson's callup by Montreal came that September. He went 0-for-2 in Pittsburgh in his Sept. 11 debut, but two nights later he got his first hit, off future Hall of Famer Steve Carlton. Back in the bigs to open the '77 season, Dawson won the National League Rookie of the Year Award, serving notice that he was embarking on a career that would take him, too, to the Hall of Fame.
Ken Griffey Jr., OF, Mariners: April 3, 1989
With only 129 games in the Minor Leagues on his resume, Griffey was invited to Spring Training by the Mariners in 1989 and the decision was made in advance that no matter what, he was going to the Minor Leagues. Griffey, however, was a springtime star, and in the final roster meeting of the spring, the Mariners reaffirmed Griffey wasn't going to jump to the Majors. "OK," scout Bob Harrison said, "but who is going to tell him?" Turned out nobody. At the age of 19, Griffey was in the Mariners' lineup and batting second on Opening Day in Oakland, and in his first at-bat he doubled off Dave Stewart. Griffey played 20-plus big league seasons, and had only three Minor League at-bats after his debut -- during a one-day medical rehab assignment in 1995.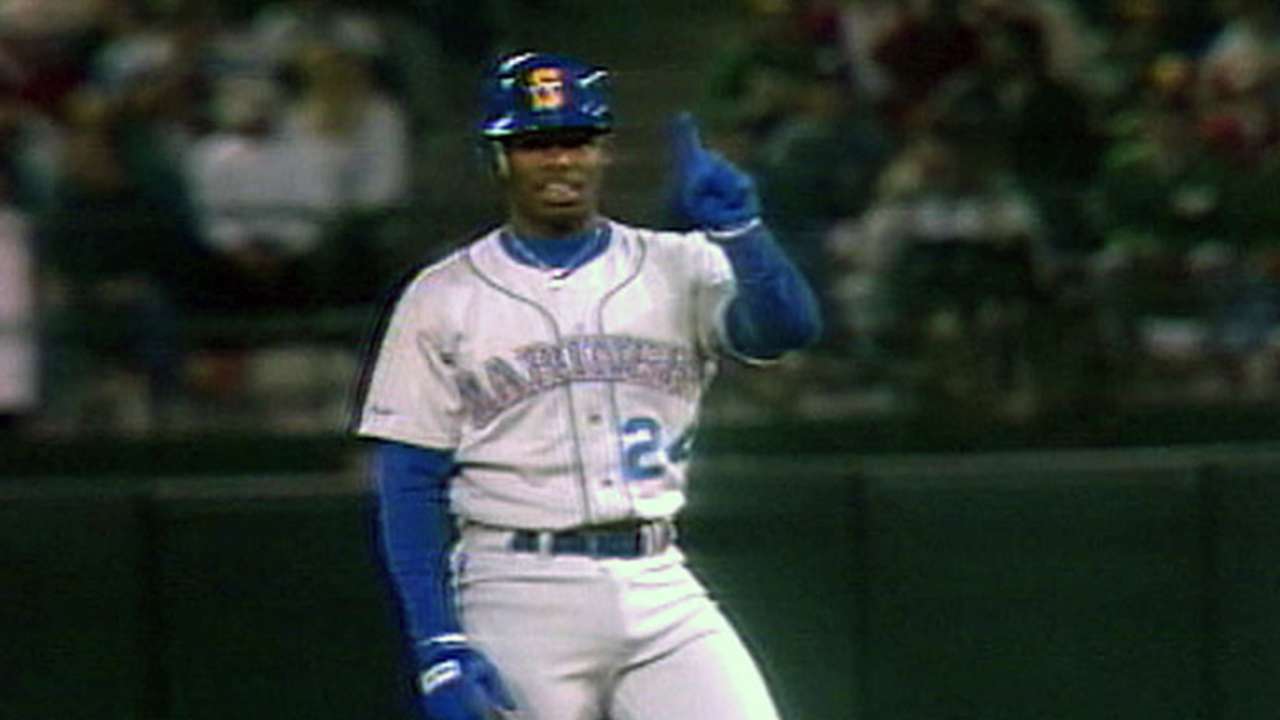 Pete Incaviglia, OF, Rangers: April 8, 1986
Selected eighth overall by Montreal in 1985 Draft, Incaviglia refused to sign because the Expos would not give him a big league contract and a guarantee of making his pro debut in the big leagues. The Rangers acquired the rights to Incaviglia in a trade for pitcher Bob Sebra and infielder Jimmy Anderson in November and got a deal done. The contract led to baseball's institution of the so-called Incaviglia Rule, which prohibits a team from trading a Draft pick until one year after he is signed. As if the hype wasn't enough, during the spring Incaviglia hit a ball that knocked a hole in the termite-infested wooden fence at the Rangers' Spring Training ballpark in Pompano Beach. Not only was Incaviglia in the Rangers' 1986 Opening Day lineup, he hit cleanup. After striking out and grounding out in his first two at-bats against Toronto's Dave Stieb, Incaviglia doubled and scored on a three-run Larry Parrish home run.
Longoria, 3B, Rays: April 12, 2008
In fewer than two years in the Minors, Longoria appeared at every level and mastered each. He had 205 games to his credit when he got the call to the Majors, having hit .301 with 44 home runs and 154 RBIs. He debuted by going 1-for-3 with an RBI against the Orioles, and two nights later he delivered his first big league home run, a game-tying shot off the Yankees' Brian Bruney in the bottom of the seventh inning. Longoria was the American League Rookie of the Year and was voted an All-Star for the first of three times.
Matt Wieters, C, Orioles: May 29, 2009
The Orioles selected Wieters fifth overall in the 2007 Draft and he made his professional debut in 2008, and after hitting .343 with 32 home runs and 121 RBIs 169 Minor League games, he was behind the plate for the Orioles at Camden Yards. Wieters' arrival was such a big deal that the Orioles announced his callup three days in advance. The public response? Attendance was 42,074 for Wieters' debut, 18,529 above Baltimore's season average. Hitless in four at-bats in his first game, Wieters got going the next night against the Tigers, going 2-for-4 with a double and a triple.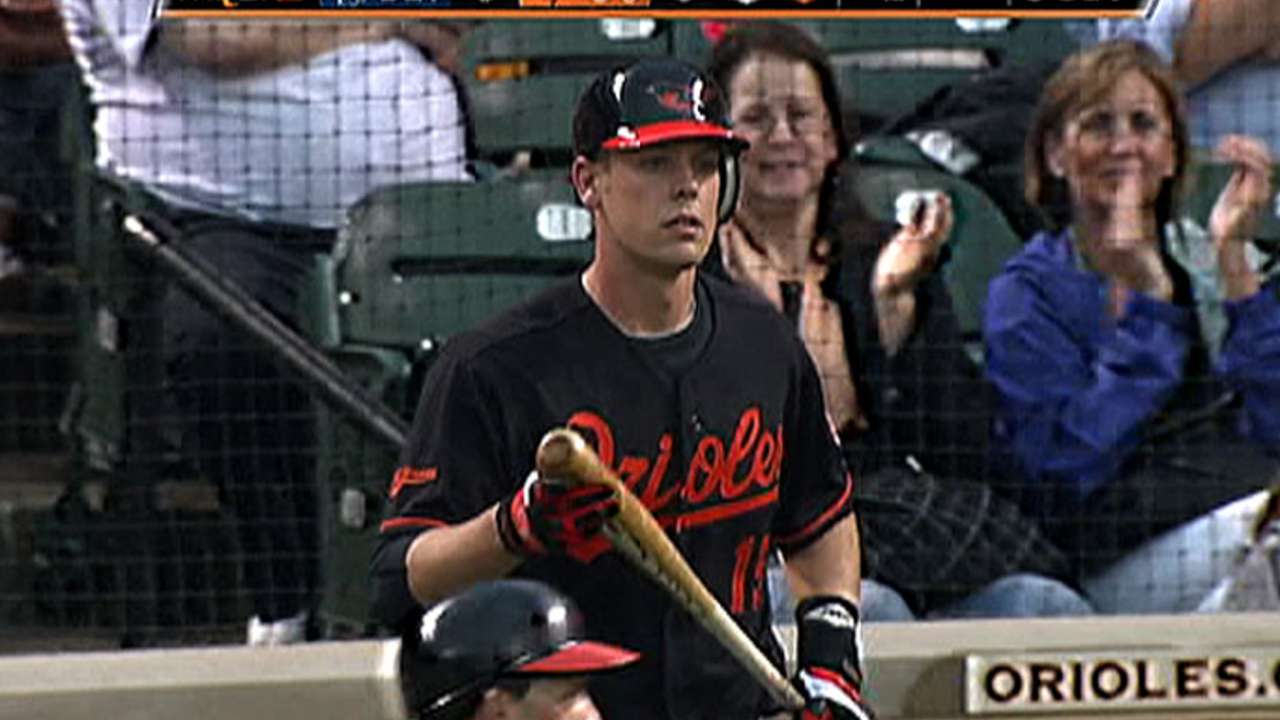 Stephen Strasburg, RHP, Nationals: June 8, 2010
The first player selected in the 2009 Draft, Strasburg had made only 17 Minor League appearances (8-3, 1.90 ERA) before getting his call to the big leagues in an event that Washington folks compared to the anticipation of a presidential inauguration. The Nationals issued more than 200 media credentials and Strasburg didn't disappoint. He earned a victory against the Pirates, allowing two runs on four hits, striking out a club-record 14 without issuing a walk in seven innings. Strasburg's career was put on hold when he underwent Tommy John elbow surgery, but he returned late in the 2011 season.
Mike Trout, OF, Angels: July 8, 2011
Selected 25th overall by the Angels in the 2009 Draft, Trout dominated the Minor Leagues. Called up after Peter Bourjos went on the disabled list, Trout, who hit .338 in the Minors, went hitless in his first game. By July 28 he was hitting .163, which led to his return to Double-A Arkansas. Once the Minor League season ended, Trout was back in the bigs, this time to stay. He has been voted an All-Star in each of his three full Major League seasons, and he was the 2012 AL Rookie of the Year and the 2014 AL MVP.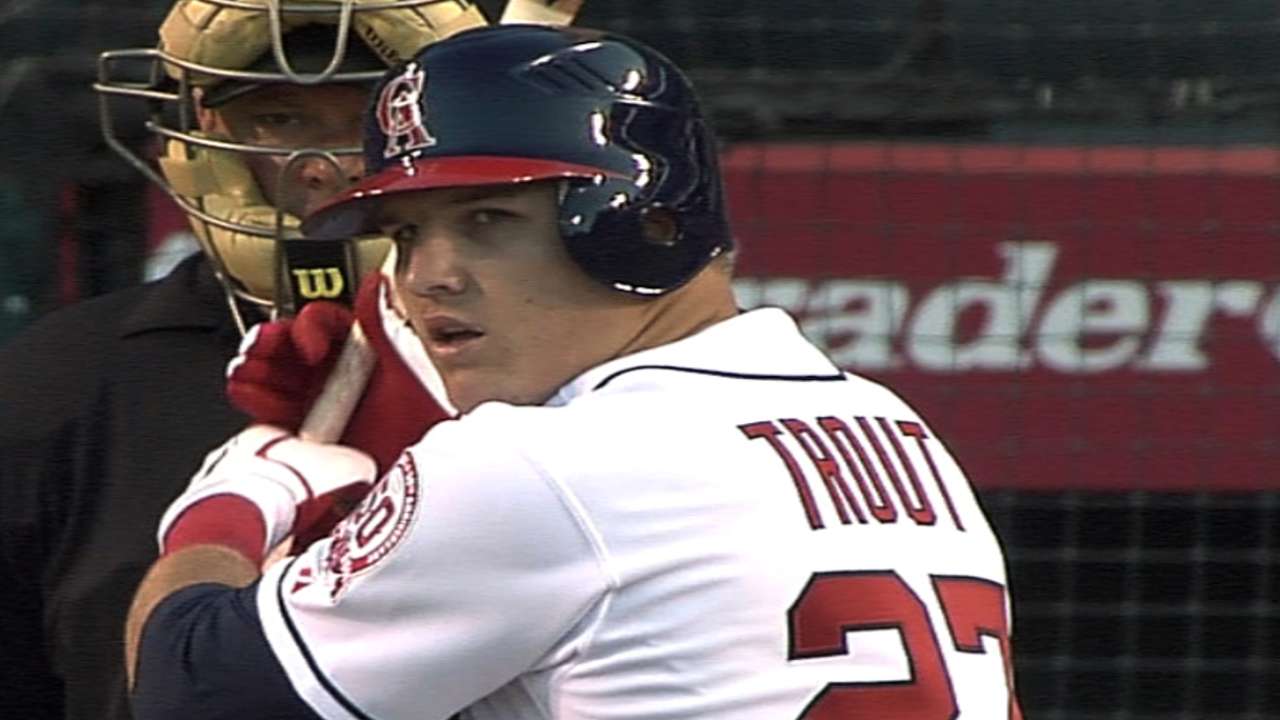 Bryce Harper, OF, Nationals: April 28, 2012
Harper earned his GED after his sophomore year of high school, enrolled in junior college and never made a secret of his plan to speed up his baseball career. The first player selected in the 2010 Draft, Harper was such a hot topic among the baseball fans of the nation's capital that the Nationals brought him to the big leagues at age 19 to make his Major League debut, even though he had hit only .243 with one home run in 21 games at Triple-A. Harper responded by going 1-for-3 that night against the Dodgers, hitting a go-ahead sacrifice fly in the top of the ninth inning of an eventual 4-3 loss. Harper wound up an All-Star that season and won the NL Rookie of the Year Award.
Tracy Ringolsby is a columnist for MLB.com. This story was not subject to the approval of Major League Baseball or its clubs.