'They kept fighting': Giants' offense shows life in tough loss
Defending champs fall to 3-8 after dropping 7th in a row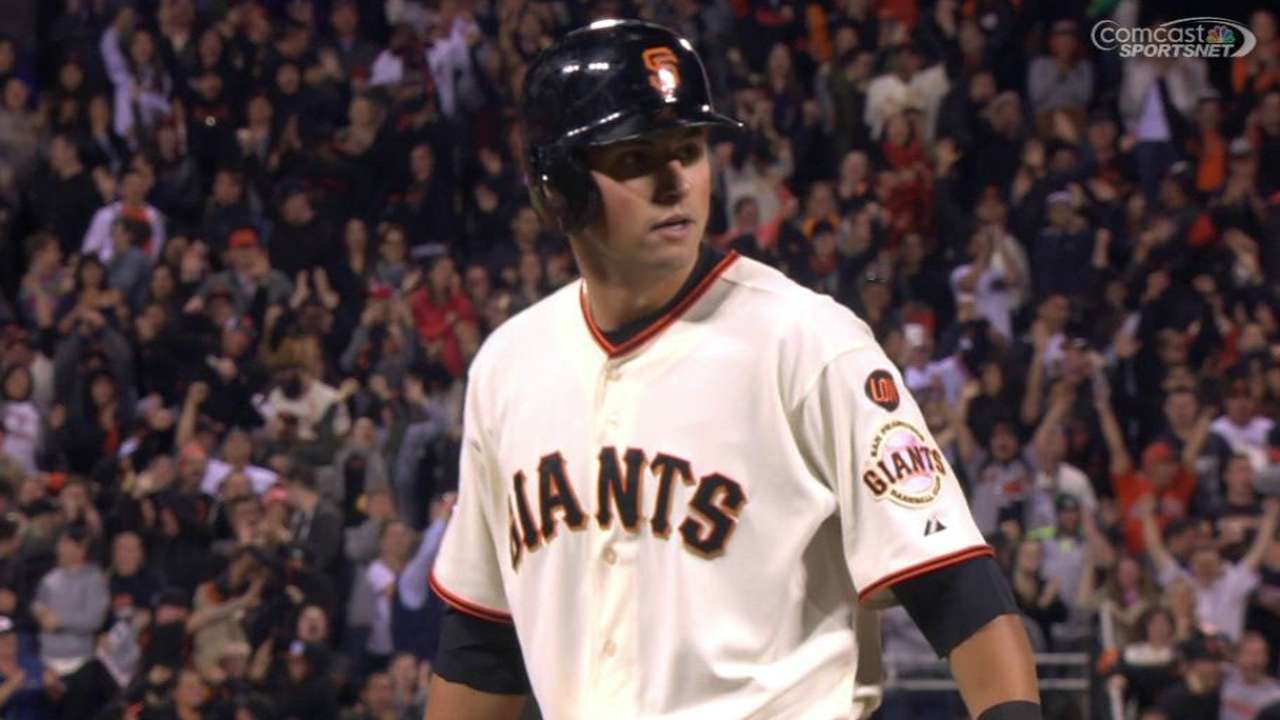 SAN FRANCISCO -- Manager Bruce Bochy didn't encourage talk of moral victories Thursday night after the Giants' 7-6, 12-inning loss to the Arizona Diamondbacks.
"It's not fun to lose seven in a row," Bochy said.
The defending World Series champions equaled their longest losing streak since 2010 and, by falling to 3-8, matched their worst 11-game record since the franchise moved to San Francisco in 1958.
Left-hander Madison Bumgarner implied that the simple law of averages would help the Giants' fortunes improve.
"It would be hard for us to keep going the way we are," Bumgarner said.
Actually, the Giants hope to repeat certain aspects of their latest setback -- aside from the result.
After batting .085 (4-for-47) with runners in scoring position in their previous seven games, the Giants matched that hit total in 12 at-bats in those situations alone on Thursday night. That helped them overcome deficits of 4-1 and 5-4 and, nearly, 7-5 -- the lead Arizona grabbed when Aaron Hill doubled off the base of the left-center field wall against Sergio Romo to score Ender Inciarte and Paul Goldschmidt, breaking a 5-5 tie.
The Giants remained undaunted, as Matt Duffy lined his second run-scoring hit in extra innings, a double, to drive in Brandon Belt. In the 10th, Duffy had grounded an infield single to deep shortstop to forge a 5-5 tie.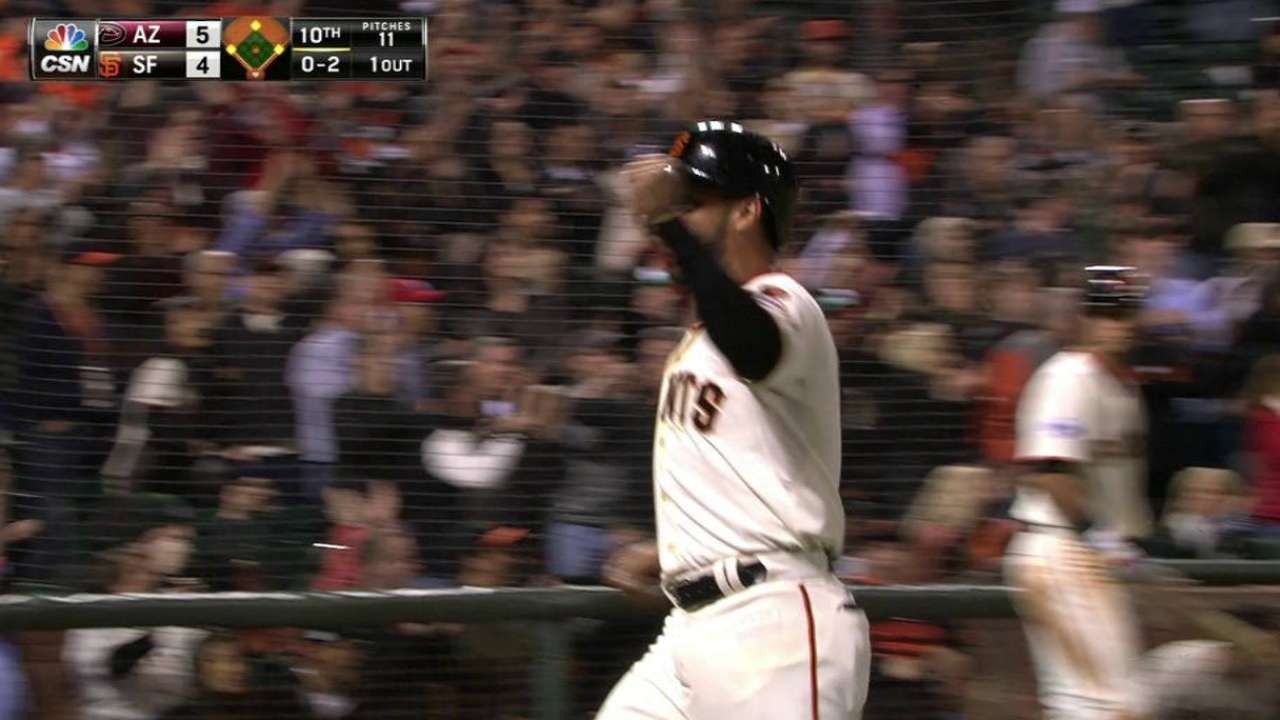 "We never gave up, and I don't think we'll ever give up," Belt said. "That was definitely a positive night going into the next couple of games."
Such brave sentiments rang throughout the otherwise quiet Giants clubhouse.
"If we play that way from here on out, I'll take my chances," said Bumgarner, who improved upon his previous outing in San Diego last Saturday, when he surrendered five runs and 10 hits in three innings. This time, Bumgarner allowed four runs and six hits in seven innings but still didn't feel totally sound.
"That's why they call it midseason form," he said.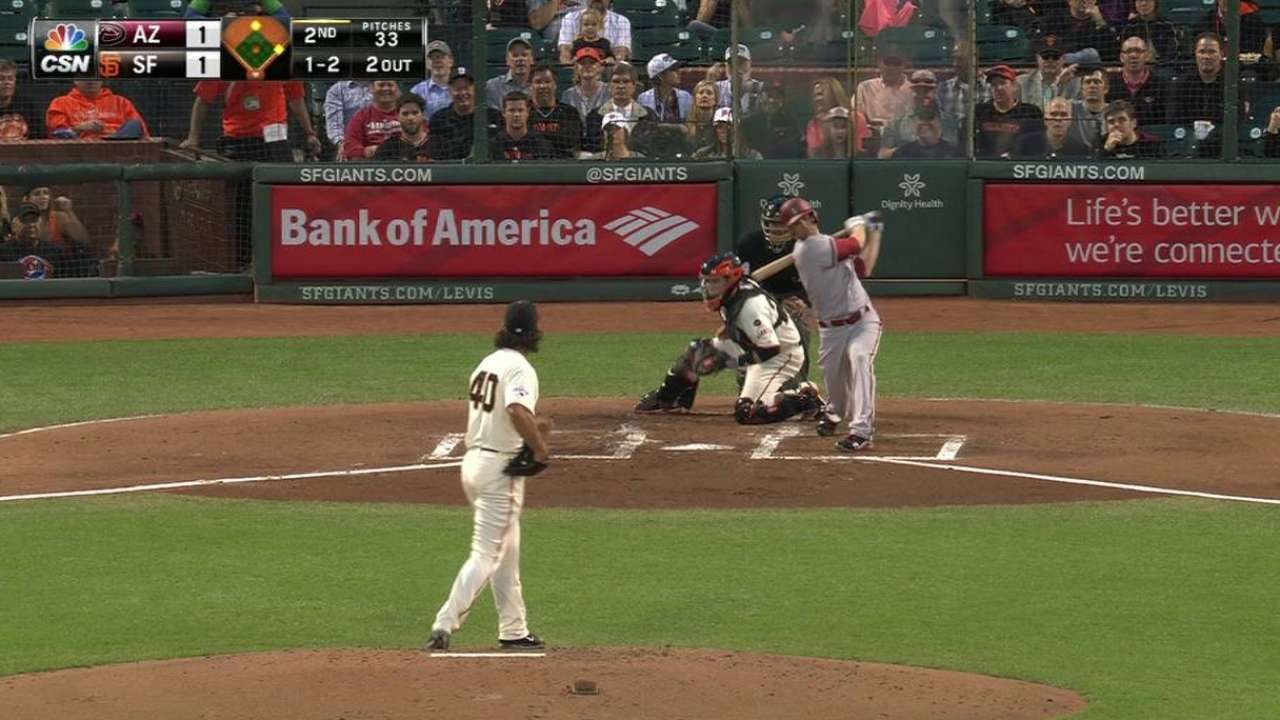 That state continues to elude the Giants, Bumgarner pointed out. He said that a losing streak like this "kind of gets magnified at the beginning of the year. We're not happy about it, that's for sure."
The Giants amassed 11 hits, yet the consistency of their production was lacking. Angel Pagan and Buster Posey, the No. 3 and 4 hitters, each went 2-for-6 but were bracketed by leadoff man Nori Aoki (1-for-6) and two-hole hitter Gregor Blanco (0-for-4) as well as Belt, the No. 5 hitter (0-for-6).
San Francisco left the bases loaded in the ninth when Aoki struck out and scored only once in the 10th after filling the bases with nobody out. But Bochy refused to dwell on the negative developments.
"The thing you have to like is the way they kept coming," he said. "They didn't quit. We had chances there and didn't come through, but they kept fighting."
Chris Haft is a reporter for MLB.com. Read his blog, Haft-Baked Ideas, and follow him on Twitter at @sfgiantsbeat. This story was not subject to the approval of Major League Baseball or its clubs.