Duda's three-hit night helps Mets win without Wright
First baseman proving he can be effective against lefties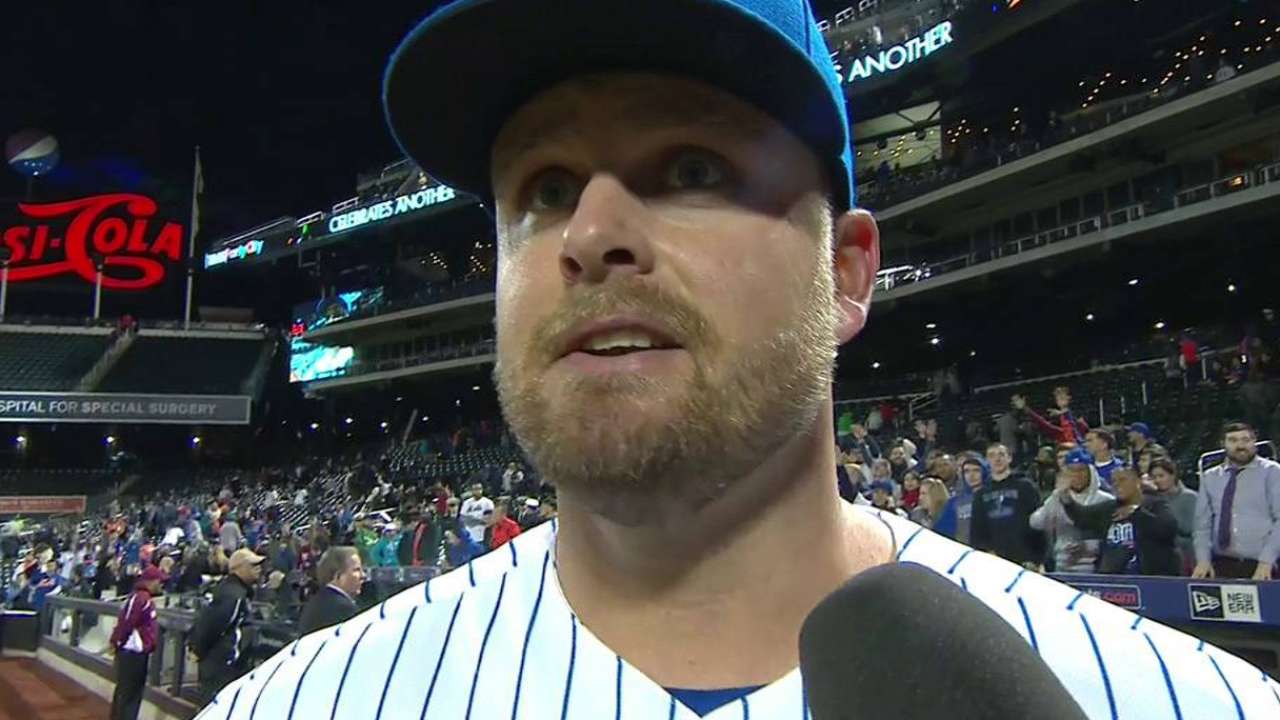 NEW YORK -- The only question now is the height of Lucas Duda's ceiling.
As Mets manager Terry Collins sees it, Duda realized at some point last year that he "belongs" in the big leagues. The back of Duda's baseball card suggests not only that he belongs, but that he has quietly developed into one of the National League's foremost sluggers. And that's just based on last year, when Duda hit .180 with a .516 OPS against left-handed pitchers.
If Duda can start hitting lefties consistently, as he did Thursday with the go-ahead RBI in the Mets' 7-5 win over the Marlins, willing them to their fifth straight victory for the first time in two years, there is no telling how high steep his career arc may rise.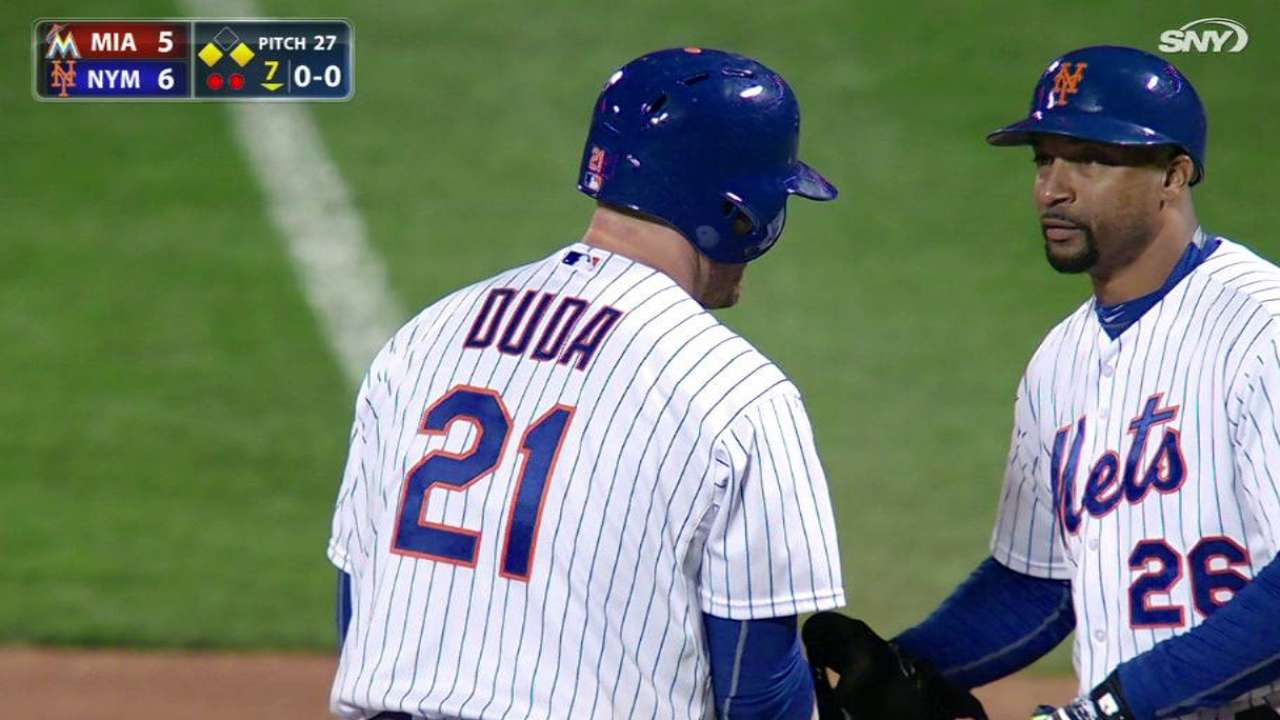 "He can be a monster," teammate Michael Cuddyer said. "There's no question about that."
When the Mets placed David Wright on the disabled list earlier this week, Collins spoke about how important it would be for the other prominent hitters in his lineup to produce. As if to respond, Duda bashed a home run and an RBI double in the Mets' first game without Wright, following up that performance with a three-hit night on Thursday. When he faced left-hander Mike Dunn in a tie game, Duda already had a pair of doubles -- one to left field, the other to right -- in his back pocket. He promptly fell into an 0-2 hole before fouling off three straight pitches.
Dunn came back with a 94-mph fastball on the outer half of the plate. Rather than try to pull it, as he might have done a year ago, Duda simply served it into left-center field for a go-ahead RBI single.
"His whole demeanor when you watch him now, he's just calm," Collins said. "He's the guy that wants to be in that spot. He's taken it on as a big challenge to show he belongs here. He's absolutely revved up to show me he should play against left-handed pitching, and I think that's great."
Through 10 games, Duda has given the Mets no reason to bench him, going 4-for-8 off lefties to improve his overall batting average to .395. He leads the Mets with eight RBIs. He has more doubles (six) than the rest of his teammates combined (five). And he is just the fifth player in franchise history to log multiple extra-base hits in three straight games, joining Carlos Beltran (2006), Rico Brogna (1994), Lenny Dykstra (1987) and Frank Thomas (1962).
Through it all, Duda has maintained the same self-effacing demeanor that once made him such a mystery to the Mets.
"It's not exactly laying out missiles," Duda said. "But I'm finding some outfield grass."
The Mets will take it. Their five-game winning streak is their longest since 2013, with two of the five coming minus their captain. Like Duda, the Mets are moving about these days with a quiet confidence. Trailing twice in Thursday's game, they never really considered the possibility that they might lose.
"I would say a year ago, we don't win tonight in that particular situation," Collins said. "With David out, some of the things going on, we just don't come back in those games. And now we are. It has a lot to do with the mentality that's in the clubhouse right now."
Anthony DiComo is a reporter for MLB.com. Follow him on Twitter @AnthonyDiComo and Facebook. This story was not subject to the approval of Major League Baseball or its clubs.