Ichiro called safe in wild replay review
Marlins pinch-hitter tied game after call overturned following lengthy look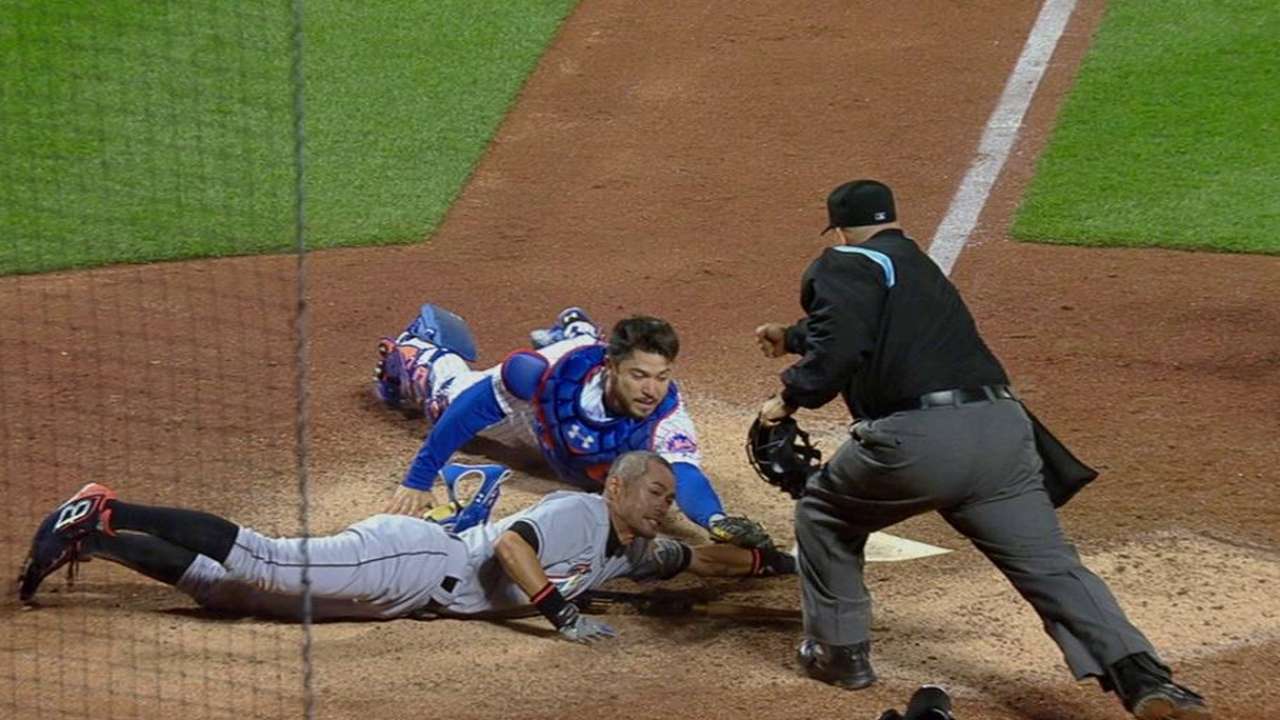 NEW YORK -- Ichiro Suzuki pleaded. The Marlins challenged. Then, everyone waited … and waited.
After a review that lasted five minutes, 44 seconds on Thursday night, one of the wildest replay reviews you'll see resulted in an overturn that produced the tying run in the seventh inning for the Marlins against the Mets at Citi Field.
At the time, the run tied the game at 5, but New York went on to win, 7-5.
But in the seventh, the nimble maneuvering of Ichiro paid off momentarily for Miami. It appeared the veteran outfielder would be out, but the 41-year-old somehow twisted his way past catcher Travis d'Arnaud's tag.
Initially, home plate umpire Eric Cooper signaled out. But Ichiro reacted strongly that he wasn't tagged, and the Marlins challenged.
"I thought he got in there," Miami manager Mike Redmond said. "I think they wanted to really check to see if he tagged him or didn't. But obviously he went back to tag him a second time. That was pretty clear to me -- he didn't tag him the first time."
Not much was absolutely clear from the numerous camera angles. One overhead shot showed Ichiro's fingers brushing the back of the plate.
"[Cooper] thought he got him on the butt on the way in," crew chief Gary Cederstrom said.
Even d'Arnaud noted the outcome was correct.
"I would say they got the play right," the Mets' catcher said. "I didn't tag him.
"I just thought the review was if I tagged him or not on the first one. From what I saw, I thought he beat me. But the play that was called was that I tagged him on the first one. He signaled out on the initial tag."
The longest review the Marlins have been part of lasted six minutes, 10 seconds on a disputed home plate collision call last Aug. 1 against the Reds at Marlins Park.
In the seventh Thursday, Ichiro tripled with one out. Lefty Jerry Blevins was brought in to face Dee Gordon, who slapped a sharp grounder to second baseman Daniel Murphy. Ichiro broke for home, but stopped, believing he could get into a rundown. If so, he wanted Gordon to have time to advance to second.
But Murphy's throw was wide. Ichiro darted for the plate, and d'Arnaud scrambled to make the tag.
"I was supposed to go on contact," Ichiro said through a translator. "But I realized it was a hard hit. I realized there would be no chance at home, so I stopped. Then I saw it was a bad throw. Then I went home."
And the confusion started.
Joe Frisaro is a reporter for MLB.com. He writes a blog, called The Fish Pond. Follow him on Twitter @JoeFrisaro. This story was not subject to the approval of Major League Baseball or its clubs.