Flores shatters slump with three-run shot vs. Marlins
Manager hopes homer will boost confidence of shortstop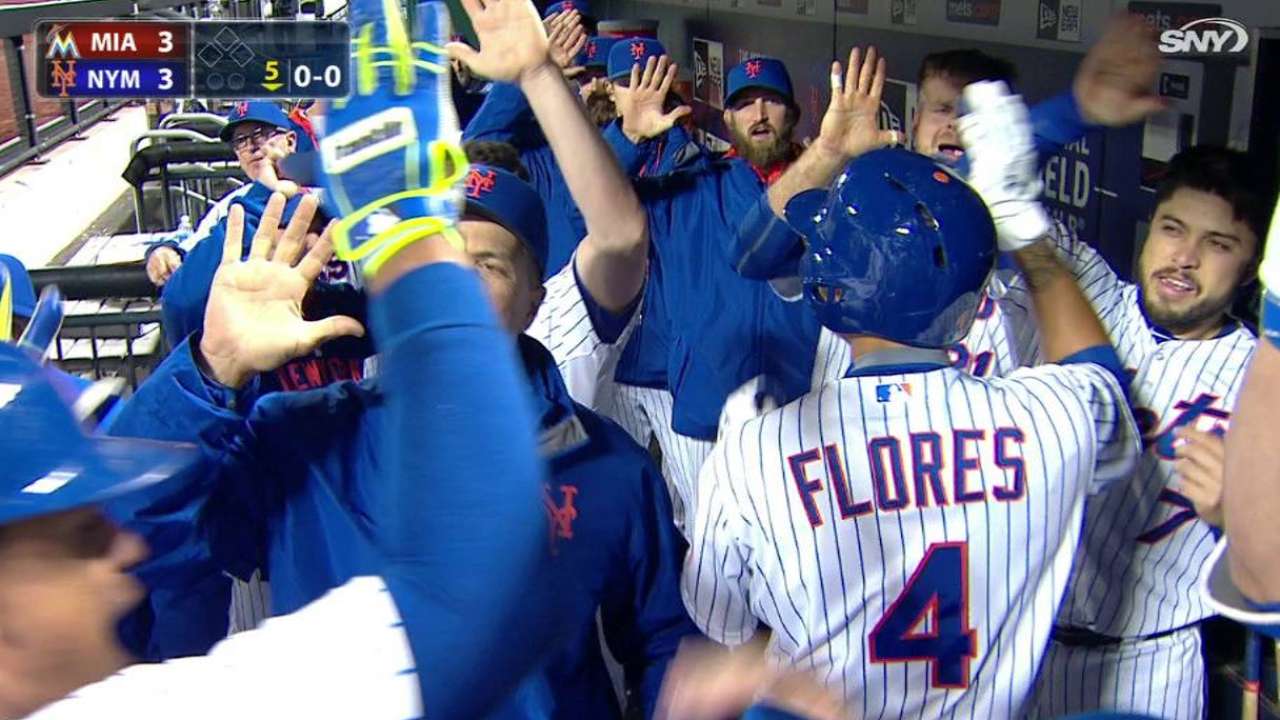 NEW YORK -- This is what Wilmer Flores is in the lineup for after all -- his bat.
And after an offseason full of questions, trade rumors and doubt -- and after a rough start over which fears were realized and the alarm sounded -- Flores finally showed a glimpse of it.
Mets manager Terry Collins has always believed, and still believes, that Flores will show more of his offensive potential.
"Tonight was a big step forward for him," Collins said of Flores, whose first home run of the season came in the fashion of a three-run shot that tied Thursday's eventual 7-5 Mets win at 3 in the fifth. "It was huge for us, and also for Wilmer. There has been a lot written about how high expectations are for him offensively, and you have to live up to expectations.
"I think tonight might really jumpstart him," Collins said.
Despite concerns over his defensive abilities and whispers of a winter shopping list full of high-profile replacements, Flores started at shortstop for the Mets on Opening Day. He made three errors in his first eight games as that promised asset -- his bat -- suffered a slow start as well. Flores hit .160 with just one extra-base hit over his first 25 at-bats.
On Thursday night, that bat came alive on a second-pitch cutter from Marlins starter Jarred Cosart , who owns the third lowest home run rate in baseball since his debut in late 2013.
Flores turned on the 93-mph offering and deposited it into the stands beyond the old left-field wall at Citi Field. The blast began a seesaw night of constant comebacks for the Mets and also might have gotten their young shortstop going.
"It's going to help [with confidence]," said Flores. "The guys are supporting me. They got my back. I didn't have the best start, but I just have to keep pushing."
Joe Trezza is an associate reporter for MLB.com. This story was not subject to the approval of Major League Baseball or its clubs.