MLB.com Columnist
Alyson Footer
Altuve documentary screened ahead of Saturday's premiere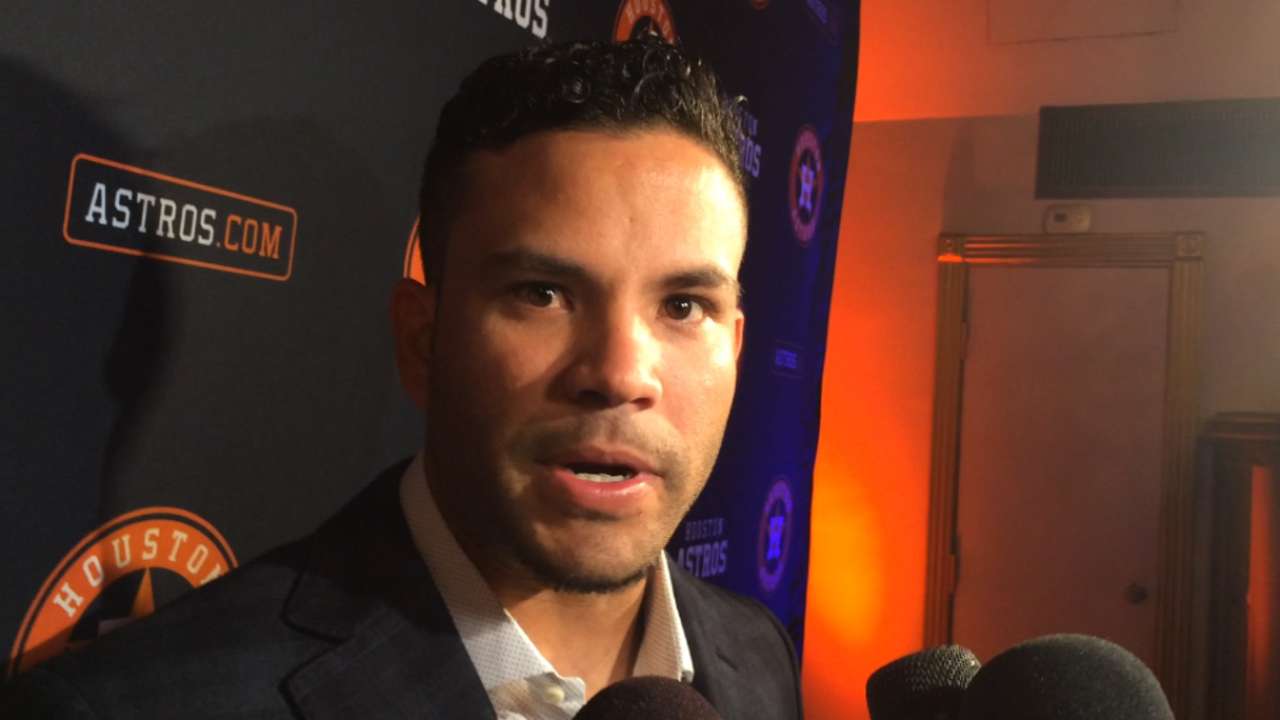 HOUSTON -- It's only fitting that the smallest player in baseball plays in a state where the phrase "Everything's Bigger" is actually a good thing.
Jose Altuve may be only 5-foot-5, but there is nothing small about where he stands in the city where he lives, in the ballpark where he plays and in the clubhouse where he leads. Altuve, as they say, is kind of a big deal around here -- and now, he has a movie to prove it.
"Big Dreams: The Jose Altuve Story" is coming to a television near you, very soon. An hour-long documentary produced by MLB Productions and narrated by actor and Houston native Dennis Quaid, the story follows Altuve through the past offseason, when he spent time all over the globe: in Houston, Japan and his homeland of Venezuela.
On Thursday, the Astros hosted an orange-carpet shindig at the Majestic Metro Theater in downtown Houston, where they presented a special screening of the movie to invited guests.
The man of the hour marveled as he took in the scene around him.
"It's kind of crazy," Altuve said. "There's a lot of people here to see this documentary. It's pretty exciting. I want to thank the Houston Astros for what they're doing for me. This is a documentary about a Houston Astros player, not just Jose Altuve. This is a person, a player, and what it took to get to the big leagues. I appreciate that."
The story reflects back to nearly a decade ago, when a teenage Altuve ignored scouts' claims that he was too small to play in the big leagues and finally convinced the Astros to give him a shot. By the time 2011 had concluded, Altuve had played for three teams: Class A Lancaster, Double-A Corpus Christi and the Astros, having made his big league debut on July 20.
At 24 years old, Altuve is now a two-time All-Star and the first batting champion in Astros history.
The documentary is scheduled to run locally on ROOT Sports Southwest at 4:30 p.m. CT on Saturday and after the Astros' game on Sunday. Then it will air on three consecutive Sundays on MLB Network.
Following a short cocktail reception, the crowd gathered in the theater to watch a documentary that gives a detailed, intimate view of the Astros' All-Star second baseman. The show focuses a great deal on his parents, brother and wife, and it also offers a close-up perspective on what life is like for Altuve in his hometown of Maracay, Venezuela.
The happy guy fans see motoring around the bases night after night is largely the same person when he's away from the field, as the documentary shows. Most of the time, Altuve is smiling, funny and seems just really glad to be there.
Danny Field, the producer and director of "Big Dreams" who spent the better part of the entire season with Altuve and his family, conducted a question-and-answer session with Altuve upon the show's conclusion.
"If you feel like you know him a little more intimately than you did an hour ago, then it's a success," Field said.
Added Altuve: "I just want everyone to know where I come from. I think they did a really good job."
Among the A-listers in attendance were Hall of Famer Nolan Ryan, club president Reid Ryan, former outfielder Jose Cruz and general manager Jeff Luhnow.
"This is an opportunity to celebrate one of the better players in our game," Luhnow said. "He's somebody that people who follow baseball, it's a name that they know, but they don't really know the story behind how Jose Altuve became a Houston Astro and how he became a batting champion. I think it's great to share that story with the world. It's really well done and I think people are going to really enjoy it."
Alyson Footer is a national correspondent for MLB.com. Follow her on Twitter @alysonfooter. This story was not subject to the approval of Major League Baseball or its clubs.