A's Butler set for first appearance as a visitor in Kansas City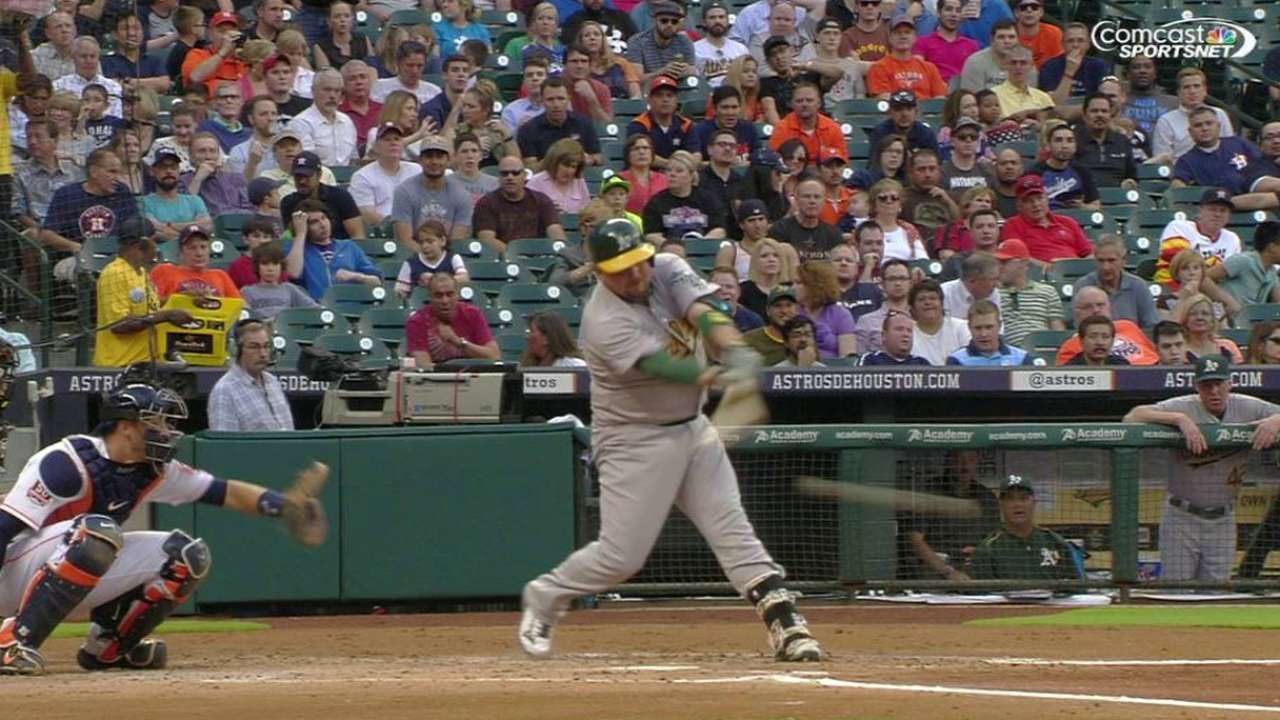 KANSAS CITY -- An 18-year-old Billy Butler knew very little about the Kansas City Royals on June 7, 2004.
"At that age, you don't know much of anything," said Butler, a native of Jacksonville, Fla. "I just knew they loved their baseball there, and they had been through some tough years."
The Royals loitered at 20-34 on that very day, already 10 games back in the American League Central and plunging toward the first of three consecutive 100-loss seasons, when they selected Butler with their first Draft pick (14th overall) out of Wolfson High.
Butler made his big league debut in 2007. It took another six years for the Royals to push past .500 for the first time since '03 and second time since 1993, finishing with 86 wins. Along the way, Butler was named an All-Star (2012) and, despite several ups and downs that mirrored the state of his organization, he became a face of the franchise and was adored by the Kansas City faithful.
Then the real fun began.
"Last year, from August on, when we had the best record in baseball, wherever we went in town, it seemed like time would stop," said Butler of the Royals' run to the AL pennant. "We would get a standing ovation. Everyone was just so excited for what we were doing. That's all everyone cared about there, even though football was coming. Usually by that time, we'd be so far under .500 that they were already looking forward to the Chiefs coming in. This time, it was our year."
Now, having signed a three-year, $30 million free-agent deal with the A's over the winter, Butler will return to Kauffman Stadium on Friday, not much more than five months following the designated hitter's last appearance in Royal blue. It was Game 7 of the World Series, in front of a crowd that was experiencing postseason ball for the first time in 29 years.
The drought was over, the Royals buoyed by an exhilarating, 12-inning AL Wild Card victory over the A's. Butler, like the KC fans, had stuck it out.
"They were starving for it," he said. "You saw the city come to life."
Sometimes, Butler reverts to the present tense when recalling those months, as if he's still living in the moment. Winning in Kansas City, where he'd spent more than one-third of his life, meant everything to him.
"It's what I worked for the whole time," he said. "There were a lot of growing pains, a lot of processes, and there were definitely a lot of times everyone was wondering if this was ever going to work. It took a lot longer than most people thought it was going to take. But the organization turned a corner, and I'm excited to have been a big part of that.
"It's something I'll never forget. We're American League champions. No one can ever take that away from us. We earned it. No one picked us to be there. If anyone picked us, I'd like to meet them."
Butler, who carries a 10-game hitting streak into this weekend's three-game series, received calls from the Kansas City papers in advance of his homecoming. He's prepared for what's coming, knowing he'll be pulled in several directions this weekend. In the midst of it all, he'll celebrate his 29th birthday Saturday.
"Ever since I signed with the A's," he said, "I realized on the schedule I would be there on my birthday. It'll be fun. I don't know how the game looks from the third-base side."
But first, he'll head to Eggtc. for breakfast. Perhaps, by now, they've designated one of their morning specials as "Country Breakfast," a nod to Butler's nickname. If not, Butler might ask them to consider it. By game time, he'll have his filling of Oklahoma Joe's -- his preferred choice for Kansas City barbeque.
"I'll either get the ribs or the Z-man," said Butler, referring to the restaurant's famous sandwich.
Jane Lee is a reporter for MLB.com. This story was not subject to the approval of Major League Baseball or its clubs.