MLB.com Columnist
Anthony Castrovince
Red Sox need starting rotation to step up
While offense has dazzled, Boston's pitching leaves a lot to be desired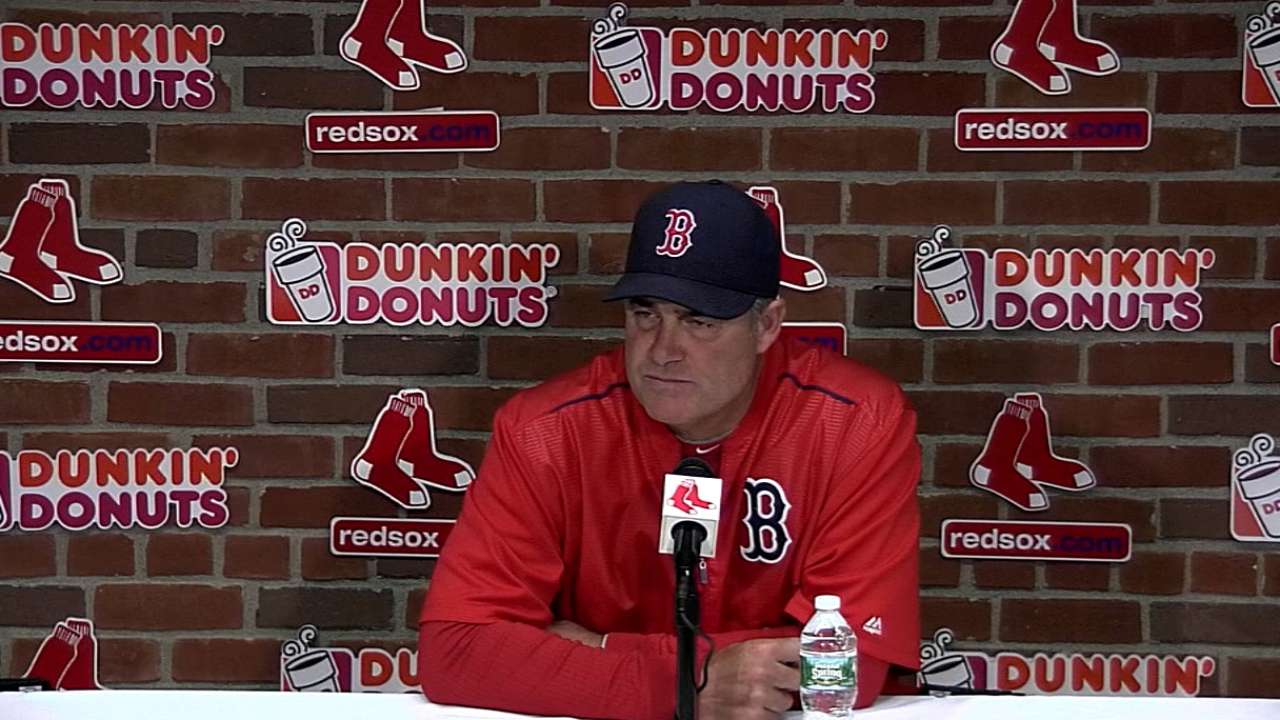 The Red Sox are averaging more than six runs per game at this very early stage of the 2015 season. And if these early showings are what we can expect from a reinvigorated Dustin Pedroia, a maturing Xander Bogaerts and a healthy Hanley Ramirez, then Boston's offense is going to be the elite force so many of us expected it to be.
That offense is the primary reason the Red Sox weren't adamant about adding an ace over the winter. As we've seen so far, with the Red Sox compiling a 6-3 record, bats like these can be a separator in this sport, even if the starting five isn't stocked up on Cy Young candidates.
But while the Red Sox don't need an ace, they are going to need better than they've received from their rotation, to date, because it's not as if we can pencil in six-plus runs a night as any kind of reliable standard.
The bats are good, but not that good.
The Red Sox went into the season with an interesting alignment of ground-ball arms and bounceback candidates, and the early returns have been mixed.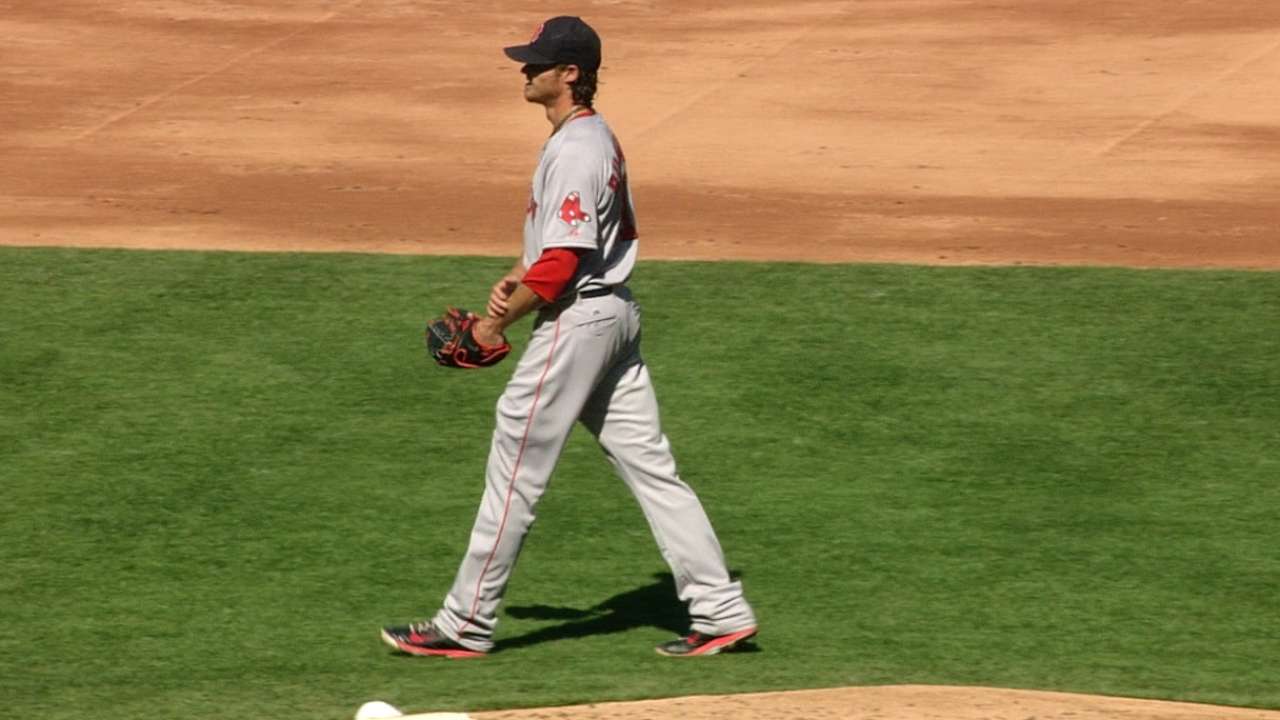 Trade acquisition and extension recipient Rick Porcello hasn't been spectacular, but he's been solid (3.86 ERA over 14 innings and two starts), and fifth starter Joe Kelly was excellent in his '15 debut against the Yankees (one run on one hit with two walks and eight strikeouts in seven innings).
Where the real concern emanates is from the two-face routine of Clay Buchholz (he flustered the Phillies on Opening Day, only to get beat up in the Bronx six days later), the continued lack of velocity from Justin Masterson, and the flat slider that prompted Wade Miley's pummeling by the Nationals this week.
Yes, it's April, and yes, any negativity surrounding the Sox starters is primarily based on just one turn through the rotation, as the first turn was encouraging. But scouts in Spring Training were mostly unimpressed with Boston's rotation offerings, and the stuff they harped on is the very stuff that cropped up over the last week.
Buchholz has been accused in some corners of "not wanting to be an ace," or words to that effect, as if his injury issues are something he wished upon himself. That said, he didn't do himself any favors in the court of public opinion when he didn't properly back up the bases while the Yanks marched all over him last Sunday. His body language was awful, and his performance was an unwelcomed reminder of how bad Buchholz can look when he doesn't have a feel for his changeup. That feel is particularly important, given that Buchholz's fastball command this spring was lacking.
Because the feel for his stuff is inconsistent, so is Buchholz. His Opening Day outing was the 16th in his career in which he logged at least seven shutout innings. But his brutal night in the Bronx marked the 18th time he's surrendered at least six earned runs in a start.
In other words, you really don't know what you're going to get from Buchholz from start to start, which is why he has not been affixed with that vaunted "ace" label, ceremonial though that tag may be.
Masterson's four-seamer, meanwhile, is a shadow of what it was in his All-Star season in Cleveland in 2013, registering nearly five full ticks lower than it was in April of that year (89.2 mph vs. 93.4, per Brooks Baseball).
If last year's issues could be explained away by a knee, back and shoulder problems, no such physical issue has been reported in the present tense. Masterson's simply trying to make do with less, and he now has a 6.01 ERA over his last 139 1/3 innings -- no small sample.
Miley, meanwhile, doesn't have electric enough stuff to be as flat as he was against Washington and at times this spring. He needs to command his fastball and get batters to chase that slider. It's only two starts, but his slider has lacked the vertical movement that makes it effective. At its best last year, the pitch moved as many as three inches vertically, per Brooks Baseball. This season, it's moved, on average, just 0.39 inches.
In an ideal scenario for the Red Sox, these starters will rack up ground balls in front of what ought to be a strong infield defense, and the offense will take care of the rest. It's a worm-burning mind-set that seems to make particular sense in Fenway Park, but it actually came together by accident.
"The truth is, we didn't go into the offseason with any sort of strategic focus on ground balls," executive vice president and general manager Ben Cherington said. "We knew we had to add at least two, if not three, starters. To do that, you have to cast a wide net. Porcello, Masterson and Miley are three guys we liked, and we got those deals done. We don't mind the fact that they get ground balls, but it wasn't a conscious strategy on our part."
What was a conscious strategy was a Jon Lester-or-nothing approach to the top-end starting market (and the bid for Lester, of course, fell well short of what the Cubs committed). That strategy has been dissected endlessly, and it's the reason columns such as these will crop up consistently over the course of 2015, especially when the trade market begins to form.
For now, just as it's too early to do cartwheels over the offensive output, it's too early to get the sweats over the starters. Just keep an eye on Buchholz's command, Masterson's velo and Miley's slider, as those concerns might be the key to the Sox's season.
Then again, if Boson keeps scoring more than six runs per game, maybe none of that other stuff will even matter.
Anthony Castrovince is a reporter for MLB.com. Read his columns and follow him on Twitter at @Castrovince. This story was not subject to the approval of Major League Baseball or its clubs.