MLB.com Columnist
Fred Zinkie
DraftKings picks: Harper, Scherzer, Rasmus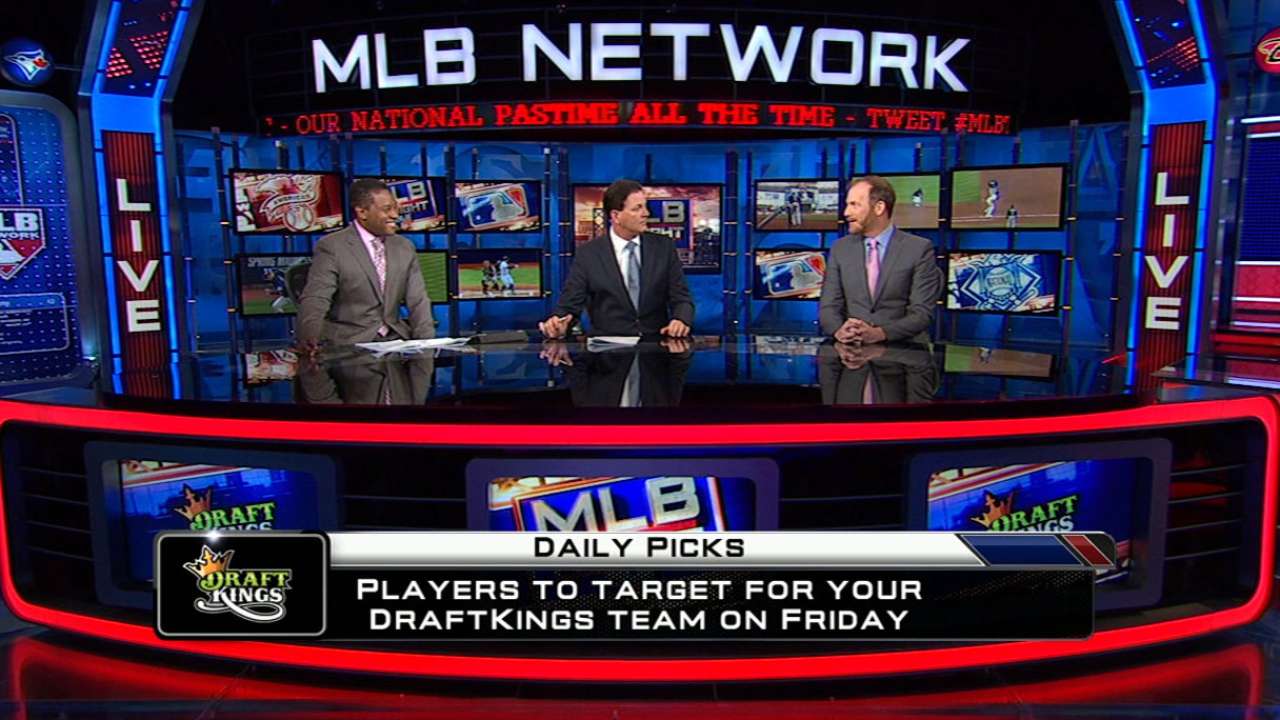 With several back-end starters set to pitch Friday, DraftKings participants may be inclined to stack their hitting lineups. A few options for doing so -- plus additional recommended picks -- can be found below.
Bryce Harper (Nationals): The owner of a career .865 OPS vs. right-handers (.702 vs. lefties), Harper went deep against Phillies righty Sean O'Sullivan on April 12. O'Sullivan has compiled a 5.84 ERA and a 1.55 WHIP in his career, and Harper's Nationals could produce several runs when they get a second chance at him in less than a week.
Ike Davis (A's): Having slugged 66 of his 78 big league long balls against right-handers, Davis could be set to display power off homer-prone Royals righty Jeremy Guthrie (career 1.2 HR/9 rate). Though this contest will be played at pitcher-friendly Kauffman Stadium, the first baseman has a major platoon advantage over Guthrie, who has allowed an .816 OPS to left-handed hitters in his career.
Jason Kipnis (Indians): With a career .780 OPS vs. right-handers (.644 mark vs. lefties), Kipnis could thrive against Twins righty Mike Pelfrey, who has compiled a 4.57 ERA and a 1.48 WHIP in his big league tenure.
Michael Bourn (Indians): Bourn is off to a slow start, but his career .721 OPS vs. right-handers suggests that he could get on track against Pelfrey. If the outfielder can reach first base, he should receive the green light against a likely battery of Pelfrey and Kurt Suzuki that could struggle to control the running game.
Jose Ramirez (Indians): Ramirez is another speedster who could give Suzuki and Pelfrey trouble on the basepaths. Quality shortstop options are hard for DraftKings participants to find, but Ramirez could contribute if he can build on the three swipes he has already registered in the early going.
George Springer (Astros): Springer is off to a slow start at the dish, but DraftKings participants should give a long leash to a sophomore who ripped 20 homers in 295 at-bats in 2014. With a career .771 OPS vs. right-handers (.742 against lefties), Springer could belt a long ball against fly-ball-prone Angels righty Jered Weaver.
Colby Rasmus (Astros): The outfielder may be excited to face Weaver, who has an 8.71 ERA across his initial two 2015 starts. Rasmus -- who has clubbed 94 of his 117 career homers against righties such as Weaver -- could seize the opportunity and put an offering into the outfield seats.
Jake Lamb (D-backs): The third baseman is drawing regular starts against right-handers, and he could maintain or expand on his role in the coming days after opening 2015 with a .409 average in 22 at-bats. With a career .406 on-base percentage in the Minors, the rookie could reach base multiple times against Giants right-hander Jake Peavy, who struggled with back soreness near the end of Spring Training and allowed four runs in four innings during his regular-season debut.
David Peralta (D-backs): With a career .843 OPS vs. right-handers opposed to a .491 mark vs. lefties, Peralta should be in a good position to reach base multiple times against Peavy, especially if the right-hander cannot turn around his early-season struggles.
Max Scherzer (Nationals): For the second time in less than a week, Scherzer will duel with Phillies righty O'Sullivan. Neither pitcher came away with a win in this seemingly lopsided battle April 12, but the Nats ace could cruise to a victory in this home start if he can hold the underwhelming Phillies offense in check.
Corey Kluber (Indians): DraftKings participants who wish to pick an ace Friday will likely find themselves debating between Scherzer and Kluber. In his start, the Indians right-hander could post low ratios against a Twins offense that ranks last in baseball in runs scored. And with Pelfrey as the opposing starter, Kluber could pull off a win even if he isn't his stellar self.
Drew Hutchison (Blue Jays): If he keeps the ball in the yard, this high-strikeout starter can be a useful DraftKings option Friday. Despite pitching in his hitter-friendly home environment, Hutchison could have success against a Braves lineup that lacks a single player who hit 20 homers last season.
Bartolo Colon (Mets): The 41-year-old has opened the season well, posting two quality starts and a 13-to-1 strikeout-walk ratio. On Friday, Colon could fare well in his home park against a Marlins squad that will counter reliever-turned-starter David Phelps.
Freddie Freeman (Braves): The first baseman may relish the opportunity to face the Blue Jays' Drew Hutchison, who has a 6.97 ERA and a 2.6 HR/9 rate through his first two 2015 starts. Freeman -- who has hit righties to the tune of a .879 OPS in his career (.731 vs. southpaws) -- could take advantage of the hitter-friendly environment at Rogers Centre and deposit one into the outfield seats.
All statistics are accurate through the completion of Wednesday's games.
Fred Zinkie is a senior fantasy baseball writer for MLB.com. Follow him on Twitter at @FredZinkieMLB. This story was not subject to the approval of Major League Baseball or its clubs.