Taylor: Homer doesn't totally ease sting of error
WASHINGTON -- Nationals center fielder Michael Taylor was in no mood to explain what happened on the seemingly easy fly ball he misplayed in the fourth inning Thursday night against the Phillies.
"I'm not even going to tell you what happened, because it will sound like an excuse," Taylor said. "I just dropped it. It can't happen."
Clearly, Taylor took the play hard, especially because it helped give the Phillies an unearned run. But credit to him, his teammates said, that he did not let it affect the rest of his game. In fact, Taylor's home run, which led off the fifth, was the game-deciding hit in Washington's 5-2 victory at Nationals Park.
But while Taylor said, "It was nice to get that hit," he added, "it didn't make me feel any better."
In other words, Taylor handled the situation perfectly, staying hard on himself but not to the point where it affected the rest of his game.
It is that kind of focus and dedication, Nationals first baseman Ryan Zimmerman said, that will help the rookie's learning curve.
"He's a real talented kid," Zimmerman said. "He's going to be a really good player."
Besides, Zimmerman said, "That wasn't an easy play."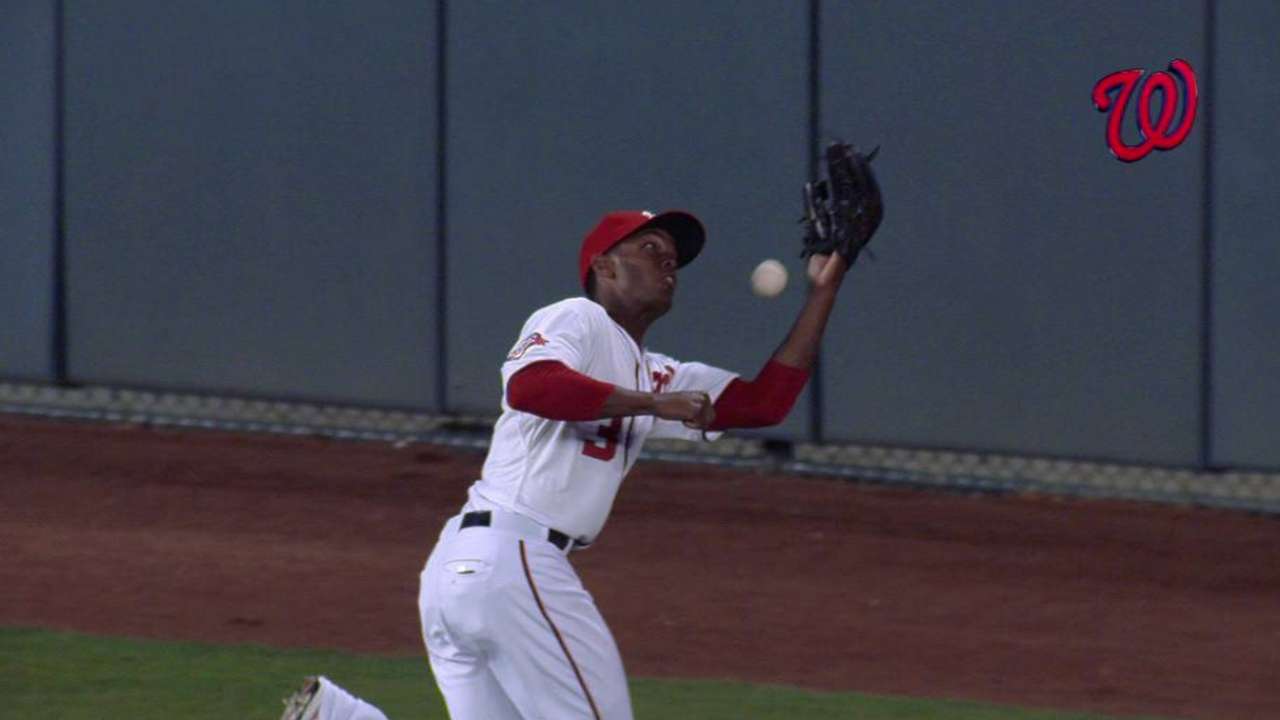 In the fourth, Taylor covered a lot of ground tracking Carlos Ruiz's line drive to center, and he got there in plenty of time. But the ball clipped off the thumb of Taylor's glove, allowing Ruiz to reach second and Jeff Francoeur to go from second to third.
Francoeur would score on Darin Ruf's sacrifice fly to Taylor to give the Phillies a 2-1 lead.
"[Ruiz's] ball just carried on him a little bit," Nationals manager Matt Williams said.
Said Zimmerman: "That ball was hit pretty hard, and going straight back in center field, I feel a lot of people take routine plays for granted at this level, because we do make a lot of plays look easy. But that wasn't an easy play."
What has looked easy recently for Taylor is what he is doing at the plate, going 5-for-10 in his past three games to raise his average to .282.
Still, misplaying a playable ball and costing his team a run did take some of the shine off, Taylor said.
Outfielders coach Tony Tarasco tried to help by deadpanning to Taylor, "Don't drop the ball."
"He coached me up," Taylor said, and added, "Honestly, I know that's not the player that I am. I just go out there and pray that they hit me the ball again, so I can go out there and make the next play."
Damian Cristodero is a contributor to MLB.com. This story was not subject to the approval of Major League Baseball or its clubs.