Scuffling with bat, Byrd making highlight reels with glove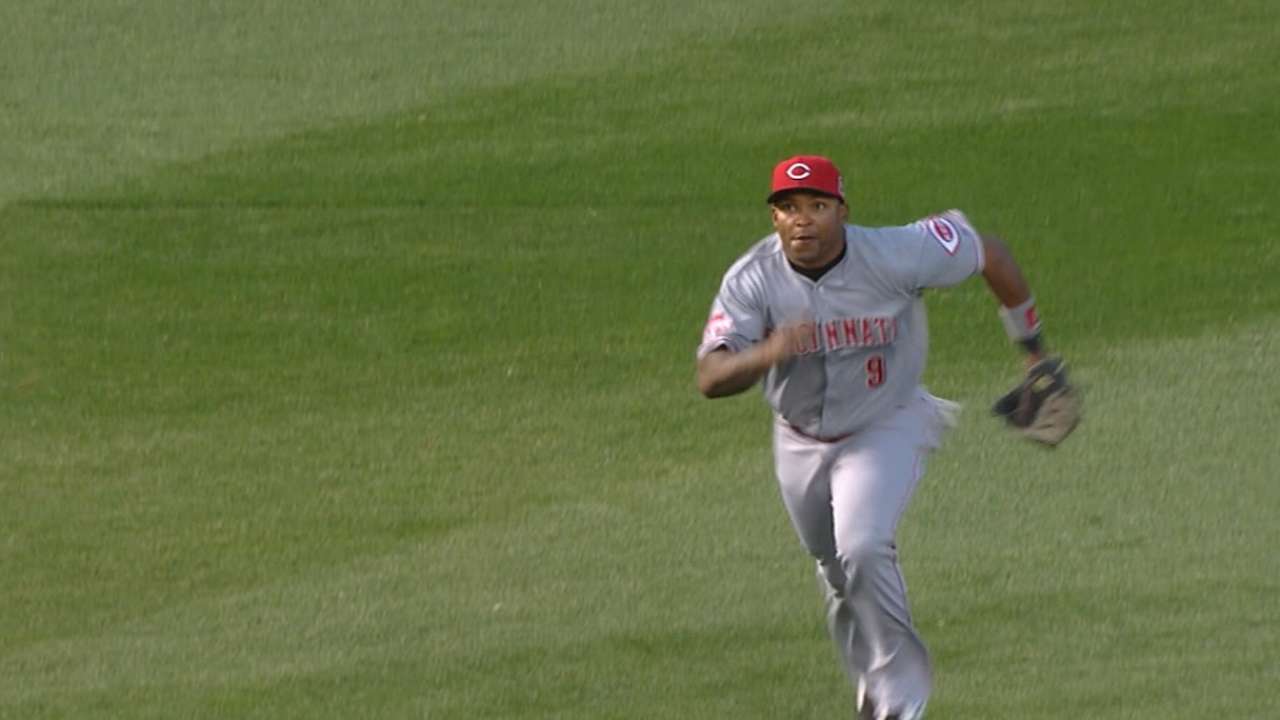 CHICAGO -- The Reds traded for Marlon Byrd in the offseason for an offensive boost. While he has yet to take off at the plate, batting .147 with no home runs and three RBIs in nine games, he's been able to make some big contributions is a less expected way -- defensively.
Byrd has taken hits away and found his way on highlight videos with some nice plays. The 37-year-old takes pride in backing up the pitcher with quality defense.
"I haven't hit my whole career, but the one thing I have done is I've been kind of consistent on the defensive end -- not great or Gold Glove -- but I make the plays I need to make," Byrd said. "Every now and then, I will surprise a guy and make a great play."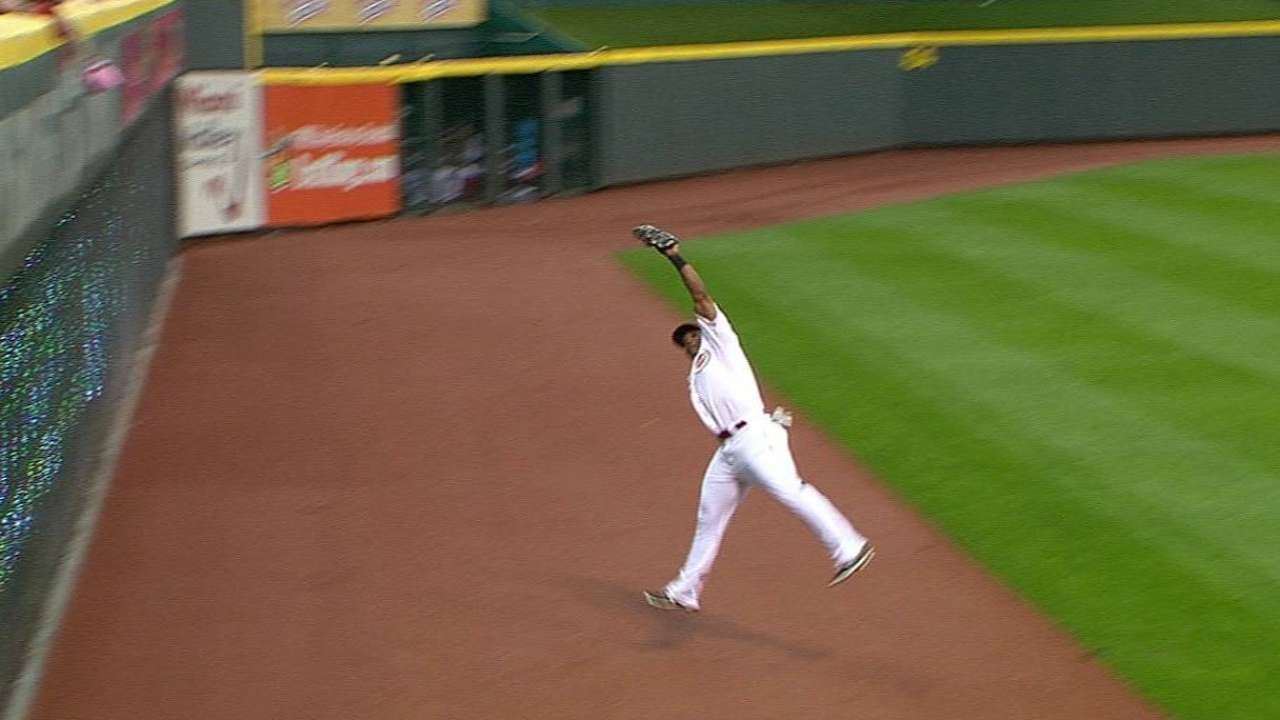 Here are some examples:
• In the eighth inning on Opening Day vs. the Pirates, Byrd made a long run toward the wall and a leaping catch at warning track that robbed Gregory Polanco of extra bases.
• On Monday vs. the Cubs in the third inning, Chris Coghlan slashed a hit deep and near the left-field line. As Coghlan tried for a double, Byrd snatched up the ball and quickly fired an on-target, two-hop throw to second base for the out.
• In the same game, in the bottom of the ninth with a runner on second base in a 6-6 game, Byrd moved to his left on Welington Castillo's liner and made a game-saving diving catch.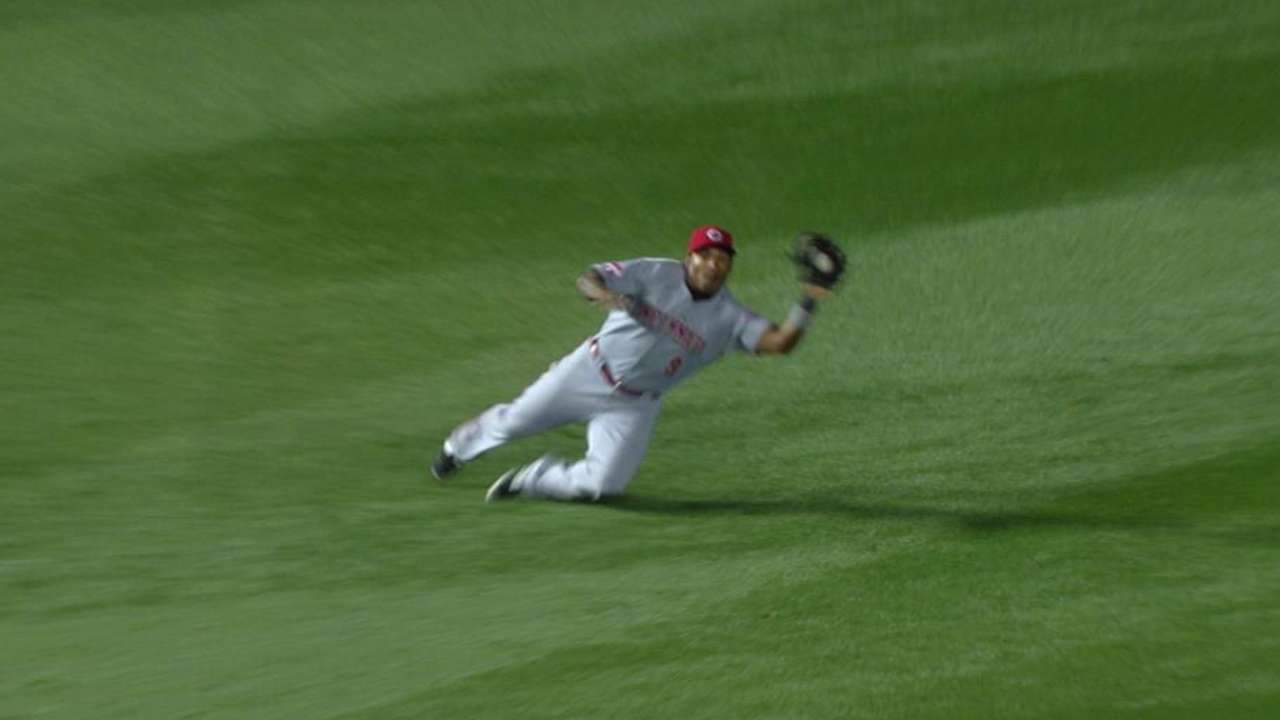 • In the first inning on Tuesday at Wrigley Field, Byrd was playing back and ran to shallow left field for a nice diving catch that robbed Anthony Rizzo.
"I think he's done great," Reds manager Bryan Price said. "He's been very comfortable coming in on the ball, leaving his feet. He's always throwing to the right base with accurate throws. Considering it has been such a long time since he's been in left field, he's done an outstanding job. I'm very pleased."
Before this season, Byrd had played only two games in left field since 2010 -- and none in '14 -- while primarily playing right field. He viewed the reaction and route-taking hardest from left field than the other two outfield spots. But he can also protect the space closer to the foul line with speedy Billy Hamilton's long range in center field.
Although he had a lot of reps in spring, he still calls his play a "work in progress."
"I still haven't had the line drive over my head at me, that's the one I'm waiting for," Byrd said.
The Polanco play in the opener was close to what Byrd wanted, but not quite.
"That was off a lefty. It's a little bit easier," he said. "When a righty hits it, you don't know if it's going to hook, topspin or stay straight. It's more the righties I'm waiting for that ball to happen. Once it does, I will feel like I have everything covered at that point."
Mark Sheldon is a reporter for MLB.com. Read his blog, Mark My Word, and follow him on Twitter @m_sheldon. This story was not subject to the approval of Major League Baseball or its clubs.