Mariners determined to overcome pitching struggles
Walker, Paxton and Iwakuma lead slow start out of the gate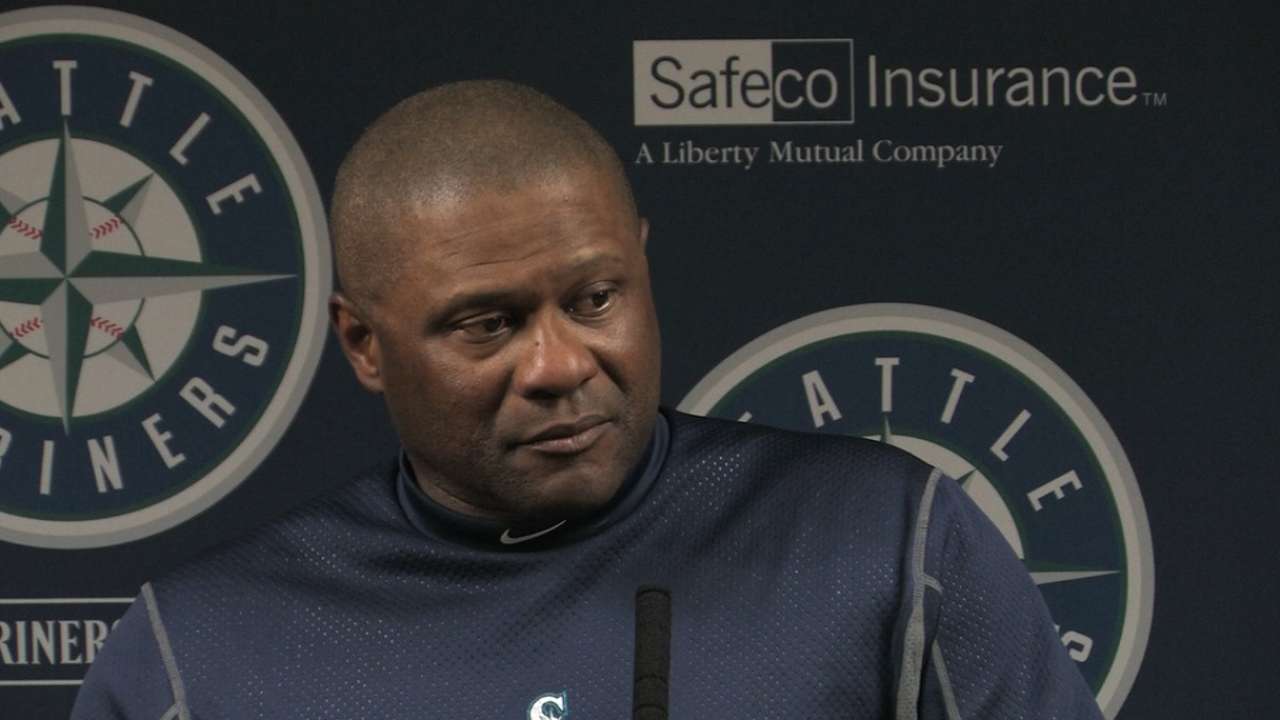 SEATTLE -- A Mariners team expected to contend for its first playoff berth since 2001 has struggled out of the gate with a 3-6 start and it's not hard to point a finger at the problem. Pitching, expected to be the bread and butter of the club, has been more like toast as Seattle ranks 29th out of 30 Major League teams in ERA at 5.16 heading into Thursday's off-day.
Two things to consider. One, the Mariners are the only team in baseball to have faced three 2014 playoff teams -- the Angels, A's and Dodgers -- in their first three series. Secondly, the numbers are skewed by a pair of poor starts from young right-hander Taijuan Walker, who is sporting a 17.18 ERA after giving up 14 runs in 7 1/3 innings.
Take away Walker's work and the team ERA drops to 3.98 and 17th in MLB. Manager Lloyd McClendon knows this has been more than just one-man woes, however.
"He's not the only one," McClendon said after Walker lasted just four innings in Wednesday's 5-2 loss to the Dodgers. "I'm not going to pick on that kid. But if you're asking me if I'm concerned with our starting pitching, yes. We've got to get better. We've got to get deeper into ballgames.
"We've got a real good bullpen, but they won't be worth a darn if we keep running 'em out there. We have to get better efforts from our starters."
Indeed, Seattle's starters have the highest ERA of any rotation in baseball at 6.43, having surrendered 35 earned runs in 49 innings while opponents have batted .291.
Walker's numbers certainly don't help, but the rest of the rotation's 4.54 ERA isn't overwhelming either. Veteran right-hander Hisashi Iwakuma (6.55 in two starts) and promising left-hander James Paxton (5.11 in two starts) have struggled as well.
Felix Hernandez had a strong Opening Day start and owns a 3.00 ERA, but even the King wobbled in his second outing when a twisted ankle and sore quad led to eight hits and three runs in an abbreviated five-inning start. Thus No. 5 starter J.A. Happ has the lowest ERA in the Mariners rotation at 2.84, having allowed seven hits and two runs in 6 1/3 innings in his lone outing so far.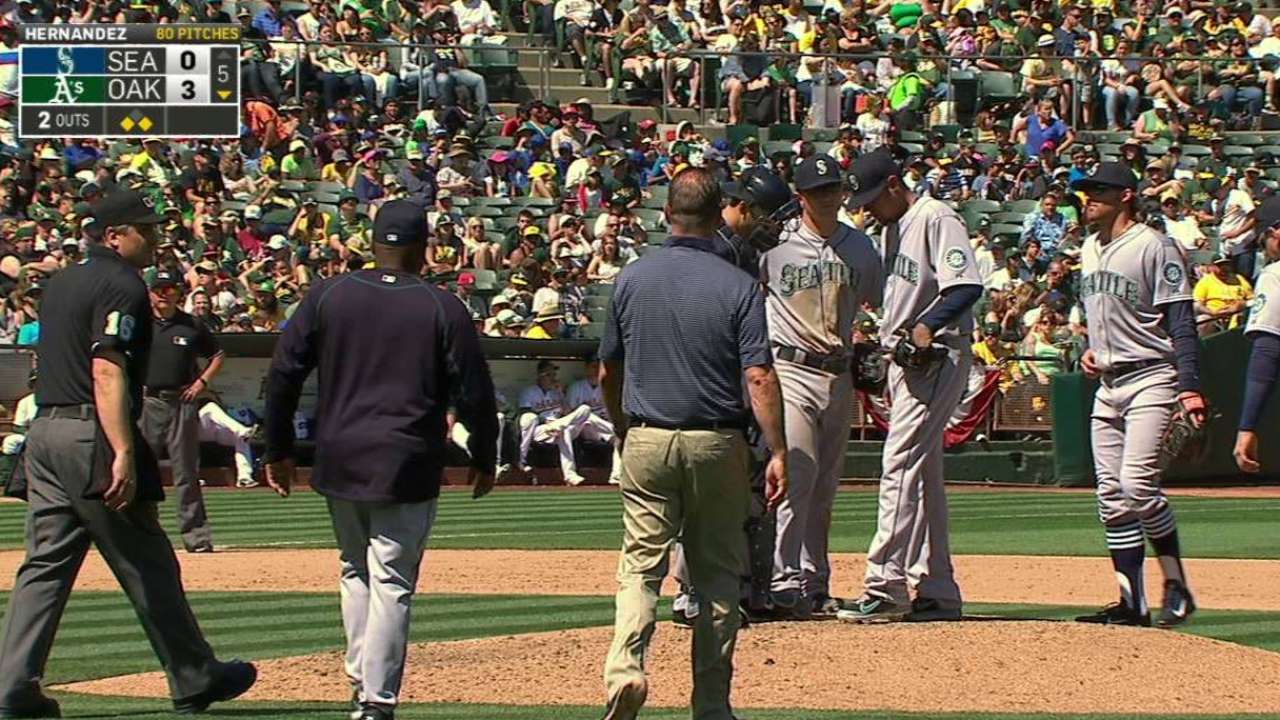 The bullpen has been better, but not nearly as stout as last year, ranking 21st among MLB's 30 teams with a 3.27 ERA in 33 innings with opponents hitting .270.
All those numbers are a far cry from last year's AL-leading 3.17 team ERA, second best in baseball behind the 3.03 of the Nationals, and an MLB-leading .230 opponents' batting average. Seattle's starters had a 3.48 ERA in 2014, tied for second-best in the AL, while the bullpen led all of baseball at 2.59.
With most of the same group back, there's no reason to think Seattle's early troubles will continue. McClendon knows his rotation needs to start pitching better and deeper into games to take pressure off everyone. What does he need most from his five starters?
"Innings," McClendon said. "Innings."
To date, Hernandez's Opening Day outing was the only start to go beyond 6 1/3 frames. And the bullpen, with closer Fernando Rodney roughed up twice and Tom Wilhelmsen on the 15-day disabled list, has felt the early crunch.
The Mariners increased offense hasn't been nearly good enough to offset the pitching problems. Seattle is second in the Majors in home runs with 14, thanks in large part to Nelson Cruz's MLB-leading six. But the Mariners are 27th in baseball in batting average (.210), 29th in on-base percentage (.258), 21st in OPS (.639) and 21st in runs per game (3.6).
It all adds up to a 3-6 start. The Mariners have Thursday off before Happ leads off a nine-game homestand Friday night against the Rangers at Safeco Field. The brief respite will be welcome.
"Our bullpen needs it. I need it," McClendon said after his team was swept by the Dodgers on Wednesday. "But it's not the end of the world. We'll be back, I promise you."
Greg Johns is a reporter for MLB.com. Follow him on Twitter @GregJohnsMLB as well as his Mariners Musings blog. This story was not subject to the approval of Major League Baseball or its clubs.