Inbox: Story behind Betances' pitch selection?
Beat reporter Bryan Hoch answers questions from Yankees fans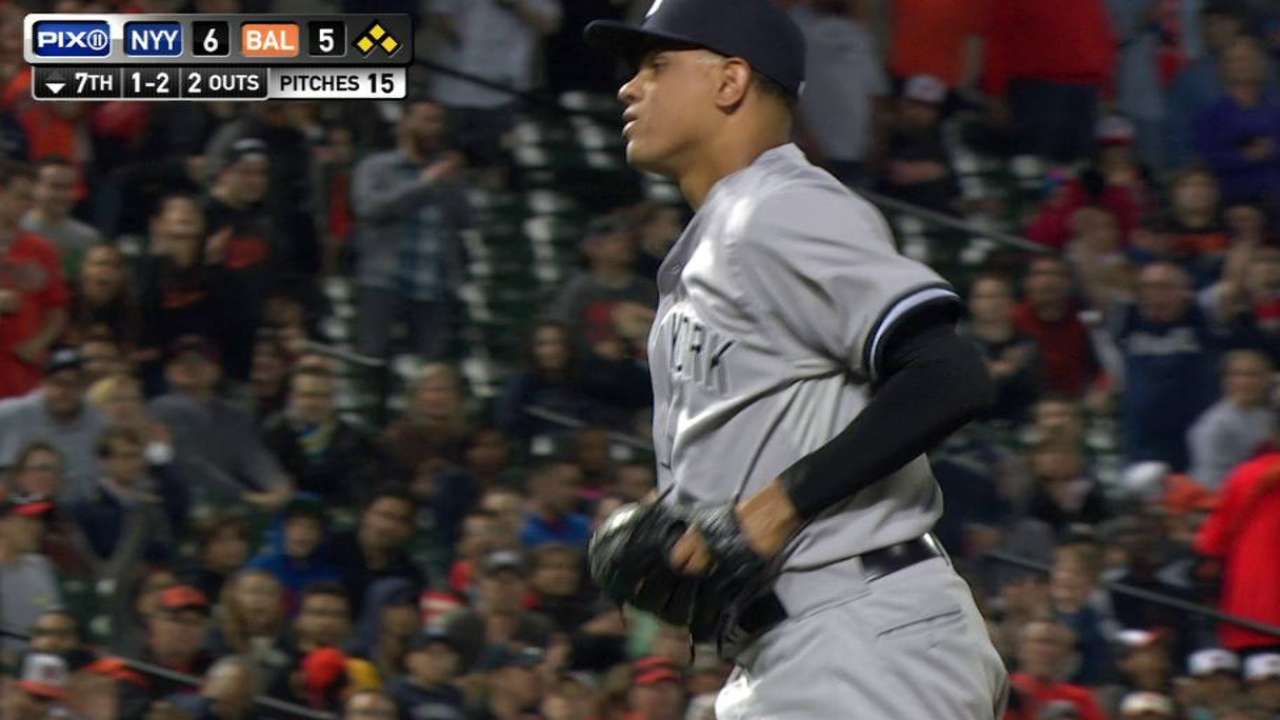 I've noticed there have been a good amount of breaking balls thrown by Dellin Betances. Is this an attempt to give hitters something else to worry about? To save his arm? As someone who was so effective last season with fastballs in the upper 90s, I was wondering why you think he has moved off the speed game.
-- Matt B., Dudley, Mass.
You made me curious to check the numbers, and there's not as dramatic a shift you might think. According to Brooks Baseball, Betances used his four-seam fastball 710 times (52.28 percent) and his curveball 644 times (47.42 percent) times in 2014. This year, you're correct in that Betances has used his curve (59 times) more than his four-seamer (57 times), but it's such a small sample size that it doesn't raise a red flag.
"Right now my breaking ball, I'm throwing too many balls and falling behind, but I have confidence in that pitch that it will [come around]," Betances said on Monday. "If I threw it for strikes, it's a different story. I know that's a pitch that helps me a lot, and I'll keep throwing it."
Didi Gregorius seems to be rushing when he charges the ball, rushing to get the ball out of his glove, rushing his throws and appears to be uncomfortable at the plate. How much time do you think Joe Girardi will give Gregorius to adjust?
-- Javier C., South San Francisco, Calif.
Gregorius does appear to be trying to do too much too quickly -- forget the fielding miscues for a second (seriously, why didn't he throw home against Boston?) -- but it was surprising to see him try to steal third base down by five runs on Opening Day, as well as to see him nabbed rounding first base on an RBI single. To me, those are signs that he needs to slow the game down.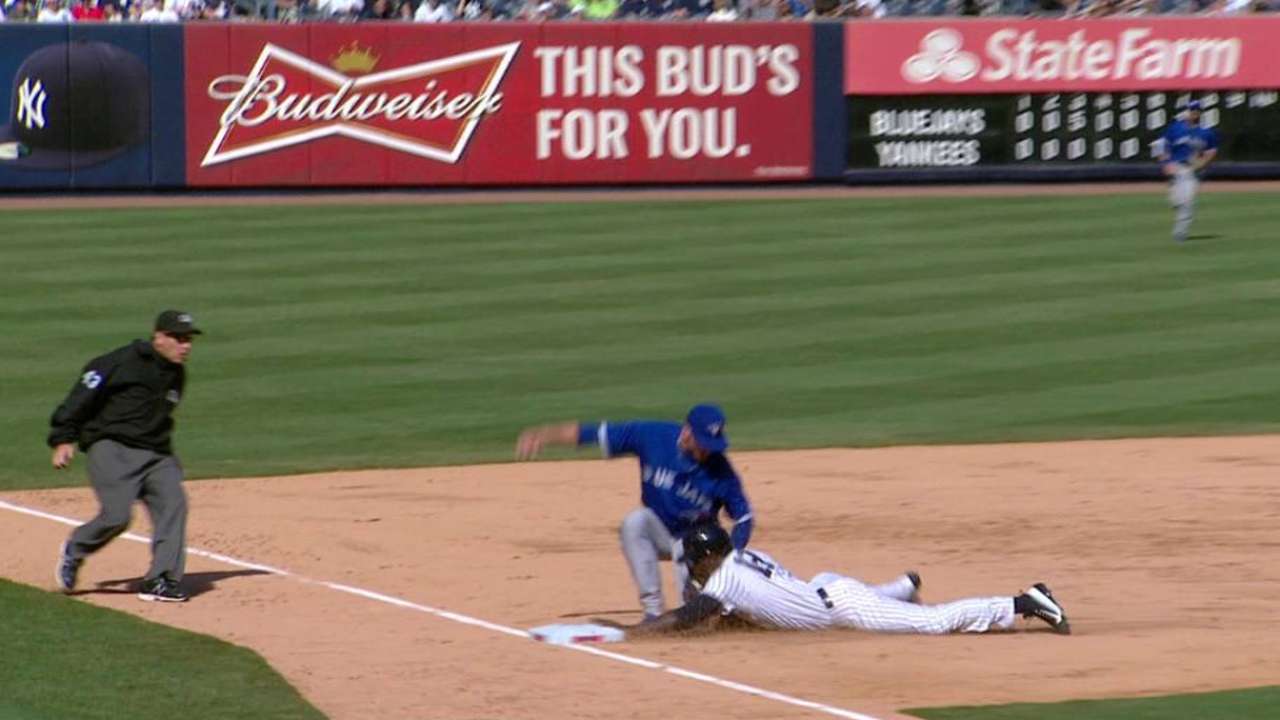 As far as patience, the Yankees need to give this time to work. What's the backup plan? I suppose you could move Stephen Drew to short, but the Yanks don't want to make too much out of nine games.
Why was it a priority to get Gregorius? Couldn't the Yankees have used Drew at short, kept Shane Greene and put Rob Refsnyder at second to start the year?
-- Matt B., Auburn, Maine
I suppose that would have worked, though the Yankees had concerns about Refsnyder's defense (and he has made three errors in six games this year at Triple-A Scranton/Wilkes-Barre, which doesn't help his case for a callup). Greene is off to a lights-out start in Detroit, but I never got the sense that the Yanks were as excited about Greene -- a late bloomer who was hardly talked about two years ago -- as the Tigers seem to be. General manager Brian Cashman was trying for more than a year to acquire Gregorius; the Yankees loved his high-end projections, even though they acknowledged he wasn't a finished product. They saw a fit and they jumped. It can take years to determine the winners and losers of a trade, and this could be one of those cases.
How long of a leash does CC Sabathia have? I'm tired of hearing from both him and Girardi that it was bad luck or he feels good. After two-plus years, it stops being luck.
-- Mark T., Syracuse, N.Y.
The Yankees have talked about hoping for 30 to 32 starts out of Sabathia, so it's not as though he's going to take Esmil Rogers' job as a long reliever anytime soon. Nine runs have crossed the plate in his two starts, so I understand why you don't want to hear about luck or health, but there actually is truth to both conversations.
Sabathia's velocity isn't going to magically come back, but his location and pitch consistency are better than last year, and he's generating swings and misses while only walking one batter in 12 2/3 innings. With one exception, he has also kept the ball in the yard (it wasn't a good pitch, but no one else seems to be getting Adam Jones out, either).
What we've learned so far is that Sabathia's right knee limits him defensively -- just get used to him struggling to cover and back up bases -- but he can still get big league hitters out. The late-career Andy Pettitte model that Sabathia has talked about would be ideal. Girardi said Tuesday that he thinks Sabathia's luck will change, and that the results will be better. We shall see.
Has a timetable been set for Chris Capuano's return?
-- Lyle L., Bullhead City, Ariz.
Capuano is scheduled to throw his first batting-practice session Thursday in Tampa, Fla., and if that goes well, he'd probably throw one more and then get into Minor League games. He's basically starting Spring Training over, so you could think about the end of May. Capuano is slightly ahead of Ivan Nova, who's expected back in June, so the Yanks could have a good problem on their hands coming up.
Bryan Hoch is a reporter for MLB.com. Follow him on Twitter @bryanhoch and read his MLBlog, Bombers Beat. This story was not subject to the approval of Major League Baseball or its clubs.