Inbox: Will Wieters remain with Orioles past '15?
Beat reporter Brittany Ghiroli fields Orioles fans' questions
Who poses a greater threat to Matt Wieters' future in Baltimore: Caleb Joseph or his agent, Scott Boras?
-- Dan S., South Florida
Boras, unquestionably. Joseph will be the first to tell you -- and he did tell reporters several times this spring -- that there's no replacing Wieters. And while Joseph has certainly grown into a defensively sound catcher in his second year, he doesn't have the experience or the offensive ability yet that the switch-hitting Wieters does. Keep in mind, Wieters was on pace for a career year offensively in 2014 before an elbow injury eventually required Tommy John surgery.
Wieters hasn't played this season and is still on a throwing program in extended spring camp. The more time he misses this season -- his final under team control -- the less leverage Boras may have to work on a megadeal for his client. Could that work in the Orioles' favor? Maybe, but it could be a stretch. When the sides were talking, they were said to be worlds apart. Bridging that gap, at least with where things are now, would be incredibly difficult.
What's the difference in the bullpen pitching these first nine games from last year? Do we have enough of a sample size?
-- Randall M.
I don't think there's been enough games to panic. But the real concern with the bullpen is the lack of flexibility that would afford the team options to make changes if it needs to down the road.
Which brings me to the next question …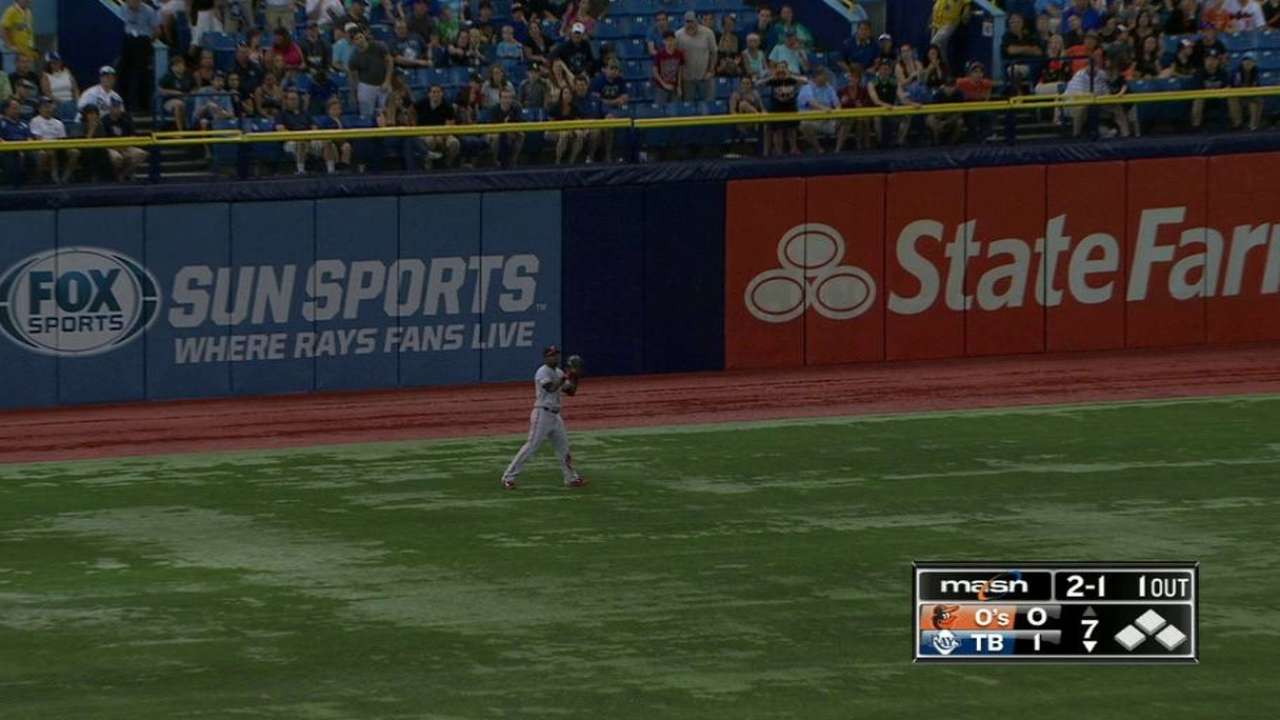 With less roster flexibility this year due to so many players out of options, plus trying to keep Jason Garcia, do you see a trade coming to be able to take more advantage of the guys at Triple-A Norfolk and Double-A Bowie?
-- Evan K.
I think something has to be done, though the Orioles bought a little time with Wesley Wright being on the disabled list. Garcia, a Rule 5 Draft pick, complicates things, and the O's are trying to get a feel for what he can do to determine if it's worth it to keep him the whole season. Baltimore would be willing to trade several relievers, including Wright, Tommy Hunter and Brian Matusz, but they aren't going to just give these guys away.
Hunter and Matusz have served well in their 'pen roles in the past, so I think executive vice president of baseball operations Dan Duquette is biding his time a little, hoping that things become clearer in the coming weeks, whether it's an injury or underperformance. It's a precarious spot, as manager Buck Showalter referenced, because the club can't handle having a few short starts in a row the way the 'pen is structured.
What is your opinion on the potential roster move when J.J. Hardy returns?
-- Scott W.
Assuming no injuries, I'd think it would be an infielder. Jonathan Schoop seems safe at second base, leaving Everth Cabrera or Ryan Flaherty, who both have Minor League options remaining.
Brittany Ghiroli is a reporter for MLB.com. Read her blog, Britt's Bird Watch, and follow her on Facebook and Twitter @britt_ghiroli. This story was not subject to the approval of Major League Baseball or its clubs.