Braves riding top of rotation, but need better production
Teheran, Miller, Wood, along with solid 'pen, have helped Atlanta to six wins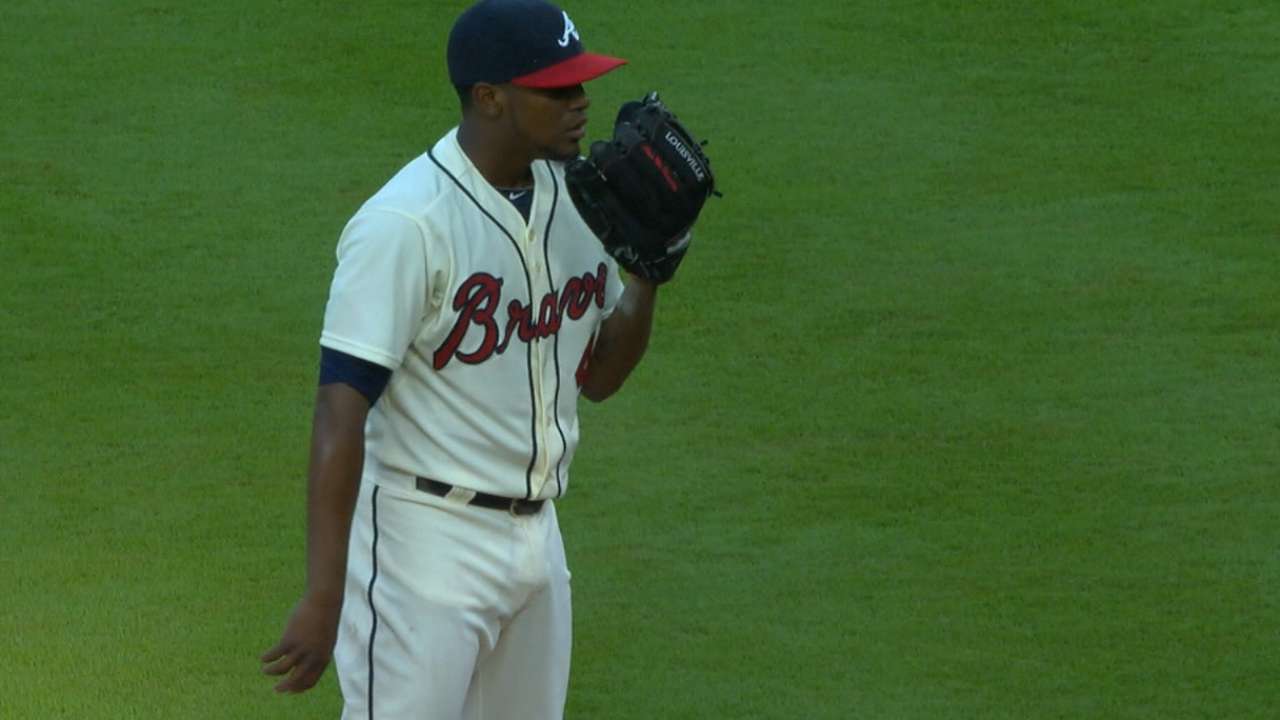 ATLANTA -- As the Braves have progressed through the early portion of this season, they have shown why optimism surrounded the front end of their starting rotation and why there is reason to remain skeptical about their offensive potential.
Along the way, the Braves have received some unexpected contributions from an inexperienced middle-relief corps that has significantly influenced the club's encouraging 6-3 record.
The season is far too young to put much stock in the statistics that have been compiled. But some of the early trends have at least provided some fodder to debate which direction Atlanta might go over the next few weeks and months.
Here is a look at some of the early-season developments.
Front-end starting pitchers
Given that Julio Teheran, Alex Wood and Shelby Miller started six of this season's first seven games, maybe it should not have been surprising to see the Braves begin the year with a 6-1 record. The lone loss during this stretch was saddled upon Wood, who has not necessarily been sharp while showing a slight dip in velocity during his first two outings.
Teheran, Wood and Miller, who have combined to post a 2.13 ERA through their first two turns, match up favorably against most National League pitchers not named Clayton Kershaw or Max Scherzer. But unfortunately, Atlanta will have to give approximately 35-40 percent of its starts to …
The back-end starting pitchers
With Mike Minor's lingering left shoulder discomfort raising the question of whether he will ever provide value to this year's rotation, the Braves have to hope Eric Stults and Trevor Cahill show some improvement. Stults, who has allowed 12 hits and seven earned runs through his first 10 innings, might stand as a serviceable fifth starter in many rotations. But he has a more enhanced role for this club, which opted to take a late-March gamble on Cahill, whose ugly 2 1/3-inning season debut on Tuesday raised more concern about whether he has the ability to bounce back from last year's disastrous season with the D-backs.
Even though Atlanta has made a $5.5 million commitment to Cahill, the Braves will continue to evaluate the readiness of top pitching prospect Matt Wisler, who completed five scoreless innings in his season debut with Triple-A Gwinnett. In doing so, he provided further indication that he is more polished than Mike Foltynewicz, who might eventually become a candidate to help …
The bullpen
Since trading All-Star closer Craig Kimbrel less than 24 hours before their season opener, the Braves have seen their bullpen produce a stellar 2.06 ERA while working a NL-high 35 innings. Jason Grilli, Jim Johnson and Luis Avilan have each bounced back from a rough season to provide late-inning reliability. But the lingering concern about this relief corps centers on whether Cody Martin and Brandon Cunniff are capable of continuing to be reliable middle-relief assets.
The success Martin and Cunniff have had to begin their careers has been every bit as encouraging as the …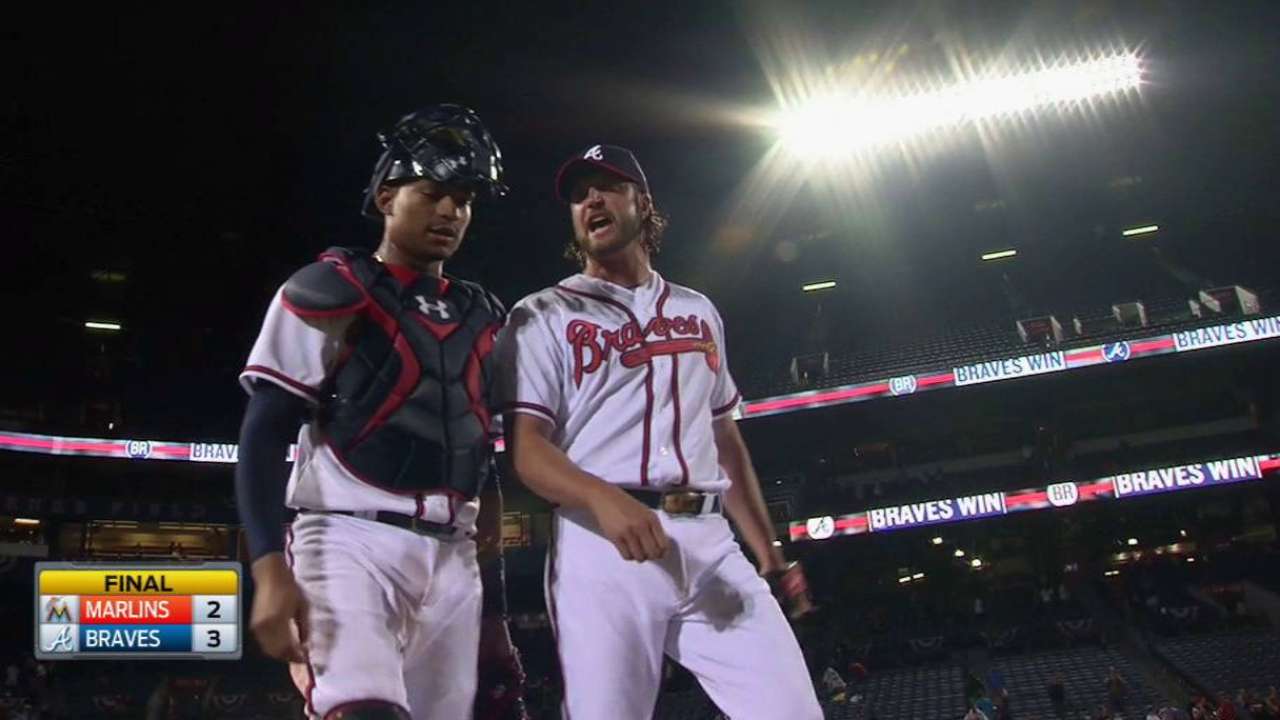 Early offensive production
Given the concerns about this power-depleted lineup, it might be encouraging to see that the Braves own the NL's second-best batting average (.323) with runners in scoring position. But this is just one of many misleading early-season statistics. Take away the 9-for-16 performance on April 7, and Atlanta has batted just .239 with runners in scoring position.
The Braves have tallied eight home runs (equal to their total through last season's first nine games), but each of their last seven have been solo shots. This shines a brighter light on the fact that Alberto Callaspo and Nick Markakis are the only roster members who have compiled a .300 on-base percentage while totaling at least 20 plate appearances. To maximize their offensive potential, Atlanta needs …
Better production from the lineup's top two spots
Those who have seen Freddie Freeman frequently line out to center field over the past few days can understand that his .229 batting average is not indicative of how well he is swinging the bat. But Freeman's production will be limited if the Braves continue to get little output out of their lineup's first two spots. Atlanta's leadoff hitters have compiled a .275 on-base percentage, and the second spot in the order has compiled a .162 OBP.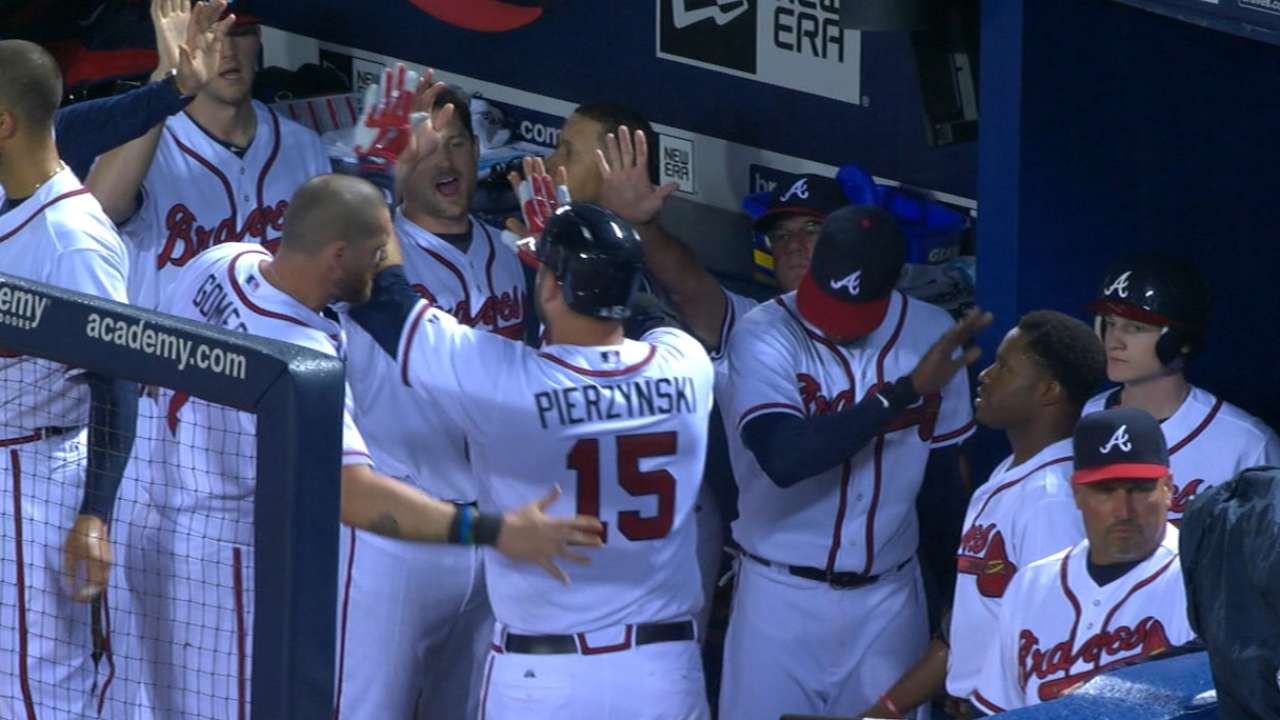 Because Cameron Maybin is the better defensive option in center field, the Braves could give him more playing time if Eric Young Jr. continues to struggle in the leadoff spot. There is also the lingering presence of top prospect Jose Peraza, who has experienced his own early-season woes with Triple-A Gwinnett.
There is certainly a chance Peraza could be at the top of Atlanta's lineup within the next couple months. But time will tell whether he might arrive in time to significantly benefit a Braves club that has already shown some of the strengths and weakness that will influence what transpires over the remainder of the season.
Mark Bowman is a reporter for MLB.com. This story was not subject to the approval of Major League Baseball or its clubs.