Venable not quick to give up on old glove
Padres outfielder received mitt from Roberts, who first used the glove in '05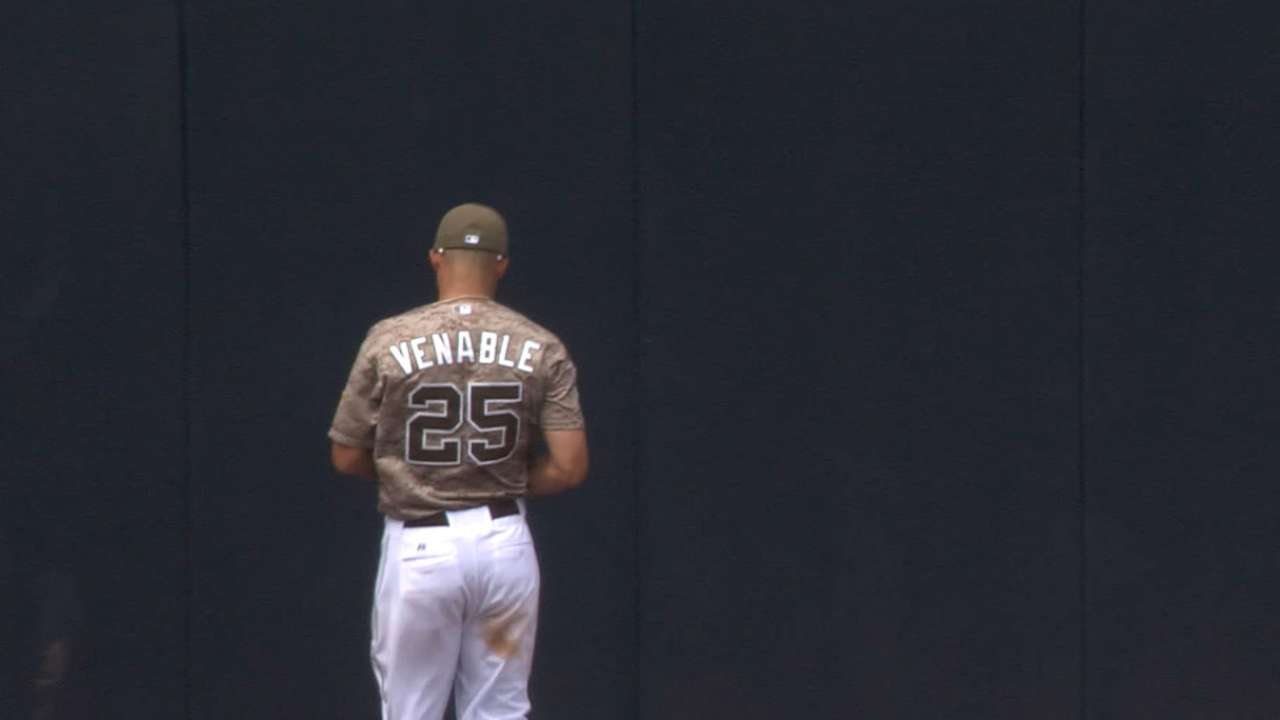 SAN DIEGO -- When Will Venable peers into his trusted glove, a Rawlings PROS601KB that has seen better days, he doesn't see the tear in the pocket staring back at him, the replacement laces, restrung many times over, or the well-worn cracks that suggest his glove is ready to be put out to pasture.
He sees an old friend.
"It was pretty beat up when I got it and now it's worn so thin now that you can't repair it," Venable said, slowly twisting the glove on his right hand. "When it finally goes ... it's going to be sad. Last year, I told myself that was it, that it was the last year."
Venable's voice then perks up and he smiles. Last year was never going to be the final year for his glove.
"But it's still going strong. And I think that until it becomes a liability, I'm going to keep using it," he said.
For the fourth consecutive season, Venable, the Padres outfielder, is pushing his luck by using this old glove, one that first belonged to San Diego bench coach Dave Roberts -- from his playing days, going all the way back to 2005.
"I've already cut ties with the glove," Roberts said the other day, a wide smile crossing his face. "But I think [Venable] will have a much tougher time letting go."
Venable certainly isn't the only player in the Padres' clubhouse with long-standing relationships with his glove. Infielder Clint Barmes has squeezed nine seasons out of his glove, and, honestly, it doesn't look much better than the model Roberts first broke in over 10 years ago.
But this isn't a beauty pageant. It's all about the feel, and not the look.
"What you want it to be," Roberts said, "is an extension of the hand. It's not easy on the eyes ... but it works."
Venable first starting using Roberts' glove early in 2012, after a rash of early-season errors -- five in his first 17 games -- forced him into a sad realization.
"I blamed the glove," Venable said, smiling.
So Venable went to Roberts, who works with the team's outfielders and who was a big league outfielder for parts of 10 seasons.
"He was pretty frustrated and felt that the ball just wasn't going into his glove the right way. So he asked me for suggestions," Roberts said.
Roberts offered his old glove and Venable liked the feel. With it, he's has made five errors in his last 401 games, including 314 starts.
"It's perfect other than there are holes in it," Venable said.
While Roberts has detached himself from sentimental ties to the last glove he ever used, he can't quite cut the cord.
"He's so funny about the glove because he'll use it, but he doesn't take care of it. So I'll sneak over, put some glove oil on it and try to bring it back to life," Roberts said.
Barmes understands this level of attachment. He's using a Mizuno glove that he first broke in way back when he was with the Rockies. Now he, too, can't bear to part with it.
"Each year, I get a couple of gloves, and I'll try to break them in, but none have come close to my gamer. That's what I have confidence in, that's what feels good on my hand," Barmes said. "When I have it on ... I trust it. I have confidence the ball will stick in there and stay in there."
Roberts and Venable haven't gone as far to give their glove a nickname. Barmes hasn't either, but there is no denying its place.
"It's definitely my baby," he said. "Playing without it is a scary thought."
Corey Brock is a reporter for MLB.com. Keep track of @FollowThePadres on Twitter. This story was not subject to the approval of Major League Baseball or its clubs.