With big shoes to fill, Didi looking to find his footing
First week of season brought some bumps for new Yankees shortstop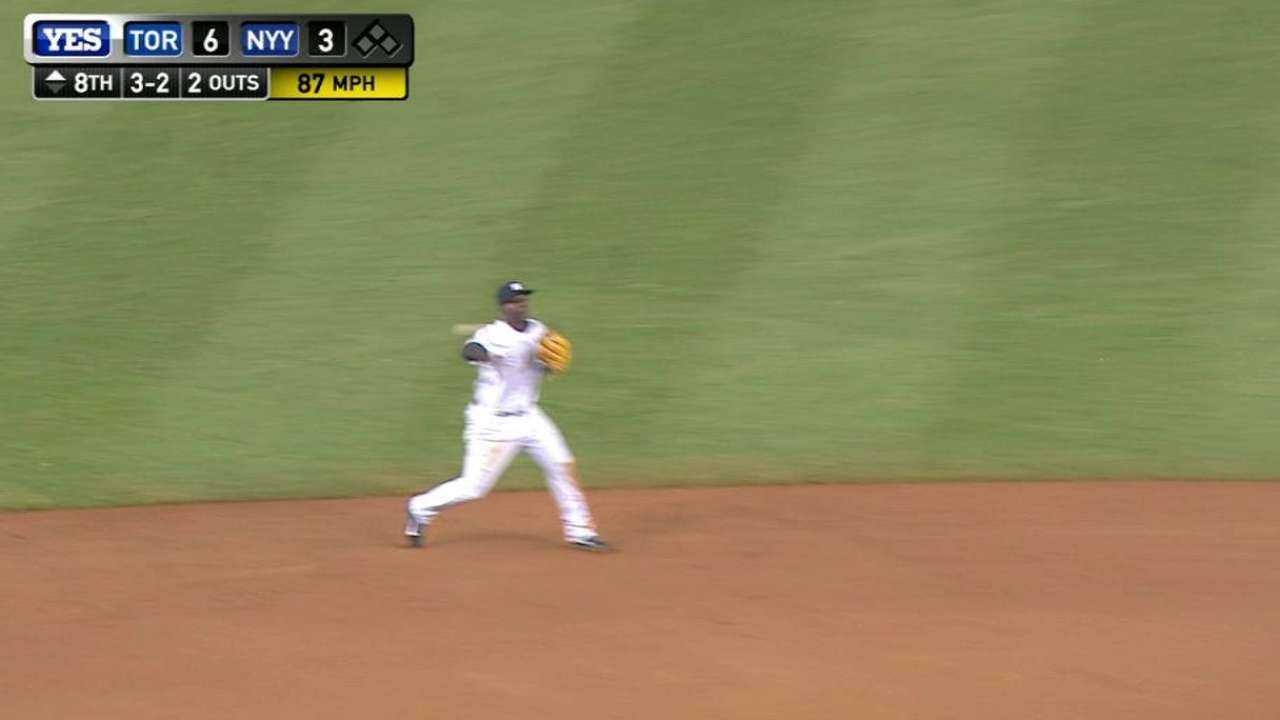 TAMPA, Fla. -- The chants, playful in nature, started raining down upon Didi Gregorius during his first homestand at Yankee Stadium. Up by 10 runs late against the Red Sox, the young shortstop flubbed what could have been a routine double-play ball.
"De-rek Je-ter," the echoes came from the three decks, and Gregorius could only laugh at the reminder of the challenges ahead.
The Yankees have stressed that they aren't measuring Gregorius against his Cooperstown-bound predecessor, and they also believe that they have not seen the best he has to offer yet.
"Let's not forget that he's 25," manager Joe Girardi said. "It's the first time that he's been an Opening Day starter. There's an adjustment period for a lot of people when they come to New York. It's not the easiest position to handle, either. He's the captain of an infield and in charge. He has a lot of responsibilities."
After a solid and uneventful spring, Gregorius' first week-plus in pinstripes has had more downs than ups. He has five hits in 29 at-bats (.172), and despite a plus defensive reputation, Gregorius' work in the field has been shakier than anticipated.
"It's started slow -- I'm not going to lie, everybody can see that," Gregorius said. "But it's a couple of games in, hopefully I can pick it up and get better when I go out there."
Gregorius has been charged with only one error, booting a soft grounder on Tuesday in Baltimore, though the Orioles' Adam Jones received a gift single from the official scorer on Wednesday. More pressing to the Yanks, Gregorius has also had surprising issues on the basepaths.
Gregorius committed a cardinal sin by getting thrown out attempting to steal third base on Opening Day while the Yankees were down by five runs to the Blue Jays, drawing Girardi's ire. Gregorius was also nabbed rounding first base on a run-scoring single, and it has been suggested that he is trying to do too much to make a quick impact.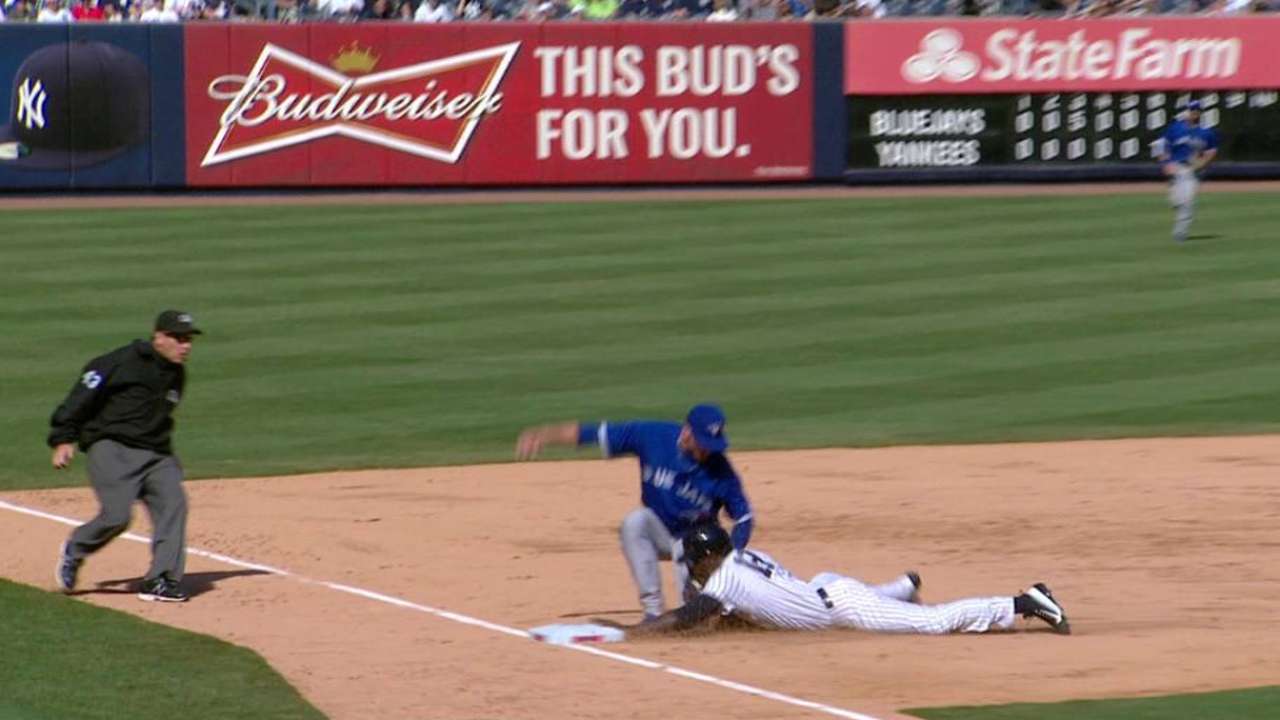 "I'm trying to be aggressive, trying to get something going for the team," Gregorius said. "The first game, I got thrown out at third. I was looking for maybe a passed ball so we could score and maybe start chipping away. I got thrown out, and it was a bad decision after that. I'm trying to eliminate all of that bad stuff so we can have a really good season."
The Yanks triggered the trade for Gregorius -- who has previously played with the Reds and D-backs in the big leagues -- in December, with general manager Brian Cashman touting him as an unfinished product who has more in the tank offensively than he has shown. That holds true now, having shown some dividends from his work with hitting coach Jeff Pentland by logging two hits off left-handers.
It hasn't helped that right-hander Shane Greene, whom the Yankees parted with in the three-way trade, has gotten off to a terrific start with the Tigers. The Yanks must take the long view, understanding that they did not have an in-house candidate to handle shortstop on an everyday basis and not making too much out of nine games.
"For me, like everybody is saying, it's not how you start -- it's how you end," Gregorius said. "That's how I'm going to look at it, too."
Bryan Hoch is a reporter for MLB.com. Follow him on Twitter @bryanhoch and read his MLBlog, Bombers Beat. This story was not subject to the approval of Major League Baseball or its clubs.