Segura, Gennett top options to hit leadoff in Gomez's absence
Brewers look for catalyst atop lineup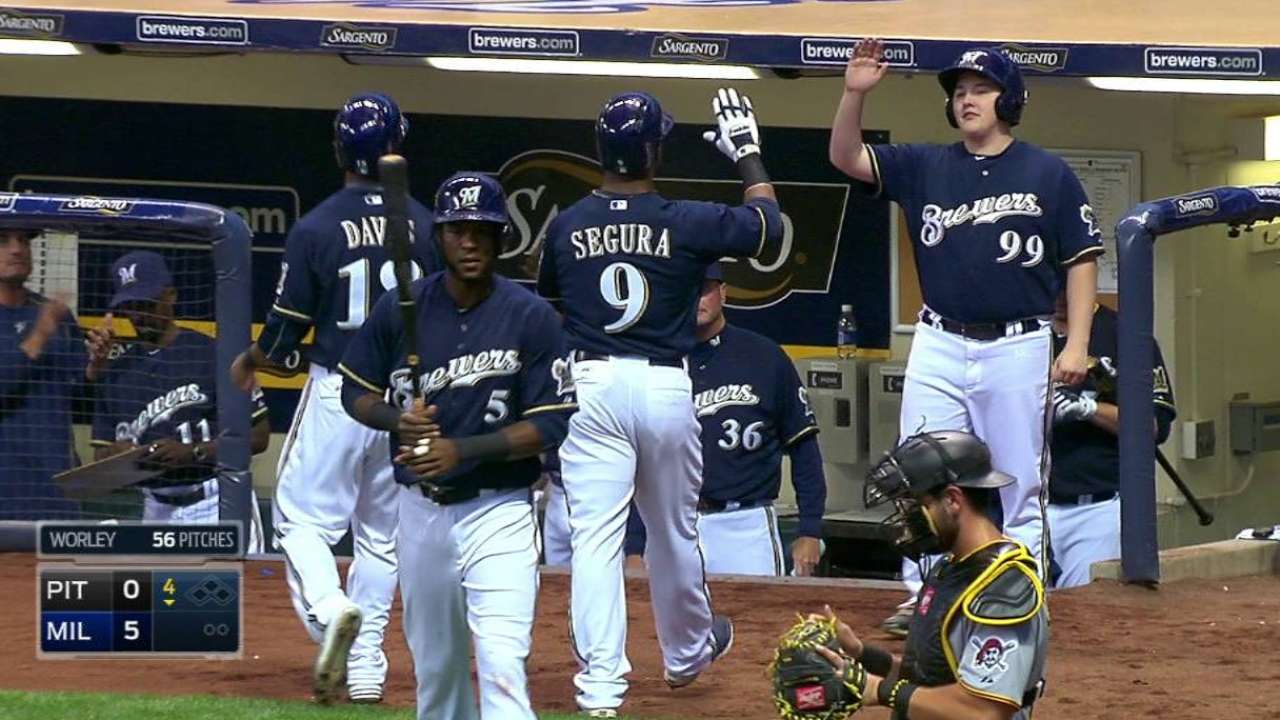 ST. LOUIS -- The Brewers were already struggling to consistently score runs before Carlos Gomez's hamstring gave out. Now that the team is facing the prospect of an extended absence for its leadoff hitter and offensive catalyst, manager Ron Roenicke spent some time with his coaches Thursday morning discussing options for replacing Gomez atop the lineup.
After the team scored two or fewer runs in five of its first eight games, shortstop Jean Segura was the first man up Thursday in a 4-0 loss to the Cardinals. Second baseman Scooter Gennett is the Brewers' other top option, should Gomez miss a period of time.
"It is a big loss," Segura said, "because he was starting to really swing the bat well, driving in some runs. But we've got guys here who can do it, hopefully."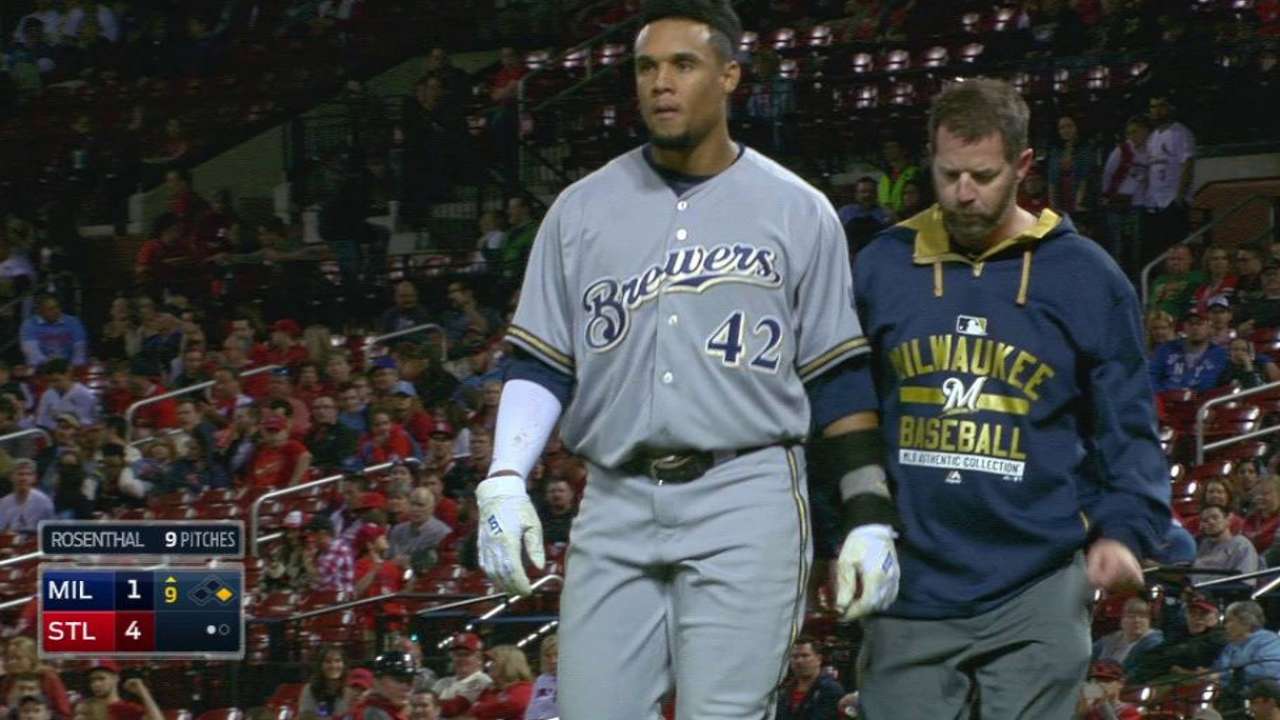 Segura did see one personal positive.
"That was one of my goals, get out of the eight-hole," he said. "Nobody can hit eighth. This is the worst spot ever in baseball. I want to get out of there and not go back. Think about it -- all the lineups in the National League, at the end of the year, no [No. 8 hitter] is [hitting] better than .250 or .260. It's tough.
"I want to be aggressive and hit, but those pitchers just 'borderline' everything. It's tough."
Segura batted eighth only once in the regular season, but also saw time there near the end of Spring Training.
When Gomez hits the disabled list, Roenicke would prefer to settle on a steady leadoff hitter. Choosing Segura or Gennett made some sense because each player had been hitting near the bottom of the lineup, so Roenicke could move one up without disturbing the core of his batting order.
"It's the flip-flopping I don't like," Roenicke said. "But I think whoever is swinging better, I'll move up there. The thing 'Siggy' gives you is the stolen bases. And he's swinging the bat well. Scooter got a hit [Wednesday], but he's not swinging the way he can swing it."
Gennett's best chance to move up will come beginning Saturday, when the Brewers start a long stretch of games against right-handed starting pitchers.
Whatever the lineup, Roenicke hopes his hitters avoid the temptation to "replace" what Gomez brought to the offense.
"That's what's gotten us into trouble, when these guys are pressing and trying to do too much. We're not very good at that," Roenicke said. "So they really need to stay in their game and do what you do, and whoever we get in the leadoff spot to cover it, hopefully they're doing their part. They're not going to be driving the ball out of the ballpark like Gomey can, but hopefully they're getting on base enough to where we've got all those good RBI guys right behind them. We should score some runs."
Adam McCalvy is a reporter for MLB.com. Follow him on Twitter at @AdamMcCalvy. This story was not subject to the approval of Major League Baseball or its clubs.