Soler stands out among talented young Cubs
Right fielder is making early case for NL Rookie of the Year Award
CHICAGO -- While most of the attention around the Cubs has been on Kris Bryant, with some prognosticators picking the third baseman to win the National League Rookie of the Year Award before his first big league at-bat, the best rookie in the NL may already be on the team.
Jorge Soler ranks among the NL rookie leaders in several offensive categories, including batting average (.310), home runs (two), RBIs (seven), on-base percentage (.382), and he has already made opponents think twice about running on him when he's patrolling right field.
Soler, who turned 23 in February, has batted either second or third in manager Joe Maddon's lineup, and he leads the team in RBIs. His two home runs came in the same game on Monday against the Reds, which is when the Cuban outfielder was pushed out of the dugout by teammates for his first curtain call.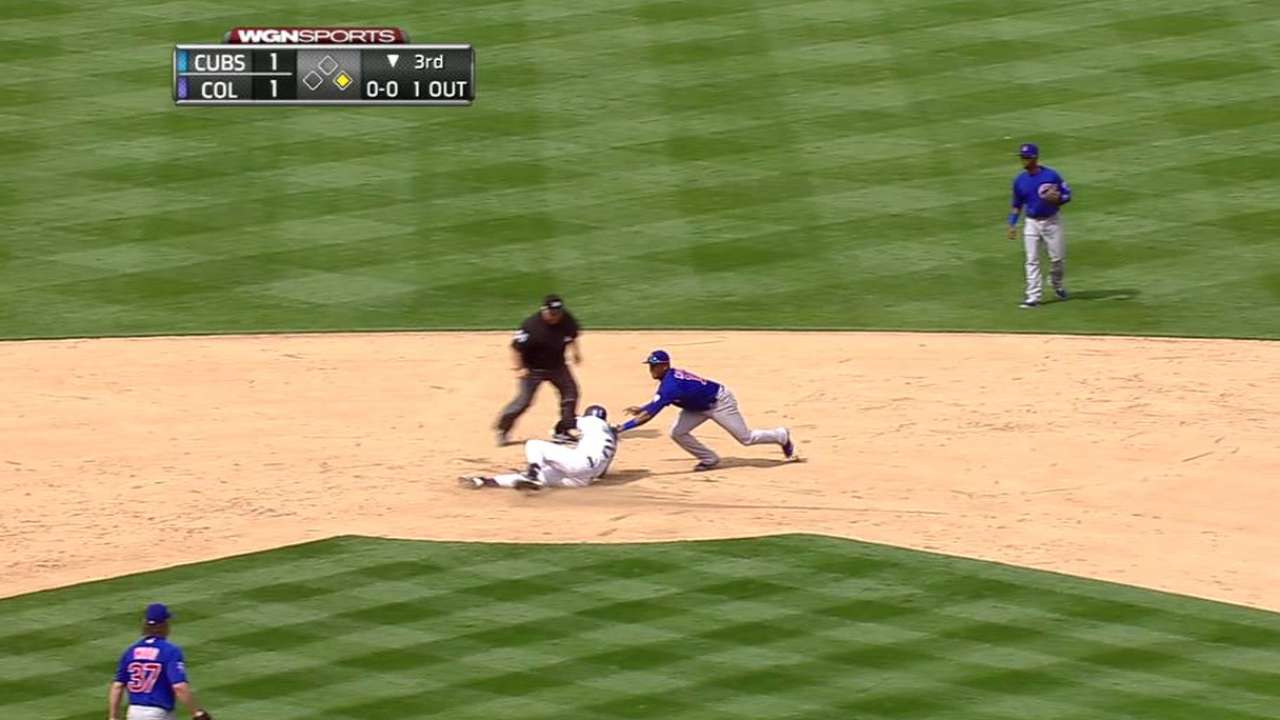 "Why is he so successful at the plate? That's why he's really good in the two-hole -- he becomes very dangerous -- because of his ability to look over a pitch," Maddon said. "You get a guy in the two-hole to look over a pitch, and you get two leadoff hitters in front of him, it becomes three. Now, if you don't want to pitch to [Soler], fine, then you've got [No.] 3, 4 showing up and he's on base.
"He really understands what he's doing at the plate for an inexperienced Major League player," Maddon said. "He has a great feel at the plate."
Maddon has noticed that if a call goes against Soler, he'll look a little annoyed. The reason is, Soler knows his strike zone. Cubs hitting coach John Mallee sees that as well.
"As a young kid, he gets excited, and sometimes he really wants to hit so bad that he may expand [his strike zone]," Mallee said. "But I've noticed that you throw him a certain pitch, and he chases it, he doesn't go after it again in the course of an at-bat. That's what impresses me the most about him. He may swing at a slider in the dirt, but you probably won't see him do it again."
Soler is what Mallee likes to call a "selective aggressive hitter," as he is able to wait for his pitch. Having such instincts at a young age with so little experience is amazing, Mallee said.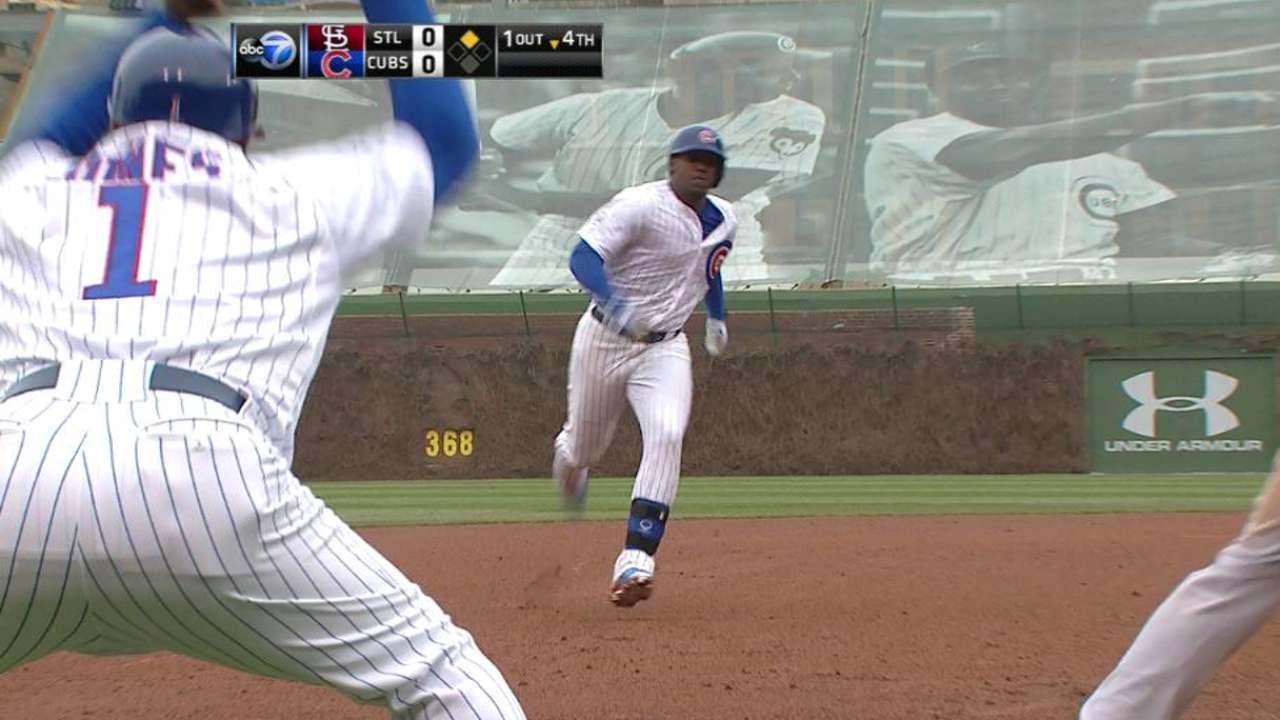 Last season, Soler belted three home runs in his first three big league games, and he finished with five, batting .292 in 24 games. In his first 30 career games, Soler totaled 26 RBIs, the most for any Cubs player since Bob Speake drove in 26 in his first 30 games in 1955. He's also 4-for-5 against left-handed pitchers this season, although both of his home runs came off righties.
What teammate Starlin Castro likes the most about Soler is how he pays attention. During the just-completed Reds series, Castro told Soler to forget about the fastball, saying he wasn't going to see many. In the three games, Soler went 5-for-11 with two home runs and five RBIs.
"He listens good," Castro said. "He's awesome."
Good enough to win the NL Rookie of the Year Award? If so, Soler -- who is called "George" by his teammates -- would be the first Cubs player to do so since Geovany Soto in 2008.
"He has a wonderful approach for a young man, and that's why he's hitting so well," Maddon said. "Everybody wants to talk physical mechanics. ... He's up there, thinking it through."
Carrie Muskat is a reporter for MLB.com. She writes a blog, Muskat Ramblings, and you can follow her on Twitter @CarrieMuskat. This story was not subject to the approval of Major League Baseball or its clubs.