Question mark entering season, rotation looking strong
Tigers' Greene, Simon deliver eight-inning scoreless starts this week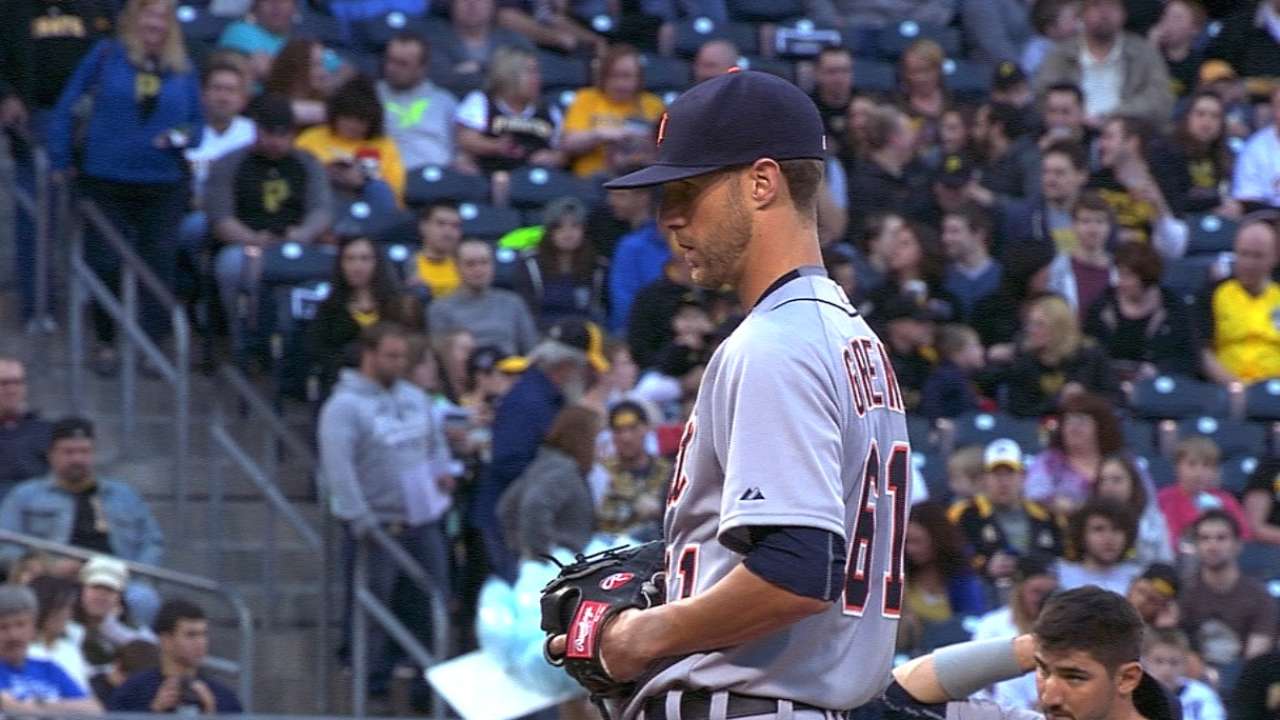 PITTSBURGH -- Tom Gorzelanny joined the procession of Tigers relievers to warm up Wednesday night, one of three to get up in the eighth inning or later of their series finale against the Pirates. He got up, made some throws, then sat back down.
Gorzelanny wasn't warming up to get ready for a game appearance. He was warming up to replace game work. So was Joba Chamberlain before him. Gorzelanny hasn't pitched in a game since Saturday in Cleveland. Chamberlain, one of Detroit's most heavily-worked relievers last season, has one appearance this season.
With Joe Nathan and Bruce Rondon on the disabled list, Gorzelanny and Chamberlain are the reigning veteran setup men. The way the Tigers' rotation worked through the Pirates' offense, Detroit manager Brad Ausmus didn't need setup relief. It wasn't David Price or Justin Verlander shelving them, but Shane Greene and Alfredo Simon, both of whom tossed eight scoreless innings.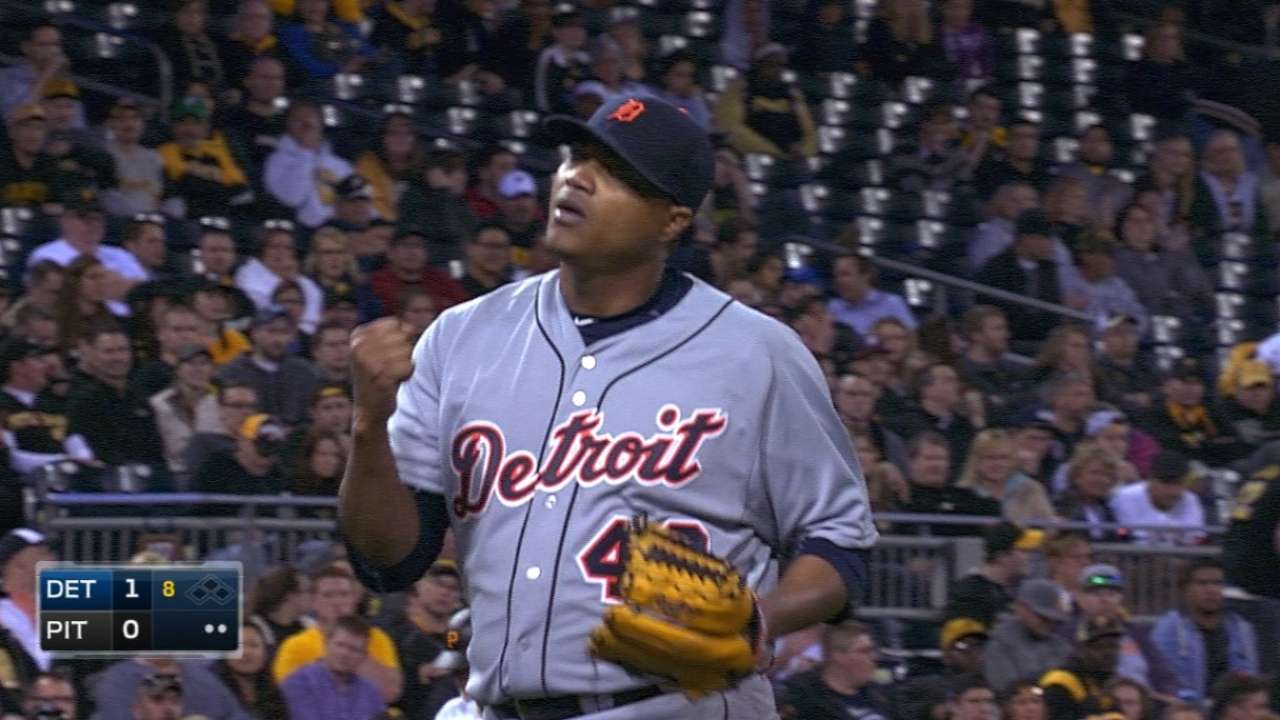 "It was relatively easy going from [Simon] through eight innings to [closer Joakim] Soria in the ninth," Ausmus said. "The one downside is we do have some guys who could actually use some work down there. Joba Chamberlain could use some work, for one. Gorzelanny could use some work. But I'll take a 1-0 win and a rested bullpen over that."
Through two turns in the rotation, the Tigers have four shutouts in nine games. Not only did Detroit's star-studded pitching staffs of the past few seasons not do that, no Tigers team has. The club heads into this weekend's series against the White Sox with a 19-inning scoreless streak, after setting an American League record with 24 consecutive scoreless innings to begin the season.
All four pitchers who began the season in the rotation have taken part in one shutout. Greene has yet to give up an earned run in 16 innings. Aside from five consecutive hits and three runs Friday in Cleveland, Simon has 13 scoreless innings on four hits.
The question marks of the rotation entering the season, the two trade acquisitions filling the spots Max Scherzer and Rick Porcello held for the last five years, are looking like answers. Even Ausmus doesn't expect the zeroes to roll on, but it shows what the new pitchers can do.
"It's the stuff that we liked," Ausmus said. "It's an imperfect science looking at someone and trying to determine how good their stuff will perform at the Major League level. Simon has quite a bit of a track record, and Greene has a little bit of a track record. But you look at the stuff, you look at how the hitters react, how the ball's coming off their bats."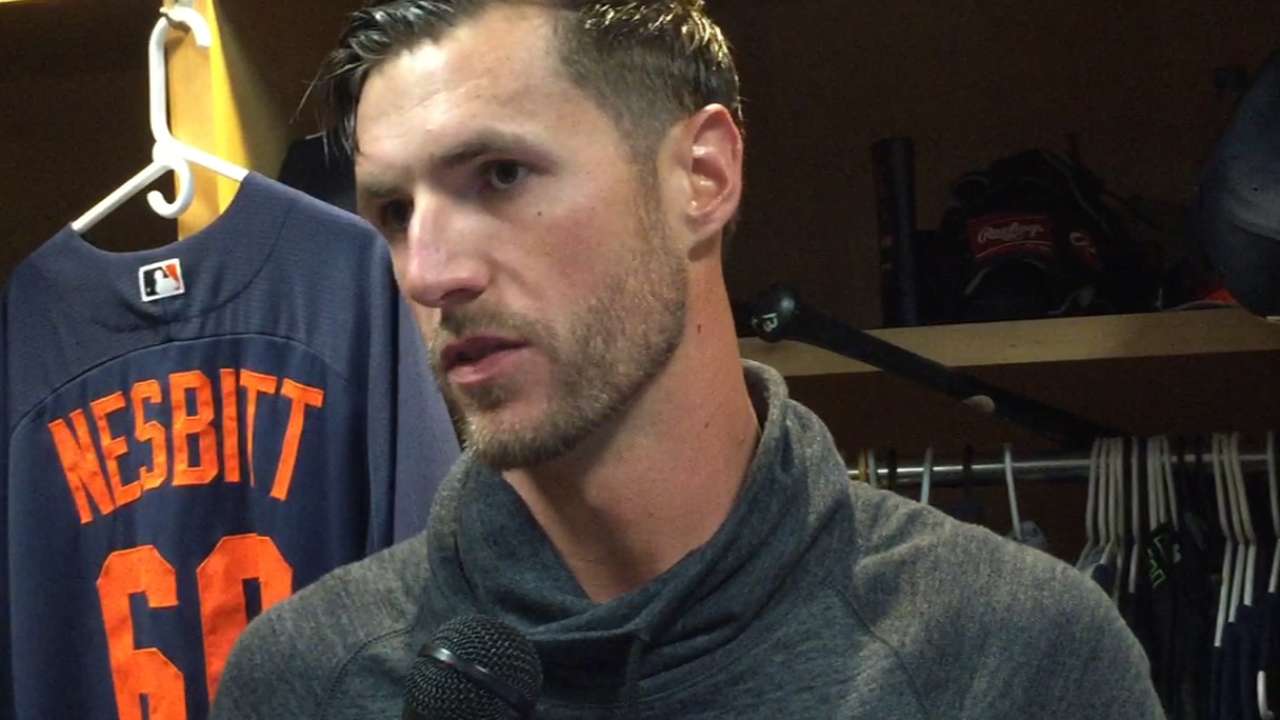 Simon's track record as a starter was essentially one season in Cincinnati -- an All-Star first half, then a regression down the stretch. The Pirates saw both last year. It didn't help them Wednesday.
"When he's on, whatever pitch in any count," catcher James McCann said. "He's that kind of a guy."
Said Ausmus: "He changes speeds. He's got a couple different breaking balls, a couple different changeups, moves it in and out. He's got some movement on his fastball."
Greene has less of a track record. The Tigers saw him at his best twice last season, but others buy what he's throwing, too. One scout who saw Greene last year and again Tuesday suggested he could have a better arsenal than Porcello -- not just a hard sinker, but better secondary pitches.
"He mixed in some sliders, mixed in some changeups, but the cutter was his pitch that he was working on," Ian Kinsler said Tuesday, "and it was a very dominant one."
Jason Beck is a reporter for MLB.com. Read Beck's Blog and follow him on Twitter @beckjason. This story was not subject to the approval of Major League Baseball or its clubs.