Mercer quickly put big E6 in rearview mirror
Bucs shortstop hasn't made throwing error to first since mistake during 2013 playoff race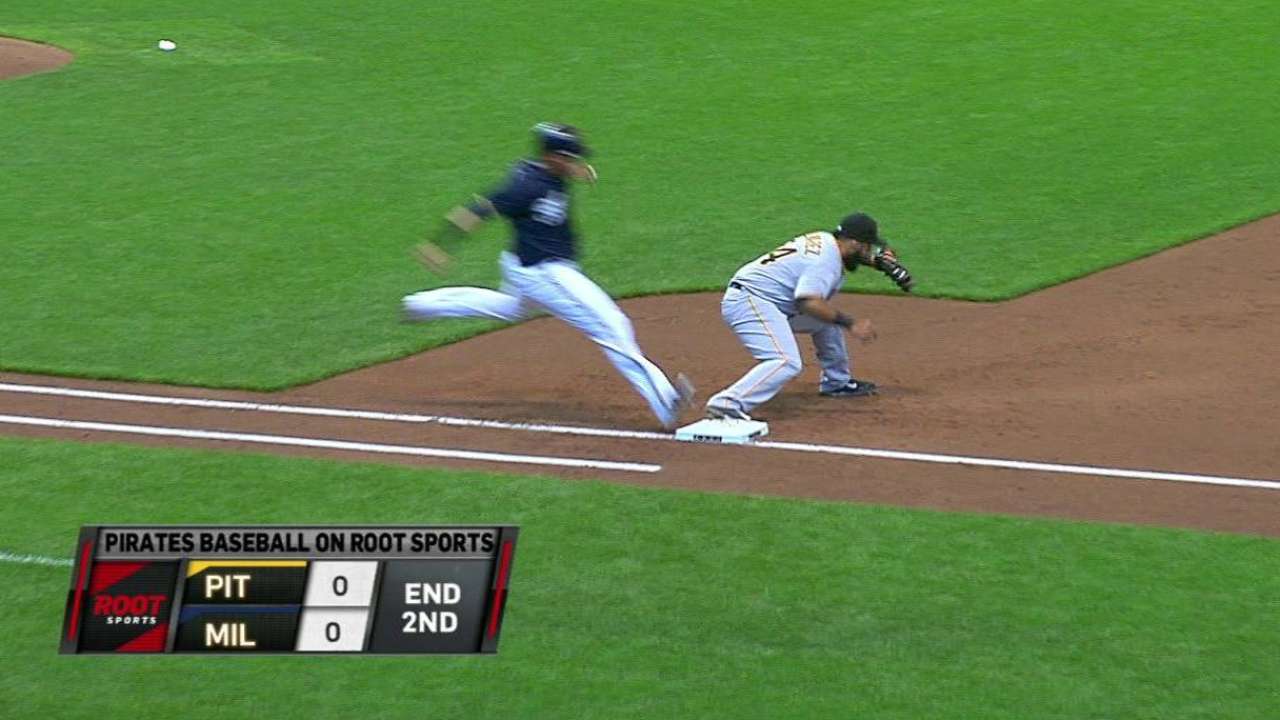 PITTSBURGH -- At the dawn of his career, Jordy Mercer had a "dusk" moment. It was only his 69th career start at shortstop when the Pirates took the PNC Park field against the Reds on Sept. 20, 2013, just a mere game behind the Cardinals in the National League Central.
The Bucs led, 5-2, with two outs in the ninth. Todd Frazier sent a slow roller toward short, Mercer charged and fielded the ball -- and heaved it past first baseman Justin Morneau.
The Reds went on to score three unearned runs en route to an eventual 6-5 win in 10 innings, and the Pirates never again got as close to the Cards (though the regular season still ended with an NL Wild Card berth).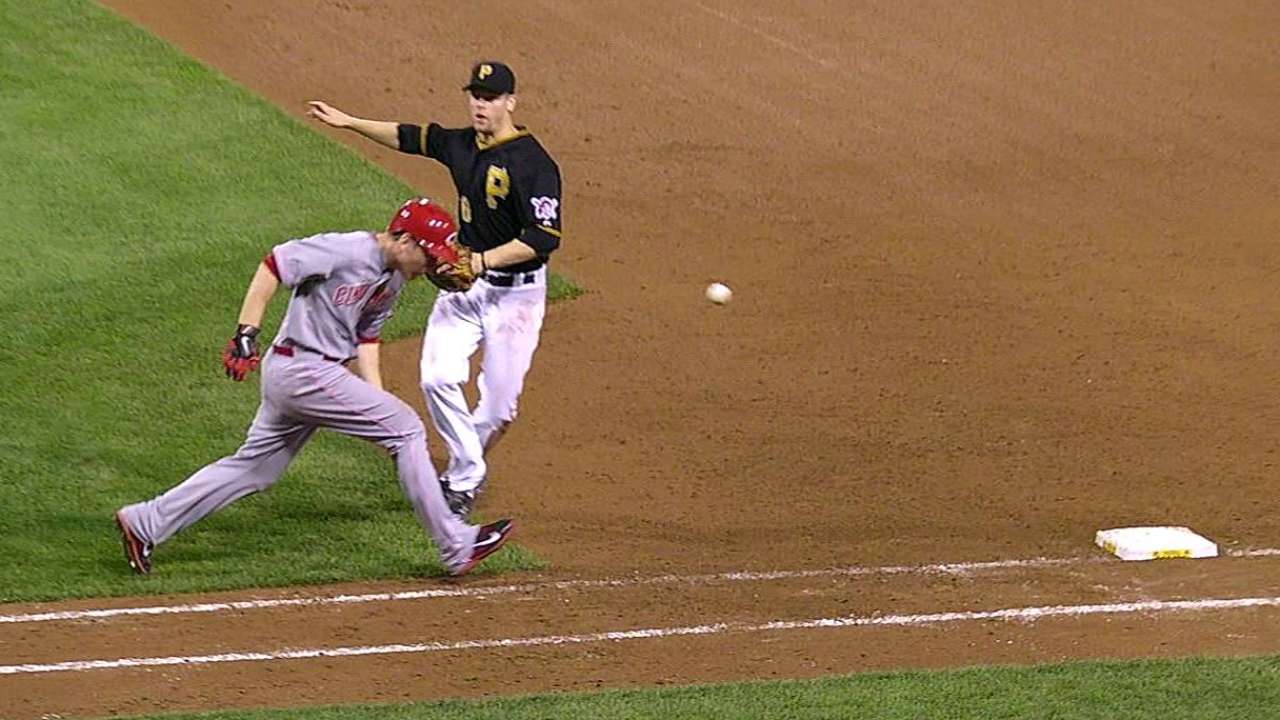 But here's the thing: Mercer has since made 148 starts as the Bucs' shortstop. And he has not had a single throwing error to first base -- the only Major League regular shortstop who can make that claim in that span.
Did that dark episode steel Mercer against making that mistake again, bringing on an everyday resolution?
"Nah, I didn't think like that," said the easy-going Oklahoman. "Yeah, I made a bad throw. It happens. It was just one play. I didn't make a bigger deal out of it. It was a tough play, Running in, I just didn't get a good grip on the ball. Basically, that's all it was -- just one of those things. I haven't thought about it since."
For a play 17 months ago that he hasn't thought about since, Mercer sure has a clear recollection of it. The episode provides an intriguing framework for Mercer's development as one of the Majors' top all-around shortstops, whose most obvious defensive weapon is a strong and accurate arm.
A few days ago, a new wave of Andrelton Simmons adulation crested when the Atlanta shortstop ventured into the hole and onto the edge of the outfield grass to throw out Travis d'Arnaud -- a catcher, with the limited speed the position implies.
Well, in the middle of Spring Training, Mercer drifted deeper into the hole and farther onto the grass and nearly nailed Jose Altuve -- the jetting Houston second baseman.
Mercer remembers that play, too.
"Probably as good a throw as I've ever made," he said. "Fast runner, too. Almost got him.
"I take pride in my defense. I try to make as few mistakes as I can. Throwing is one of the things I'm good at. Hopefully I can make one fewer bad one than I did last year," added Mercer, who did have one errant toss as the middle man in a relay on a play at the plate.
Mercer backed up Clint Barmes in 2013, and he split playing time with his mentor and friend last season, not really taking over as the everyday regular until an acute left groin strain sidelined Barmes in early July.
"Experience has helped out tremendously," Mercer said. "Seeing hitters over and over helps you prepare better. The better you know where you are on the field [when you field a grounder] and who's running, that all comes into play."
Tom Singer is a reporter for MLB.com and writes an MLBlog Change for a Nickel. Follow him on Twitter @Tom_Singer. This story was not subject to the approval of Major League Baseball or its clubs.