Scout McGraw, wife played key roles in Kela's career
Duo followed Rangers reliever starting in high school, bonded with his family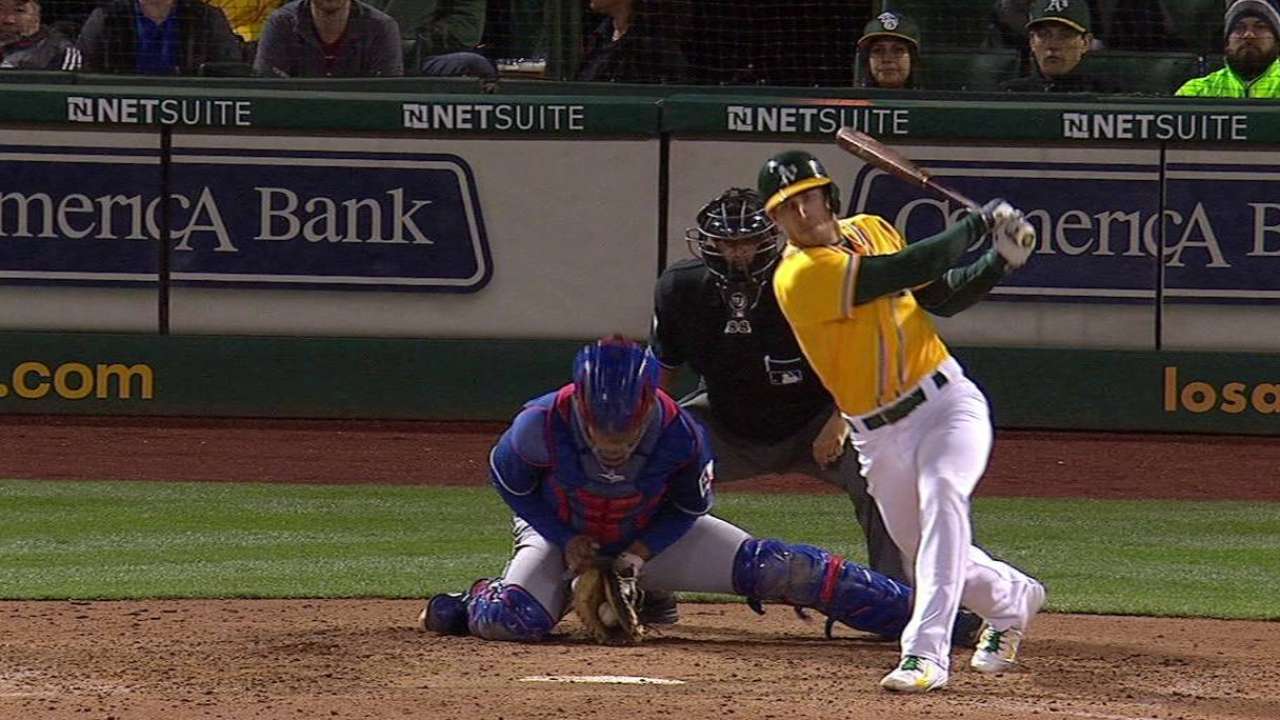 ARLINGTON -- Gary McGraw has been an amateur scout for 24 years, the past 14 covering the Pacific Northwest for the Rangers. He is the one responsible for scouting, drafting and signing reliever Keone Kela, who was taken in the 12th round of the 2012 First-Year Player Draft by Texas out of Everett Community College.
McGraw hasn't been on the road lately. He has been with his wife Julie, who has been hospitalized for the past 80 days in Oregon because of a stroke.
Julie played a significant role in the Rangers landing Kela. It is a story that can only be told by McGraw, who followed Kela during his senior year at Chief Sealth High School in Seattle and then for the one year at Everett.
"A fierce competitor and very prideful young man, Keone was truly misunderstood by the scouting community during high school and junior college," McGraw said. "Many of his comments and actions were misconstrued and as a result, I believe, many if not all other MLB clubs missed on him.
"I scouted him for two years, and it wasn't until late in his [junior college] season that I was totally convinced on him as a person and a top prospect."
The day McGraw was convinced was on Easter Sunday in 2012.
"Just three days after he had his wisdom teeth pulled, I saw the outstanding competitor that defines him on the mound," McGraw said. "Not supposed to pitch, Ke persuaded his coaches, took the mound and battled for five innings. Not his best effort, fastball touching 91 [mph] and inconsistent breaking ball, but boy did I like the way he competed.
"I was sold on the teammate, the competitor and the person."
McGraw had one obstacle. The Rangers not only ask their scouts to evaluate talent, but also get to know the player personally. McGraw was having trouble getting close to the Kela family.
That's where Julie McGraw comes into the story.
"I tried to arrange a meeting/dinner with the family, but they would only reluctantly give me time for a cup of coffee," McGraw said. "Very few scouts knew much about Keone or his family. I struck out until that one fateful drive that may be my favorite memory of my scouting career.
"I was bringing my wife Julie with me to meet Keone and his mother. I made one last call to them to get the location of the Starbucks they wanted to meet at. I once again suggested we have dinner so we could hang out a little longer, but [Kela's mother] Shannon said the cup of coffee would be fine.
"Julie, in the seat next to me, yelled out, 'Lets go to Benihana!' and Shannon heard her. 'Did she say Benihana? I haven't been there since I was a young girl. Lets do that!' My wife, in her beautiful way, had once again broken through a barrier for me."
They all met in the downtown Seattle restaurant.
"Ten minutes into the dinner, I glanced over and saw my wife and Shannon laughing, hands on each others shoulders and talking like long-lost friends," McGraw said. "We spent two hours at the restaurant, and by the time we hugged them goodbye, I was convinced without question that Keone, the young man, was a good fit for our organization. As with much of my last 35 years, my wife Julie had once again made my life easier. "
Now Kela is getting ready to pitch in Seattle this weekend. McGraw probably won't be there, but he and his wife will be following closely."
"Julie had a very serious stroke in late January," McGraw said. "We have been hospital-bound. I read Ranger news to her every morning. The Newberg Report is one of the highlights of our days. She has loved hearing about Keone's progress through Spring Training and now in Arlington.
"She knows. This has been very therapeutic for me, and I'm guessing her as well, but won't know until she can tell me that. I hold up my phone and have shown her the games Ke pitched in. She knows. The Lord works in mysterious ways."
T.R. Sullivan is a reporter for MLB.com. Read his blog, Postcards from Elysian Fields, and follow him on Twitter @Sullivan_Ranger. This story was not subject to the approval of Major League Baseball or its clubs.