Esky thriving since inheriting Royals' leadoff role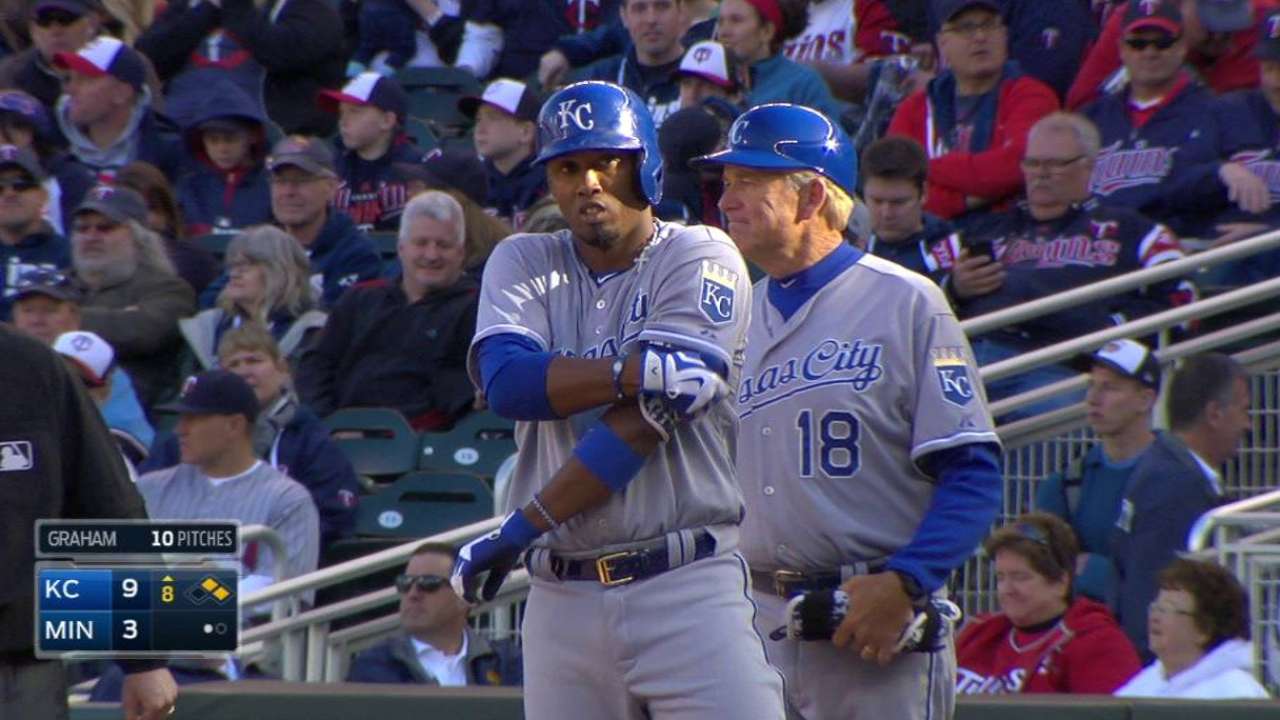 MINNEAPOLIS -- When told by a reporter that he was on a career-high 17-game hitting streak entering Thursday's series finale, Royals shortstop Alcides Escobar seemed shocked.
"Really? Seventeen? I had no idea," he said. "Wow."
The streak dates to last September, not long after manager Ned Yost inserted Escobar into the leadoff role. Escobar batted .419 during the hitting streak, which ended with an 0-for-5 in Thursday's 8-5 loss to the Twins.
"Esky is just a good hitter," Yost said. "[Three] years ago, he had a great year, [hitting .293]. Then he had an off year [at .234] and then he had a phenomenal year last year [at .285]. He can hit."
Yost also thinks, as Escobar does, that hitting leadoff has helped Escobar mentally.
"Just like with Moose [Mike Moustakas] hitting second," Yost said, "it gets them into the game offensively that much quicker. They're thinking offense immediately."
Escobar agreed.
"I like it because you have to be ready right away," he said. "When we're on the road, you got to get ready because you're up right away. Right away. It's good."
Yost has stressed to Escobar that he not try to be a different hitter just because he's in the leadoff spot. Escobar has taken that advice.
"I might take a few more pitches," he said. "But otherwise I try to be the same hitter."
Escobar's teammates have noticed, though, that he has become infinitely more confident from the leadoff spot.
"He's feeling it, that's for sure," first baseman Eric Hosmer said. "He's doing a really good job of finding holes out there. When he's up there and there's a guy on first, you can see him thinking about driving it through the 3-4 hole.
"Or just when he has two strikes now, you can see him think about just flipping the ball to right for a hit. That's really a good sign."
Jeffrey Flanagan is a reporter for MLB.com. Follow him on Twitter at @FlannyMLB. This story was not subject to the approval of Major League Baseball or its clubs.