Statcast breaks down Pagan's triple off Kimbrel
Revolutionary technology will make '15 debut during Cards-Nats game Tuesday on MLBN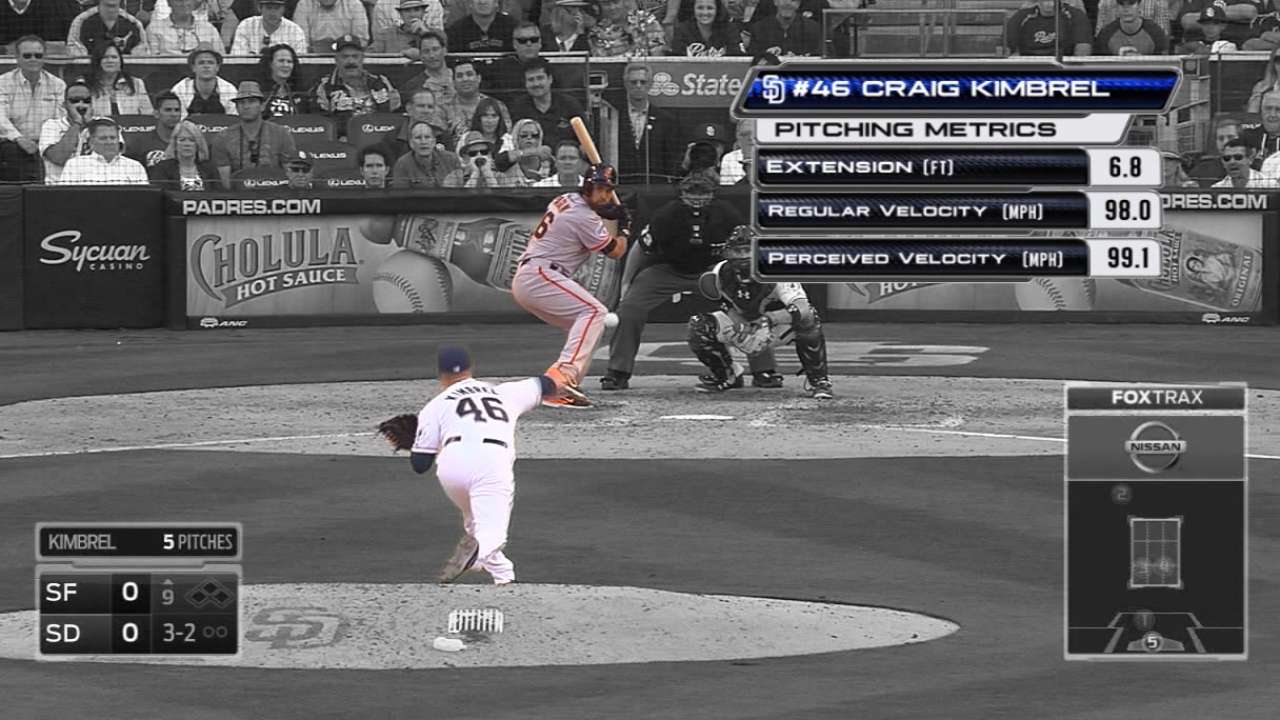 When you see a Craig Kimbrel fastball come into the zone, you know it's fast. And when you see Angel Pagan lace a triple into the gap in right-center and head for third, you know he's fast.
But just how fast?
Those are the types of questions that Statcast can now answer, like in the case of the triple Pagan hit off the Padres' closer last Thursday at Petco Park.
Statcast, the revolutionary technology that will make its 2015 debut during Tuesday's MLB Network Showcase game between the Nationals and Cardinals, allows analysts and fans to break down just about every move made on a baseball field, get the pertinent data and crunch the numbers into explanations for the previously unexplainable.
"You're not just breaking down a box score anymore," MLB Tonight host Greg Amsinger said on MLB Network. "You're actually getting statistical analysis of a play you just saw and explaining a play you just saw."
With the score tied at 0-0 in the ninth inning of that game last week, Kimbrel delivered his 3-2 pitch to Pagan clocked at 98 mph.
But because Kimbrel extended 6.8 feet toward home through his delivery, the perceived velocity of the fastball was actually 99.1 mph.
No matter for Pagan, who smacked it into the right-center-field gap for a triple -- with an exit velocity of 101.6 mph off the bat. Before he slid headfirst into third base, though, Pagan was clocked at a top speed of 22.1 mph.
For reference, gold medalist Usain Bolt, the fastest man in the world, has been clocked at a top speed of 27.8 mph.
"This is one of the coolest things," MLB Network analyst Eric Byrnes said. "You talk about making baseball relevant to the next generation. This has got to excite any young baseball fan out there to know that we're going to have all this information to us."
Joey Nowak is a reporter for MLB.com. Follow him on Twitter at @joeynowak. This story was not subject to the approval of Major League Baseball or its clubs.