MLB.com Columnist
Fred Zinkie
DraftKings picks: Heyward, Werth, Fister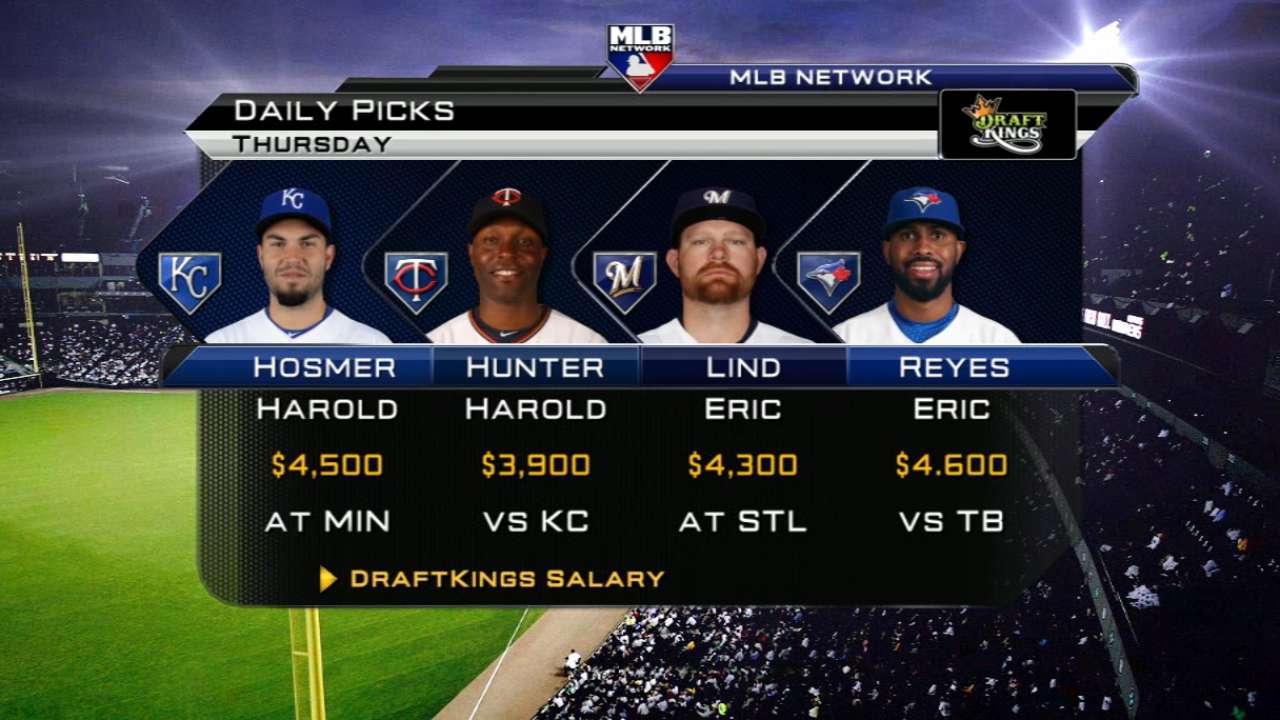 With just six games on the schedule Thursday, DraftKings participants will have to choose their players wisely. Productive hitters may be hard to find, as many reasonably talented hurlers will be working at pitcher-friendly parks. However, solid options do exist. Let's take a look.
Alcides Escobar (Royals): The shortstop will take his career .673 OPS vs. lefties (.641 against right-handers) into a matchup against Twins southpaw Tommy Milone. Hitting out of the leadoff spot, Escobar could reach base multiple times and swipe a bag against Twins No. 1 catcher Kurt Suzuki, who struggles to control the running game.
Salvador Perez (Royals): With a lifetime .307/.348/.504 line against left-handers, the catcher should be a strong batting option on Thursday against Milone.
Brian Dozier (Twins): Dozier -- who owns a career .855 OPS against southpaws, as opposed to a .664 mark vs. right-handers -- could give Royals lefty Jason Vargas trouble. During his 23-homer, 21-steal 2014 season, the second baseman proved himself as a formidable power-speed pick.
Jason Heyward (Cardinals): The outfielder, who has produced 64 of his 84 career homers and 46 of his 64 career steals against righties, could fare well vs. Milwaukee right-hander Mike Fiers on Thursday. Heyward will likely hit high in the lineup, which would maximize his chances to produce against Fiers and a Brewers bullpen that lacks shutdown arms.
Matt Carpenter (Cardinals): With an .827 OPS vs. right-handers (.780 against lefties) during his big league tenure, the third baseman has a chance to spark the Cardinals' offense against Fiers. Carpenter could score multiple runs out of the leadoff spot, as he should be followed by several hitters -- such as Heyward, Matt Holliday and Matt Adams -- who also do well vs. righties.
Adam Lind (Brewers): The first baseman will carry his career .862 OPS vs. right-handers (.593 against lefties) into a matchup with righty John Lackey of the Cardinals. Lind, who has belted 126 of his 147 career homers off righties, could put one of Lackey's offerings into the outfield seats.
Kevin Kiermaier (Rays): Kiermaier -- who has hit .346 with a pair of homers in 26 at-bats this season -- will bring his career .862 OPS vs. right-handers (.565 against lefties) into a matchup with young Blue Jays righty Aaron Sanchez. The outfielder could spark the Rays against Sanchez, who allowed nine baserunners in 3 1/3 innings during his initial 2015 start.
David DeJesus (Rays): Having collected 82 of his 95 career homers and 53 of his 63 career steals against right-handers such as Toronto's Sanchez, the Rays outfielder could be an affordable source of production for DraftKings participants. And if the Blue Jays' young starter struggles again, DeJesus could cross home plate multiple times.
Jayson Werth (Nationals): The Nats will have their work cut out for them against Phillies ace Cole Hamels, but Werth owns a career .936 OPS vs. lefties (.802 vs. right-handers), which suggests he is up for the challenge. Additionally, the outfielder could be well-supported by his teammates, as Wilson Ramos, Ian Desmond and Ryan Zimmerman also do their best work off southpaws.
Dee Gordon (Marlins): The second baseman, whose career .690 OPS vs. right-handers exceeds his .589 mark against lefties, could thrive against Mets righty Dillon Gee on Thursday. Furthermore, Gordon, who has collected 111 of his 136 career steals against right-handed pitchers, could run wild, as Mets No. 1 catcher Travis d'Arnaud struggles to control the running game.
Curtis Granderson (Mets): The outfielder with a career .855 OPS vs. right-handers (.707 against lefties) seems to be set up for a productive game at the dish against Marlins righty Jarred Cosart. Having produced 116 of his 131 career steals against right-handers, Granderson could also contribute on the bases, especially because Marlins No. 1 catcher Jarrod Saltalamacchia often struggles to quell opposing running games.
Daniel Murphy (Mets): With a career .294/.342/.434 slash line vs. right-handers, Murphy could be one of the Mets' most productive hitters against Cosart on Thursday. The second baseman benefited from the new, cozier outfield dimensions at Citi Field when he homered over the right-center-field wall in his second home game of the season.
Lackey (Cardinals): The right-handed Lackey could thrive in his home park against the Brewers, whose middle-of-the-order bats (aside from Lind) tend to fare best vs. southpaws. Lackey has performed noticeably better in home outings during his career, going 80-50 with a 3.86 ERA in such games, compared to 72-67 with a 4.21 ERA when on the road.
Doug Fister (Nationals): On Thursday, the right-hander should have success in his pitcher-friendly home park against an underwhelming Phillies offense. Fister will need to be at his best to top Hamels, but Philadelphia has yet to score for Hamels this season. The Phils were shut out in their season debut and held scoreless until Hamels left his second start of the year, which also came against Fister and the Nats.
Chris Archer (Rays): Archer will have to deal with hitter-friendly Rogers Centre on Thursday, but he has held opposing right-handed batters to a .570 OPS in his career (.709 vs. left-handed batters). As wise DraftKings participants know, the Blue Jays' best sluggers all hit from the right side. Plus, with the talented-but-unproven Sanchez toeing the rubber for Toronto, Archer could earn a win even if he does not dominate in the outing.
Cosart (Marlins): Cosart produced a 2.39 ERA and a 1.19 WHIP in 10 starts after joining the Marlins last season, and he opened the 2015 campaign in similarly outstanding fashion, allowing one run across six innings against the Rays. On Thursday, the right-hander could pick up a win over Dillon Gee, the Mets' fifth starter.
Madison Bumgarner (Giants): The left-hander is off to a slow start this season, but he could turn things around against the D-backs in his pitcher-friendly home park on Thursday. Arizona will counter with Archie Bradley, who will be making his second career Major League start. DraftKings participants who prefer to pick aces have few options on this day outside of Bumgarner.
All statistics are accurate through the completion of Tuesday's games.
Fred Zinkie is a senior fantasy baseball writer for MLB.com. Follow him on Twitter at @FredZinkieMLB. This story was not subject to the approval of Major League Baseball or its clubs.