MLB.com Columnist
Anthony Castrovince
Ventura, White Sox aim to shake off slow start
Skipper undeterred as club looks to rebound after stumbling out of gate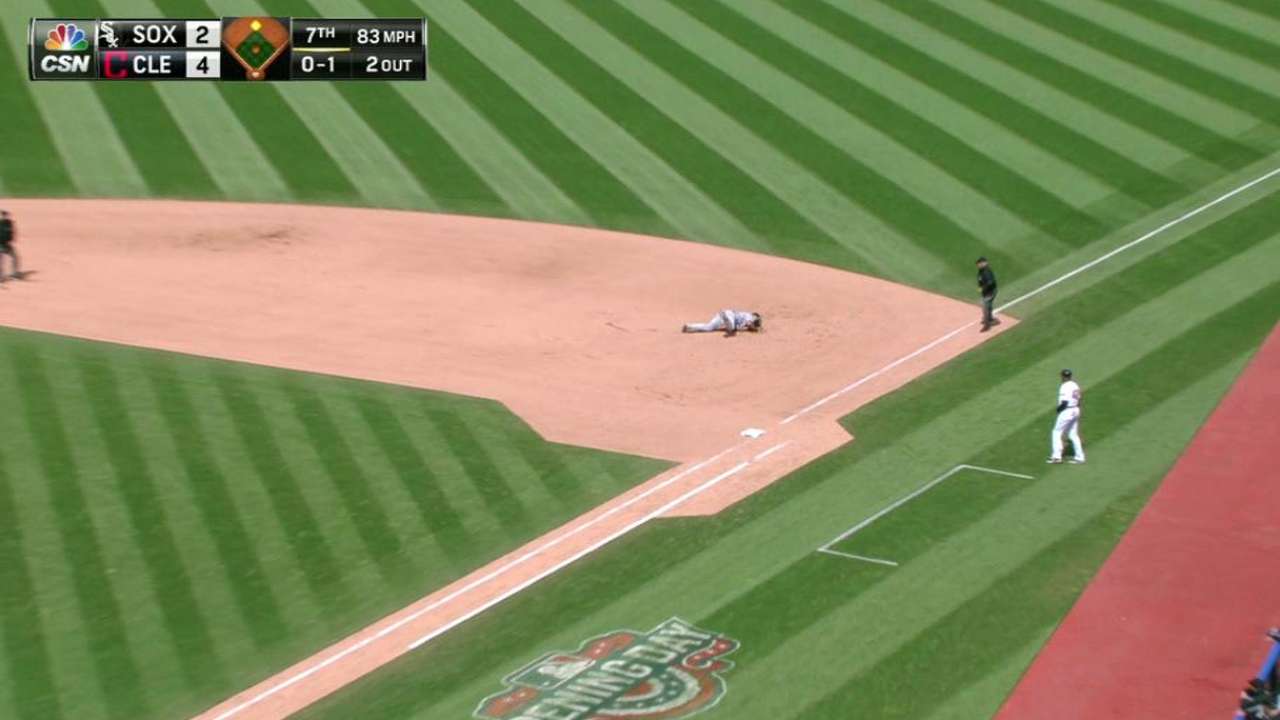 CLEVELAND -- This is a job Robin Ventura never asked for, bargained for, campaigned for. It's a job that fell into his lap one fall day in 2011, when he had zero managerial experience to his name, and his reaction to the offer was the same as a lot of people's reaction to the news that he had taken it:
"Are you guys crazy?"
Three seasons later, Ventura's job is a much more desirable one than it was back then, and the combination of slow start and heightened expectations mean that the guy who once reluctantly accepted the opportunity is now under significantly more scrutiny than he once was.
It didn't help matters that three of the new faces so intrinsically tied to those expectations -- Jeff Samardzija, Melky Cabrera and Adam LaRoche -- each had a less-than-inspiring first week with the White Sox. In a related development, the White Sox started out 0-4 and induced their fair share of panic from the populace, a large segment of which apparently wanted to see the skipper rip his players and pound the dugout rail with fists of rage.
"People have said, 'Oh boy, he's really on the hot seat now,'" Ventura said. "Hey, I want to win games even more than outside people want me to win games. But I'm not going to change my personality. I think the thing people probably forget is I played a long time. I would have changed my personality as a player, especially playing in the places where I played, a long time ago."
It's a shame, if you're into colorful quotes and vibrant visuals, that the even-keeled temperament of a guy like Ventura is probably the safest, sanest accompaniment to a 162-game season.
Such calm, after all, does come in handy when you're clawing your way out of a hole while a couple other clubs in your division have appeared unstoppable early on.
"Robin rolls with the punches," leadoff man Adam Eaton said. "His mannerisms are a little different than what the South Side of Chicago fan base is all about, but you need a balance there. He gives us balance."
The scales haven't quite balanced out after starting 0-4, but the White Sox have at least won three of their past four, and they have seen some encouraging signs from their pitching staff to talk people down from the ledge:
• Chris Sale wasn't just dominant in his 2015 debut Sunday against the Twins; he was dominant without relying much on his slider -- the pitch that can take him to no-hit-type territory when it's working.
• Samardzija, coming off a homer-laden spring showing and a dud on Opening Day, screamed into his glove after a four-run second inning Saturday, then finally settled in. Maybe something clicked for the Shark. We'll find out more when he opposes David Price at Comerica Park on Friday.
• Jose Quintana spent all winter hearing about how underrated he is, then got torched by a Royals team that has been torching everybody in the early going. He recovered with six sharp innings against the Indians on Tuesday night.
• The new-look bullpen has come as advertised. David Robertson has tossed four near-perfect (only one hit and one walk allowed) innings, while Zach Duke has allowed just one run on three hits with two walks in four innings.
But there are still issues at the top of the order.
Newly signed to a contract extension, Eaton has gotten on base just four times in 34 plate appearances -- not exactly an encouraging leadoff statistic -- and opposing pitchers are aggressively and successfully attacking him with first-pitch strikes.
Cabrera's most solid contact to date was the liner that struck the Indians' Carlos Carrasco in the cheek. Aside from that, he's barely been visible, with a .182 average and OBP.
The numbers aren't quite as depressing for LaRoche, the cleanup man, as he has gone deep twice and hit a double, but he's also struck out 13 times in 25 at-bats, continuing a career-long pattern of slow starts to the season.
Getting zero walks from their Nos. 1 and 2 hitters and hardly any offensive input from Nos. 1, 2 and 4 is frustrating for the Sox on a number of levels, not the least of which is the fact that it gives opposing pitchers little reason to give Jose Abreu anything to work with. He's seen nearly 7 percent fewer pitches in the strike zone than he did last year.
This is the early storm Ventura is weathering, and he's doing so his own patient way, even if some outsiders would like to see more outward emotion.
"They want blood," Ventura said. "They want to see you rip a guy in the dugout. There have been heated things said, but it's all in here. There's not going to be a video record of it."
We'll see how heated it gets if Chicago's top-of-the-order struggles continue. Until then, a reformed roster deserves benefit of the doubt, as does a manager who has finally been given a fighting chance to prove his hiring wasn't so crazy after all.
Anthony Castrovince is a reporter for MLB.com. Read his columns and follow him on Twitter at @Castrovince. This story was not subject to the approval of Major League Baseball or its clubs.