Simon copies Tigers' strong pitching blueprint
Righty throws eight innings of two-hit ball as club records fourth shutout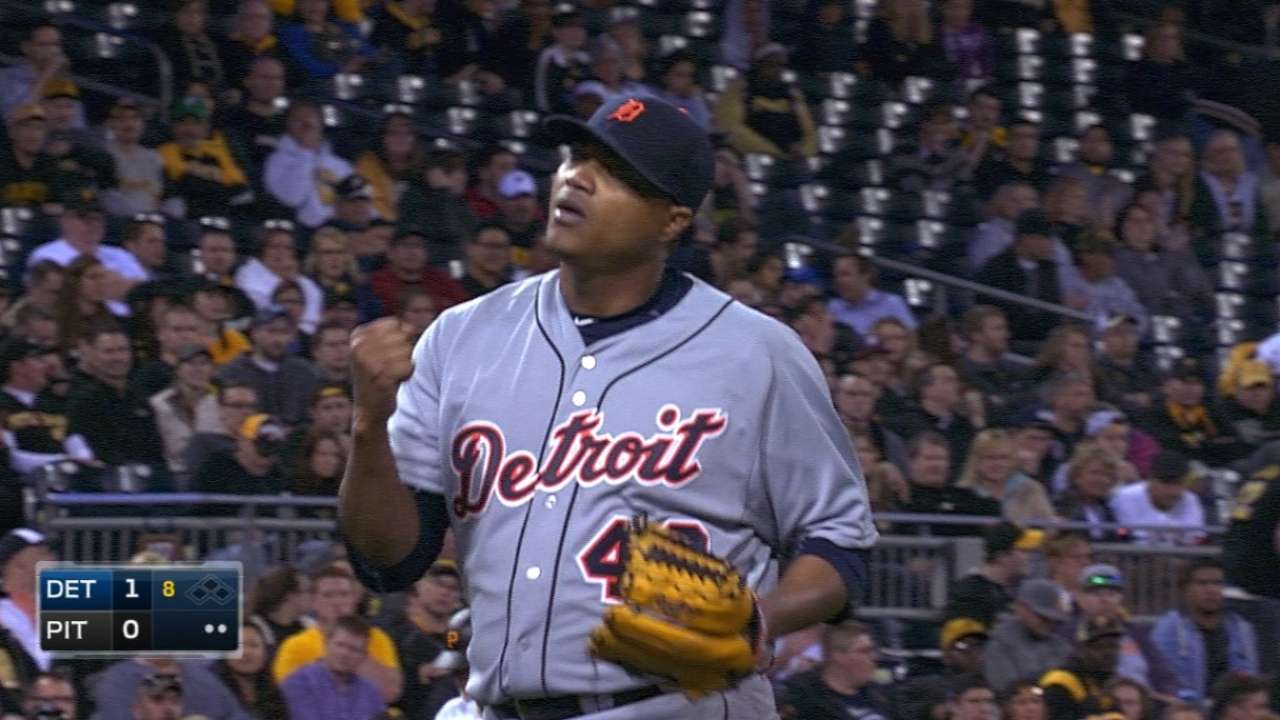 PITTSBURGH -- Alfredo Simon is an imposing presence on the mound at 6-foot-6. His style on the mound doesn't fit the image.
"He looks like he's taking a walk in the park when he's pitching," manager Brad Ausmus said. "It's like he's playing catch with his son in the backyard."
With what little solid contact the Pirates generated Wednesday night, Simon was essentially playing catch with his rookie catcher, James McCann, for eight innings in the Tigers' 1-0 victory. The way Shane Greene pitched the night before, most of the series felt like that.
Pittsburgh jumped Anibal Sanchez for three home runs in Monday's series opener, then didn't score a run for the next 19 innings, 16 of which came against Greene and Simon.
It's just the second-longest scoreless streak of the season for Tigers pitching, and the season isn't two weeks old. Between 24 straight scoreless innings to begin the season and 19 straight scoreless innings to end the road trip, the Tigers have spent more than half the season to date on shutout streaks.
Detroit has four shutouts over its first nine games for the first time in franchise history, and each of its top four starters have pitched a part of one. Simon's gem seemed as surprising as any of them.
He had a two-hit shutout going through five innings last Friday at Cleveland before five straight hits and three runs chased him from the game. Once Simon got rolling Wednesday, the wait was on for that stretch to test him.
Simon actually got better as the game went on, retiring the final 13 hitters he faced after back-to-back singles in the fourth produced Pittsburgh's only threat. They ended up being the Pirates' only hits, too.
"He was able to throw to both sides of the plate with all of his pitches. That was the big thing," McCann said. "He was keeping hitters off-balance, mixing his patterns. No guy saw the same sequence in consecutive at-bats."
Simon made it look as easy as his delivery.
"He changes speeds," Ausmus said. "He's got a couple different breaking balls, a couple different changeups, moves them in and out. He's got some movement on his fastball. He doesn't get rattled. I don't think his heartbeat gets up over 60 beats a minute. And he gave us eight great innings."
Simon had an advantage of familiarity, having faced the Pirates four times last year while in the Reds' rotation. But he didn't pitch past the seventh in any of those starts, and gave up multiple runs in all of them.
After a 2014 season in Cincinnati that many wondered if he could repeat, Simon had the best start of his career Wednesday.
"The key was attack the hitter and try to get the ball down," Simon said. "The two-seamer worked really well today and all my pitches were great."
Jason Beck is a reporter for MLB.com. Read Beck's Blog and follow him on Twitter @beckjason. This story was not subject to the approval of Major League Baseball or its clubs.