J-Uptown funk: Red-hot Upton proving his worth in San Diego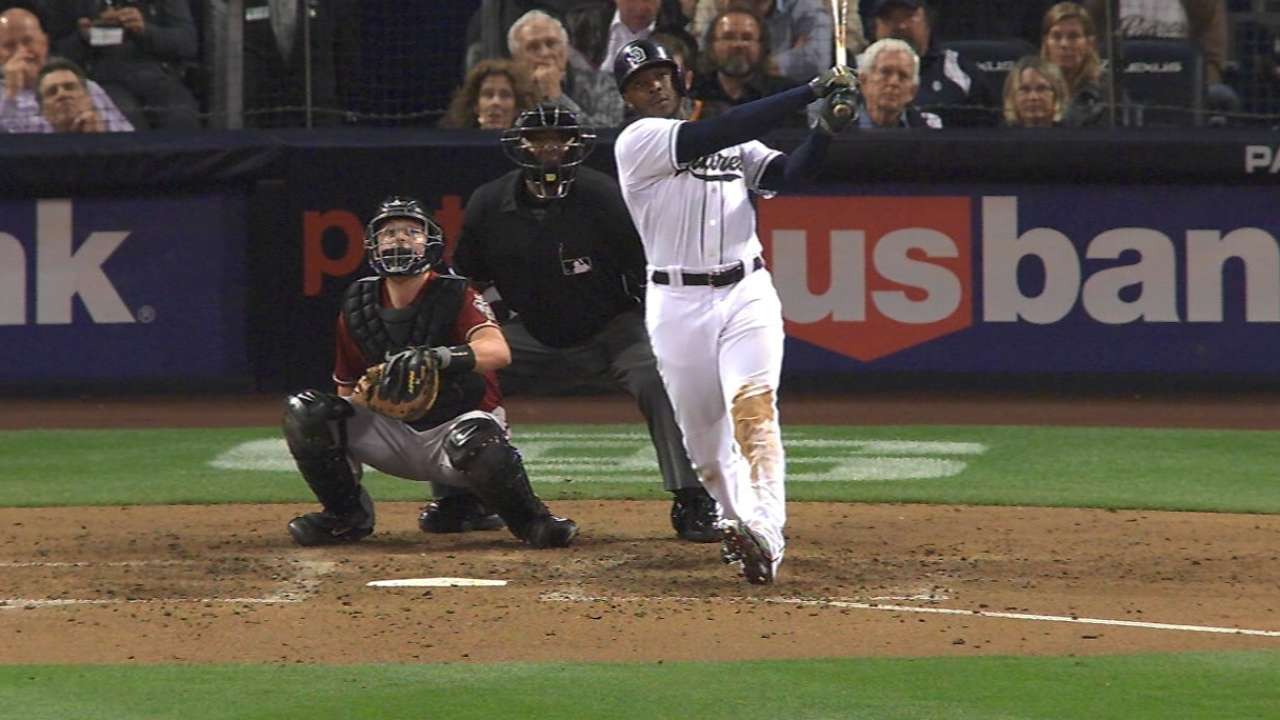 SAN DIEGO -- Since playing his last season for the D-backs in 2012, Justin Upton has tormented his old team, though the Padres' left fielder was quick to point out Wednesday that despite appearances, it's not anything personal.
"I'm trying to torment every team we play," Upton said, smiling.
Ten games into the season, that mantra seems to be working for Upton, who hit a tie-breaking home run in the eighth inning to lift the Padres to a 3-2 victory over the D-backs at Petco Park.
Upton, one of general manager A.J. Preller's prized offseason acquisitions, has made his spacious, new home ballpark look small this week, hitting two home runs to left field in as many days.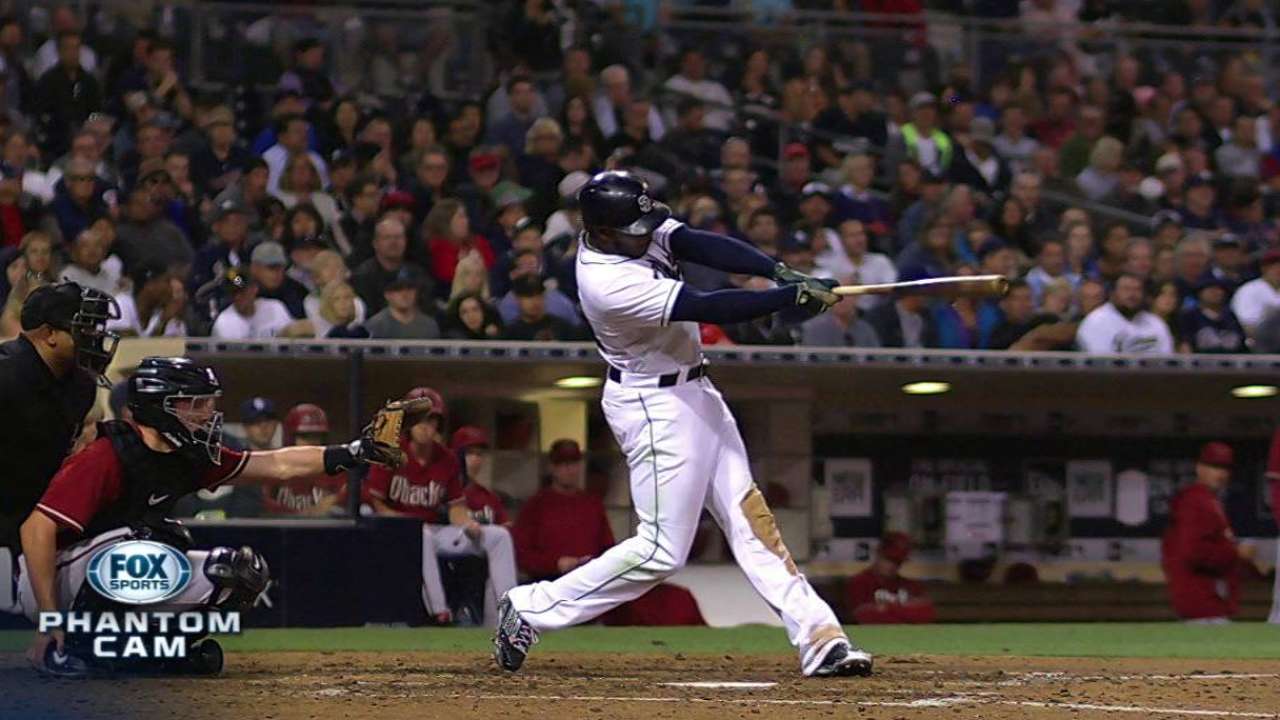 Heading into the first off-day of the season, Upton is hitting .351/.405/.703, and his seven RBIs have him tied for the team lead with another notable acquisition, Matt Kemp. Together, Upton and Kemp have knocked in 33 percent of the team's runs this season.
San Diego manager Bud Black, after years of watching Upton with the D-backs and later the Braves, said he's enjoying watching Upton and Kemp anchor the middle of his offense.
"When you see it from the other side, for as many years as we did, we're [now] looking at it first-hand," Black said. "... They've made a statement. My guess is it's going to continue."
The Padres certainly hope so, as they went to great lengths to upgrade what was baseball's worst offense in 2014.
Upton, who had three hits Wednesday, has at least one hit in each of the Padres' first 10 games. He leads the team with three home runs, all coming in spacious ballparks. (The other was at Dodger Stadium.)
"I saw some of it in Spring Training, but watching him now ... he's really good," Padres outfielder Wil Myers said of Upton.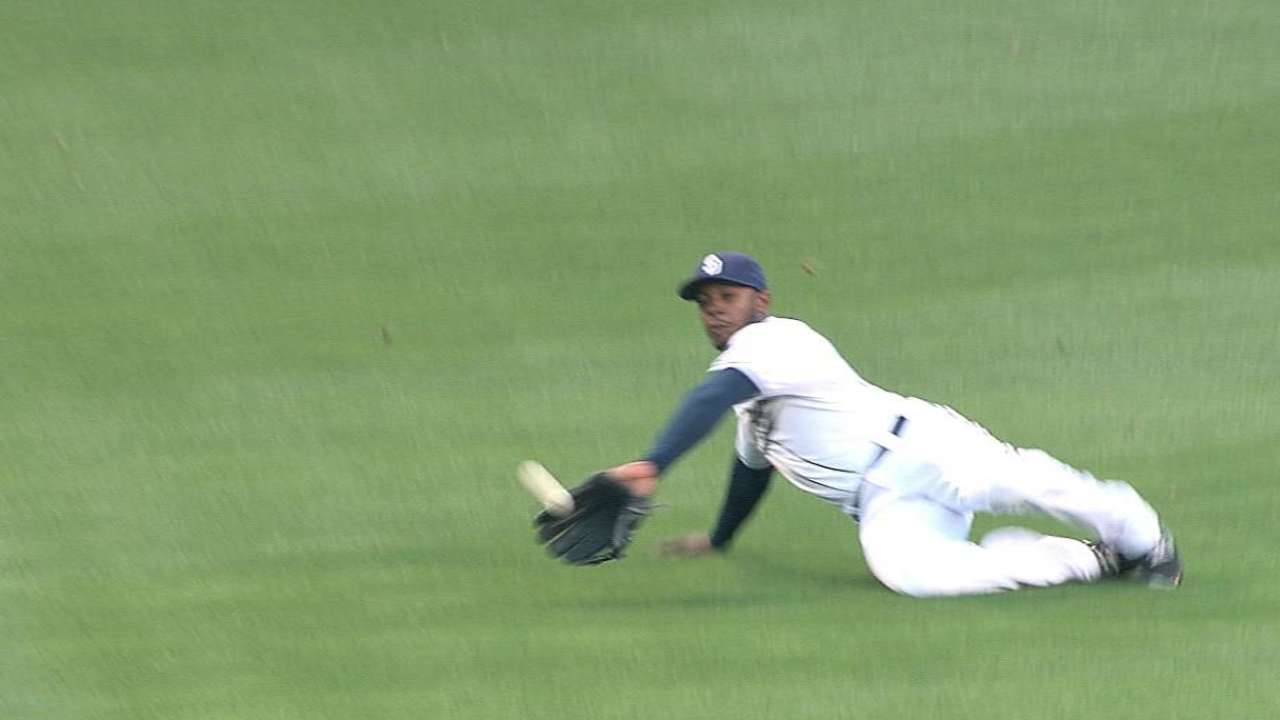 Upton, who hits fourth in the lineup behind Kemp, has seen his fair share of fastballs. Pitchers know they can't be too particular with either hitter, and as has been the case with a hitter on base, there are fewer opportunities to pitch around Upton or Kemp (.341).
The Padres, who are second in the National League in runs (43), have been the obvious benefactors, as they went 5-2 on this homestand against the Giants and D-backs.
Upton's home run in the eighth inning came off D-backs reliever Randall Delgado who, oddly enough, was part of the trade that sent Upton to the Braves after the 2012 season. Upton is hitting .377 with five home runs in 53 at-bats against the D-backs since that deal.
"It was a little up," Delgado said of the pitch. "Obviously I paid for it."
A sentiment that Black hopes is repeated often this season.
"You're going to see things like this," he said.
Corey Brock is a reporter for MLB.com. Keep track of @FollowThePadres on Twitter. This story was not subject to the approval of Major League Baseball or its clubs.