Marquis unable to recover as in season debut
Reds' starter surrenders 2 runs in each of first 2 innings against Cubs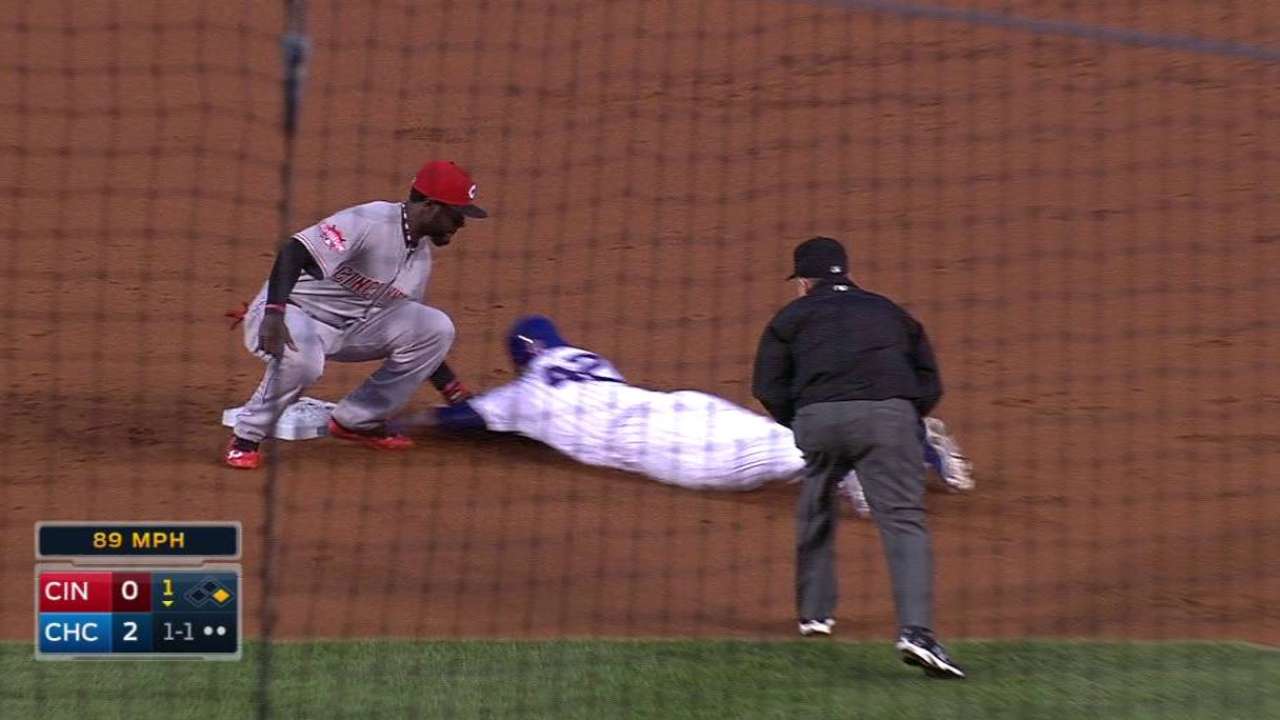 CHICAGO -- Unlike his season debut on Friday against the Cardinals, Reds starter Jason Marquis could not make an adjustment or course correction vs. the Cubs after a shaky first couple of innings.
After Marquis and the Reds went down early, they stayed down for a 5-0 loss to Chicago to drop two of three in the series. Lasting only four innings, a season low for the Cincinnati rotation, Marquis gave up all five runs (four earned) on seven hits and three walks with six strikeouts.
"It's tough to put your team behind in a hole like that," Marquis said. "Unfortunately, I backed them into too big of a corner this time. I just have to do a better job of attacking the bottom half of the strike zone. I want to work deeper in the game, take a load off the bullpen and give my team a better chance."
In the St. Louis game, Marquis trailed 2-0 after two innings but recovered to retire 12 in a row for a six-inning quality start and no-decision before the Reds eventually won.
Two batters into Wednesday, the Cubs already had a 2-0 lead. Leadoff man Dexter Fowler slapped a double down the left-field line before Anthony Rizzo lifted an 89-mph fastball left over the heart of the plate. It exited Wrigley Field for a two-run home run to right field.
"Trying to come in on Rizzo, the ball ran back out over the middle, and he hit it out of the ballpark," Reds manager Bryan Price said. "He just wasn't as sharp as he was before. He had good action on his ball. He just didn't command it as well."
Eight Cubs batted in the bottom of the second inning following a leadoff walk to Starlin Castro. Jonathan Herrera's one-out single to right field added another run, and with the bases loaded and two outs, Marquis went up and in to hit Jorge Soler with a 1-2 pitch in the left shoulder to force home another run.
It was not a good time for Marquis to have a rough night. Cubs starter Travis Wood was sharp and retired his first nine in a row and allowed only three hits over his seven innings.
By the end of the third inning, Marquis already had 66 pitches during a blustery night in Chicago, where the wind chill had temperatures feeling like it was in the mid-30s. Marquis said he did not feel affected by the cold, however.
"I've pitched in weather like this before and had good results. That wasn't the case tonight," said Marquis, who earned a spot in the rotation as a non-roster player at Spring Training.
Marquis was lifted for a pinch-hitter in the top of the fifth, forcing an overworked bullpen to finish the final four innings. If there was one positive, Reds relievers Burke Badenhop, Manny Parra and Pedro Villarreal combined for four scoreless innings.
Mark Sheldon is a reporter for MLB.com. Read his blog, Mark My Word, and follow him on Twitter @m_sheldon. This story was not subject to the approval of Major League Baseball or its clubs.