McHugh fine with K's, but seeks quicker outs
Astros righty exits after 5 2/3 innings vs. A's due to high pitch count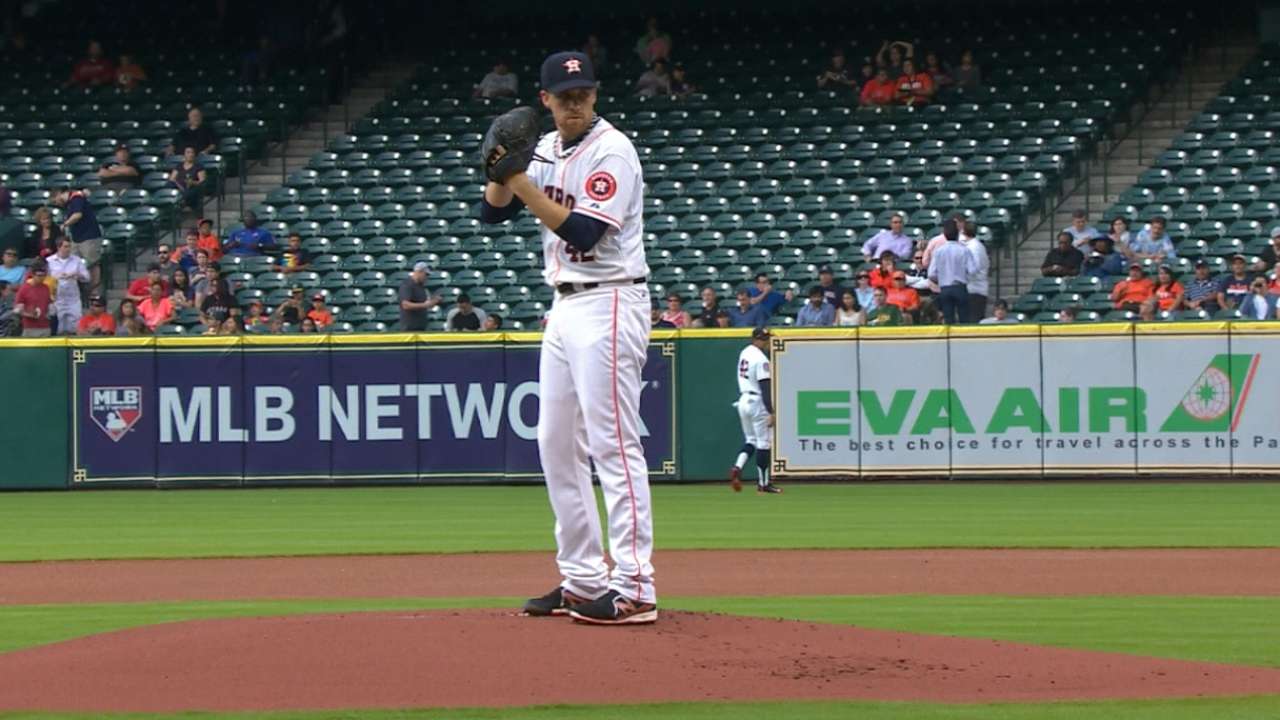 HOUSTON -- Astros right-hander Collin McHugh would rather see opposing hitters make early contact for quick outs than make him work as hard as he had to work Wednesday night. McHugh only pitched 5 2/3 innings after 11 strikeouts took a toll on his pitch count, but it was more than enough.
McHugh extended his career-long winning streak to nine games -- dating to Aug. 12 of last year -- by holding the A's to one run, no walks and six hits in a 6-1 win in the series finale at Minute Maid Park. He's the first Astros pitcher to win nine consecutive decisions since Roy Oswalt (2006-07).
"He had really good stuff tonight, all pitches across the board," Astros manager A.J. Hinch said. "He came out with his fastball, his breaking ball and obviously set the tone in the first inning when he punched out the side. It's a really, really good performance out of him. Obviously, the pitch count went up and I wasn't going to go extremely far with him, but really good to see that kind of pitching performance out of Collin."
McHugh (2-0) threw 102 pitches, struck out the side in the first inning and whiffed a pair in the second, third, fourth and fifth innings. He finished one strikeout shy of his career high of 12, which he set a year ago when he made his Astros debut in Seattle.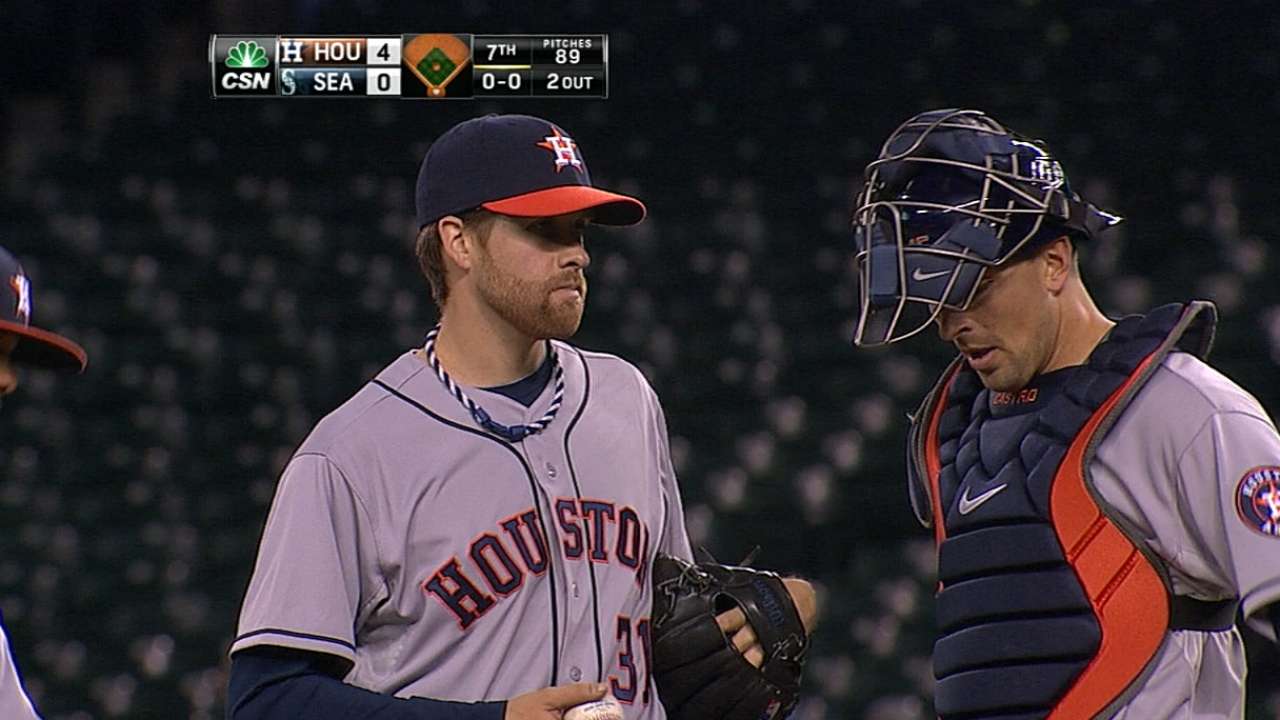 "The command of my fastball was better [in that game] last year, I think," he said. "I didn't have much of a changeup last year. I threw a few more changes today, which was helpful."
McHugh's command overall was top-notch against the A's.
"I had pretty good stuff, which can turn into strikeouts, can turn into quick outs," he said. "For me, it turned into a lot of strikeouts and some longer innings than I would have liked, but the stuff was good and the guys got on the board early and we kept scrapping, one through nine. It was a good game altogether."
Oakland catcher Stephen Vogt said what makes McHugh so tough is all three of his pitches look the same coming out of his hand.
"He changes speeds, he changes your eye level," Vogt said. "I know we punched out a lot, but I thought we did a good job of getting his pitch count up quick. That's all you can really ask for when a guy is on like that, get him out as quick as possible. I thought getting him out in the sixth was a small victory there. Their bullpen just came in and did a nice job."
McHugh was challenged in the second inning when the A's loaded the bases with two outs. Marcus Semien beat out an infield single to score Billy Butler with Oakland's only run, and McHugh came back and got Sam Fuld to hit into a fielder's choice. He sent down 12 of the final 14 batters before turning it over to the bullpen.
"I'm not going to try to take the ball out of those guys' hands too often," McHugh said. "It was a pretty good effort tonight, pretty good workload, I felt like. Hopefully, we'll continue to increase that and work later in the games."
Brian McTaggart is a reporter for MLB.com and writes an MLBlog, Tag's Lines. Follow @brianmctaggart on Twitter. This story was not subject to the approval of Major League Baseball or its clubs.