Confusion ensues after ball hits umpire Layne in mask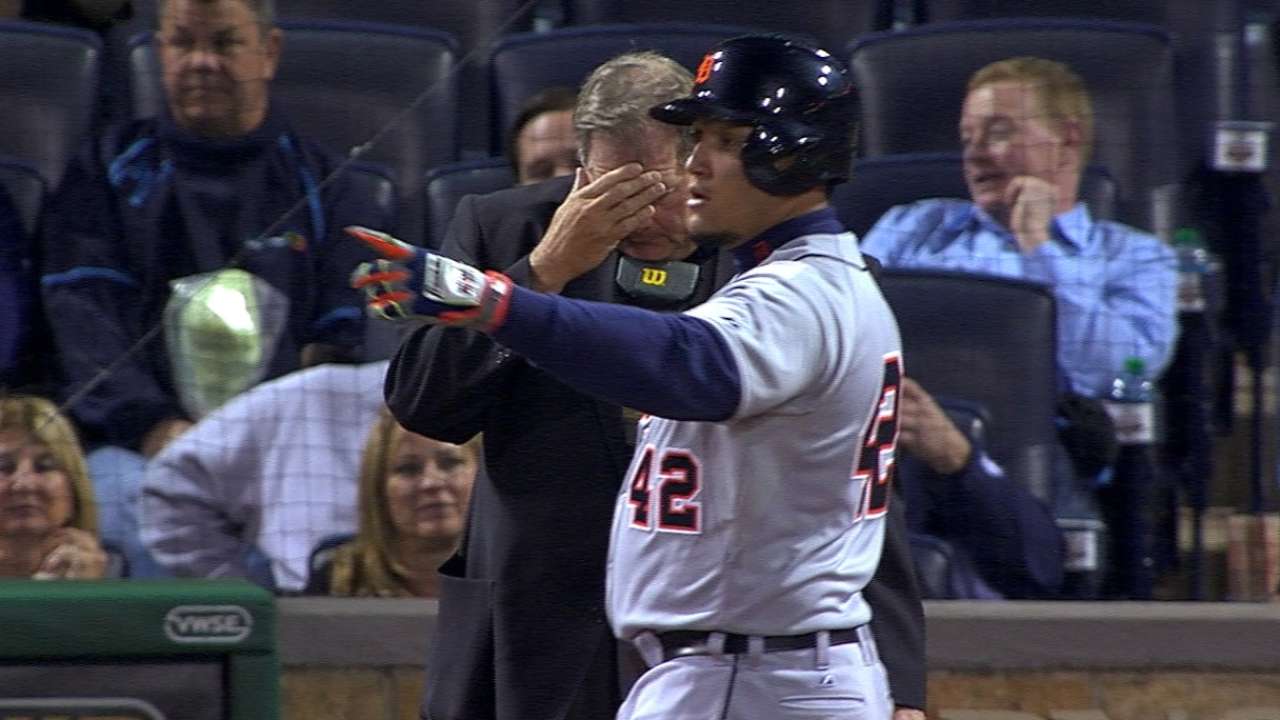 PITTSBURGH -- The Tigers' 1-0 win over the Pirates at PNC Park on Wednesday night was delayed for more than 10 minutes in the top of the ninth inning after home-plate umpire Jerry Layne was hit in the mask by a 3-2 pitch from Pittsburgh closer Mark Melancon.
But the delay wasn't caused by Layne's injury -- though he did leave the game -- so much as the ensuing confusion about whether Miguel Cabrera had drawn a walk.
Melancon's pitch to Cabrera was high and inside and wound up glancing off catcher Francisco Cervelli's glove right into Layne's mask. Layne left the game, only to be replaced behind the plate by second-base umpire Bob Davidson.
The question on both sides was whether Layne had called the pitch a foul tip, which it wasn't, or a ball.
"The telltale sign for me was that Cervelli chased the ball, which usually means the catcher didn't think it was a foul ball," Tigers manager Brad Ausmus said. "So at first, [first-base umpire] Hunter Wendelstedt is the guy they appealed to, but he's 100 feet away. It's tough for him to tell unless he could hear something."
However, given Layne's condition at the time, Wendelstedt apparently had some trouble understanding the initial call.
"I think Hunter thought [Layne] said 'foul tip,' but he said 'chipped tooth.' He just said it was a hard conversation to have," Pirates manager Clint Hurdle said. "At the end, they talked to one another. From their vantage point, they didn't see a foul tip. They didn't see a hit batter. I ended up calling our [replay] guy. He didn't see a foul tip. He didn't see a hit batter, either."
Cabrera said he could tell Layne "was in a lot of pain" after being hit. After waiting around the plate and the Tigers' dugout for several minutes, Cabrera was awarded first base.
An MLB spokesperson said Thursday morning that Layne was headed home to recuperate for the next few days and that he'll resume his umpiring schedule from there. Layne lives in Florida, not far from the Tigers' Spring Training home in Lakeland.
"At the end of the day, the correct call was made," Hurdle said, "although there was a lot of conversation being had."
Adam Berry is a reporter for MLB.com. Follow him on Twitter at @adamdberry. This story was not subject to the approval of Major League Baseball or its clubs.