MLB.com Columnist
Mike Bauman
Jackie Robinson's legacy always worth celebrating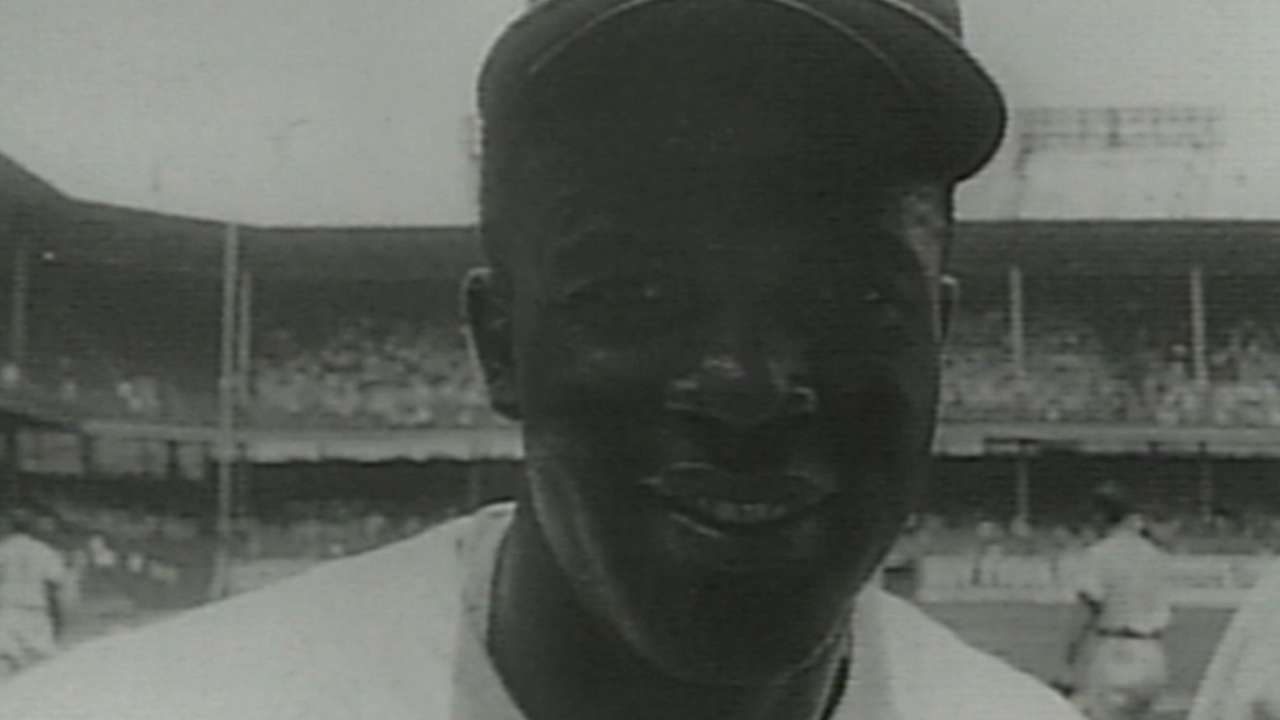 LOS ANGELES -- Why does Major League Baseball persist in celebrating Jackie Robinson Day every April 15?
Well, why does America persist in celebrating the Fourth of July every year? Any time strides are taken in the direction of freedom, justice, equality, it is worth a celebration.
So Wednesday afternoon and Wednesday night, Jackie Robinson Day was celebrated, along with the annual Civil Rights Game, on the 68th anniversary of Robinson breaking baseball's racial barrier as a member of the Brooklyn Dodgers.
A cross-section of dignitaries gathered for the "Baseball & Civil Rights Movement" roundtable discussion, and then in pregame ceremonies before the Dodgers played the Seattle Mariners, Major League Baseball honored individuals whose lives have been emblematic of the spirit of the civil rights movement.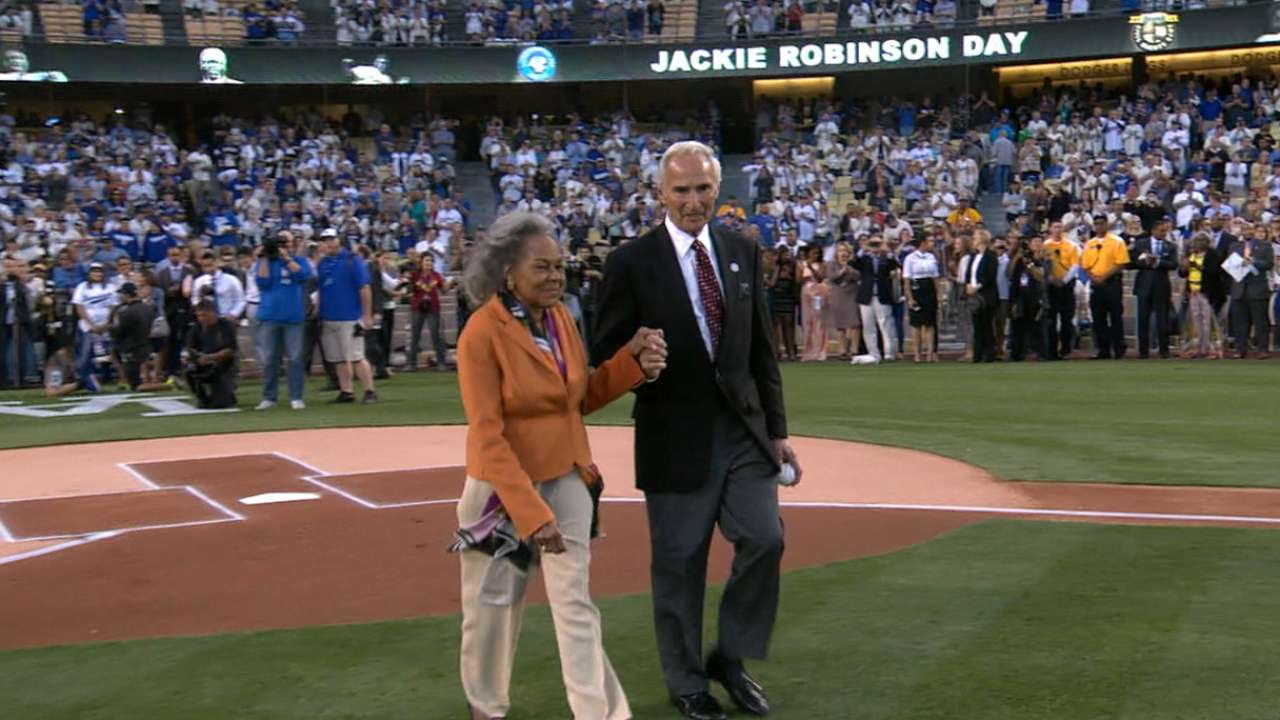 Earvin "Magic" Johnson -- basketball legend, urban entrepreneur, now part-owner of the Dodgers -- was given the Beacon of Hope Award. Dolores Huerta, civil rights and social justice activist, was given the Beacon of Life Award. Baseball Hall of Famer Frank Robinson was honored on the 40th anniversary of becoming the first African-American manager in the big leagues.
Everybody involved in this event, and in this entire game, owes something to Jackie Robinson.
"If there was no Jackie Robinson, there would be no Magic Johnson as a part-owner of the Los Angeles Dodgers," Johnson said. "Changing baseball, changing society, changing the world. He's still here; his presence, his legacy."
"When people ask me, 'Why are you a Dodger fan?' I say, 'Because of Jackie Robinson,'" Huerta said.
"He allowed one black kid from Oakland, Calif., to realize a dream," Frank Robinson said of Jackie Robinson. "And that was to play Major League Baseball."
Certainly, with these celebrations, baseball salutes itself in a way. But Robinson's arrival came years before open housing, or court-ordered integration of schools. The Voting Rights Act wasn't passed until nearly two decades after Robinson desegregated the Major Leagues. Baseball was ahead of the rest of society in 1947. Its example is worth maintaining, worth nurturing, worth being carried forward.
But more than even this, these events are celebrations of a singular human being. In remembering Jackie Robinson we all salute his bravery, his determination, his fortitude, all which came in serving a cause much larger than his own baseball career. His legacy cannot be forgotten, not only because it became part of the fabric of baseball, but because it became part of the fabric of American society.
This is part of the reason that one of the highlights of the Jackie Robinson Day observances is the appearance of his widow, Rachel Robinson.
"Rachel is absolutely revered in the game," Commissioner of Baseball Rob Manfred said in introducing Mrs. Robinson at a pregame news conference. "Between her historical role as Jackie's partner and her subsequent work with the Jackie Robinson Foundation, she is a vital part of baseball's off-the-field presence."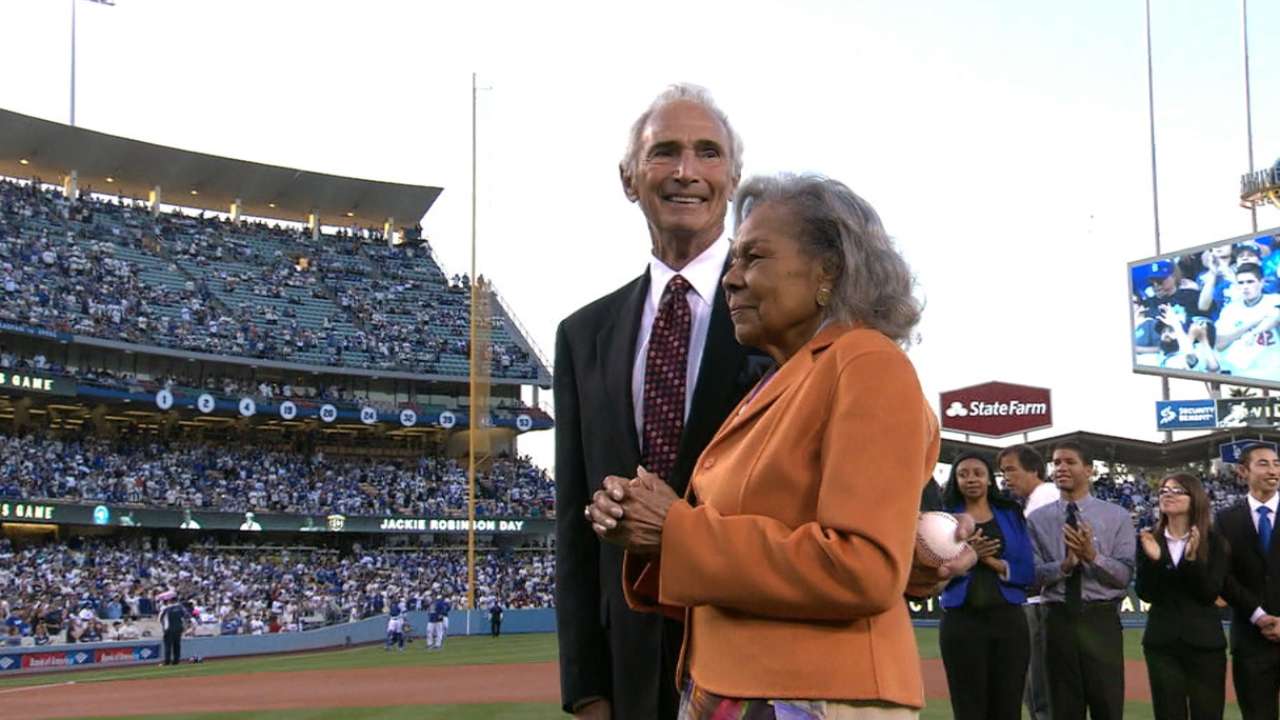 Coming to the Dodgers' home for this event, Rachel Robinson said, was "like coming home for me. It's exciting and it's sometimes sad, because you miss the people who are no longer here."
But Mrs. Robinson is still here. "I'm 92," she said and then laughed. "I'm always bragging."
In fact, she appears to be someone at least 20 years younger than that. "I want to stay an active part of baseball," she said.
That would be a hope shared by many.
Mrs. Robinson received thunderous applause when she was introduced for the pregame ceremonies. She was escorted onto the field by another legendary Dodger, Sandy Koufax. There was a lot greatness strolling onto the diamond with these two.
Rachel Robinson was asked about her memories of that day 68 years ago, when her husband became the first African-American to play Major League Baseball.
"It was very exciting and very stressful," she said. "But it was more exciting than stressful, because it was an opportunity. I knew that he was up to meeting the challenge, and he knew he was up to meeting the challenge."
And because the Robinsons were up to meeting that challenge, baseball changed, and with that change, the cause of progress was served. Two dugouts full of people wearing jerseys with the No. 42 on them played Wednesday night to commemorate this progress that pushed all of society in the direction of equality.
"When you take the field and everybody is wearing the same number, it touches you, because everybody is the same," Mariners center fielder Austin Jackson said. "No matter the skin type, no matter where you're from, no matter the race or the ethnicity, on [this] day, and every day really, we're all the same, we're all out to achieve the same goal."
That is why Jackie Robinson Day is still observed, and that is why Jackie Robinson's legacy will always be worth the honor.
Mike Bauman is a national columnist for MLB.com. This story was not subject to the approval of Major League Baseball or its clubs.