Yanks' offense still searching for boost as A-Rod swings big
Rodriguez hits second home run of season in Wednesday's loss to O's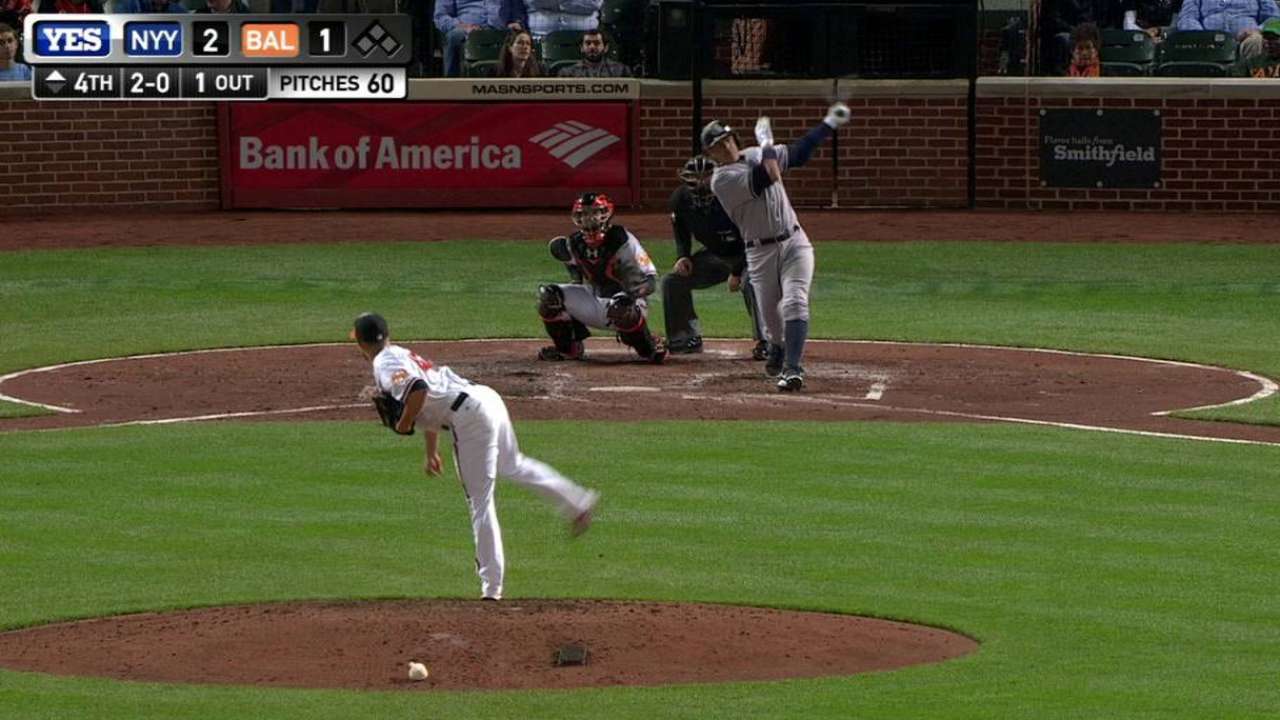 BALTIMORE -- Alex Rodriguez said that his fourth-inning home run on Wednesday, No. 656 on his career ledger, felt "amazing off the bat" and was the best ball he has hit all year. Through nine games, he has proven that he can still swing at this level, though he is still waiting for his Yankees to get on a roll.
The Yankees have lost each of their first three series to American League East rivals, dropping sets in succession to the Blue Jays, Red Sox and Orioles. Rodriguez said after Wednesday's 7-5 loss at Camden Yards that the Yankees need to tighten up as a unit.
"For me, I've been out for a year and a half, so I'm still trying to get to know a lot of our guys," Rodriguez said. "What I always go back to is the four facets of the game. You have to be able to control those and fundamentally try to master the fundamentals. That's what the game is all about."
Rodriguez explained that he sees those as good pitching, good defense, timely hitting and baserunning. The Yankees have shown signs in some of those departments, and re-installing Rodriguez's power to the lineup has helped -- he pounced on a 2-0 fastball from Baltimore's Bud Norris, moving within four homers of tying Willie Mays (660) for fourth place all-time.
"I thought I felt energized today," Rodriguez said. "Joe [Girardi] has been doing a great job with me."
Rodriguez said he was encouraged by Nathan Eovaldi's nine-strikeout performance on Wednesday, even though it ended in a no-decision when the bullpen coughed up the lead. On a positive note, Rodriguez said that nine games is not a large enough sample size to determine how the Yanks stack up against their division rivals.
"We're going to be seeing these guys all year for a long time. We know the score," Rodriguez said. "It's important to play well. More than who we're playing against, it's more important to control what we can do. The four facets is what we have to go back to, focus on the fundamentals and let the big things happen when they happen."
Bryan Hoch is a reporter for MLB.com. Follow him on Twitter @bryanhoch and read his MLBlog, Bombers Beat. This story was not subject to the approval of Major League Baseball or its clubs.