Souza launches homer for second consecutive game
Right fielder's offense becoming asset for Rays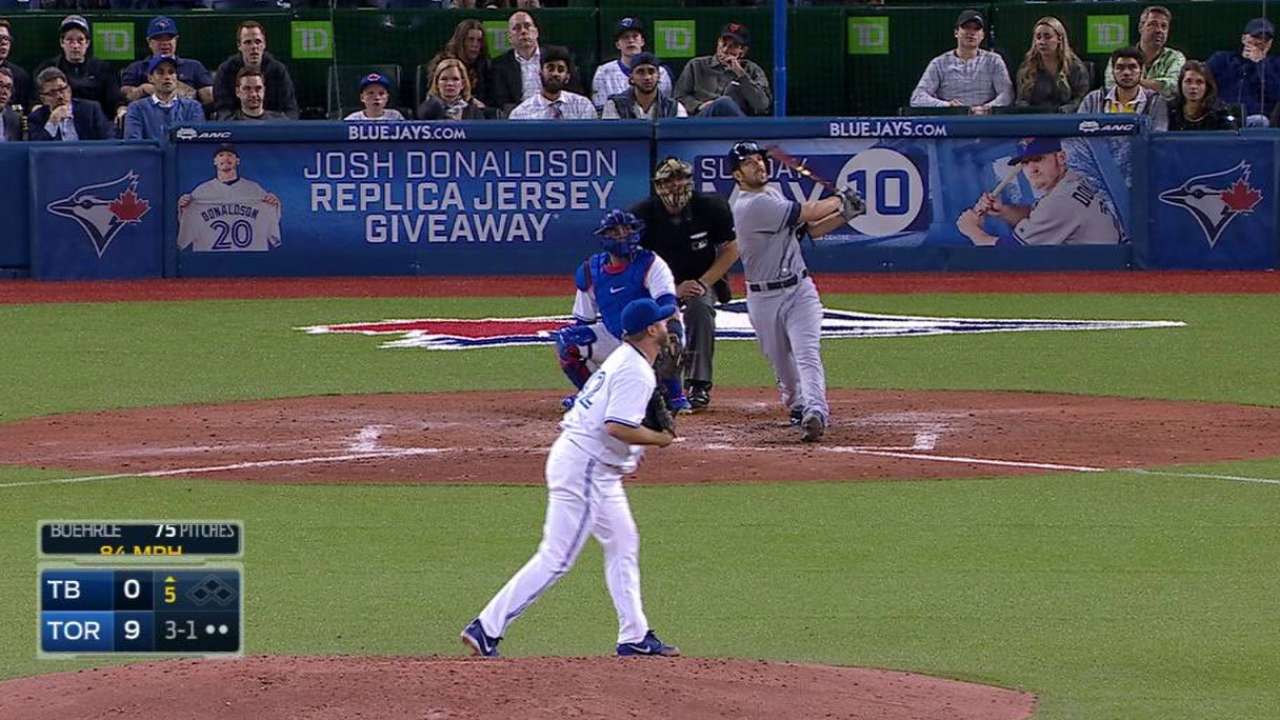 TORONTO -- Much of the pregame talk Wednesday night dealt with the estimated distance of the home run Steven Souza Jr. hit Tuesday night.
ESPN reported that the blast had traveled 463 feet, and most of the Rays players begged to differ. Rays manager Kevin Cash even noted that it was the longest home run he'd seen at Rogers Centre -- and he saw Carlos Delgado hit some bombs while they were teammates.
Souza did not get caught up in the talk. After Tuesday night's game, he noted simply that it had felt good to square one up.
The rookie outfielder would much rather let his bat do the talking, which he did in the fifth inning of Wednesday night's 12-7 loss to the Blue Jays.
With two outs in the inning and the Rays trailing 9-0, Souza connected on a 3-1 fastball from Mark Buehrle and sent the blast deep into the second deck in left field.
"I think I'm just a little more confident in the box," Souza said. "Just having a little more fun and a lot less worry. Just kind of staying with my plan and just sticking to it. Not letting the surroundings affect me. The balls are just falling right now. Falling on the barrel, so I'm excited about that."
In the ninth, Souza batted against Todd Redmond with the bases loaded and hit a ball off the left-field wall at the 375-foot mark that just missed going out by two feet. The double drove home two.
"Those balls don't really matter in a game like this," Souza said. "I'd like to come through, obviously, with a win. But it's nice to square up balls."
While the Rays did not win Wednesday night, Souza's hitting is turning into a plus for the Rays' offense.
"It's not so much the distance, it's just how hard the ball comes off his bat," Cash said. "And the sound. Seems like those just-misses are becoming just-connections now. So that's good to see."
Bill Chastain is a reporter for MLB.com. This story was not subject to the approval of Major League Baseball or its clubs.