Davis sandwiches clutch hits around strikeouts
Slugging first baseman drives in three runs to help O's beat Yanks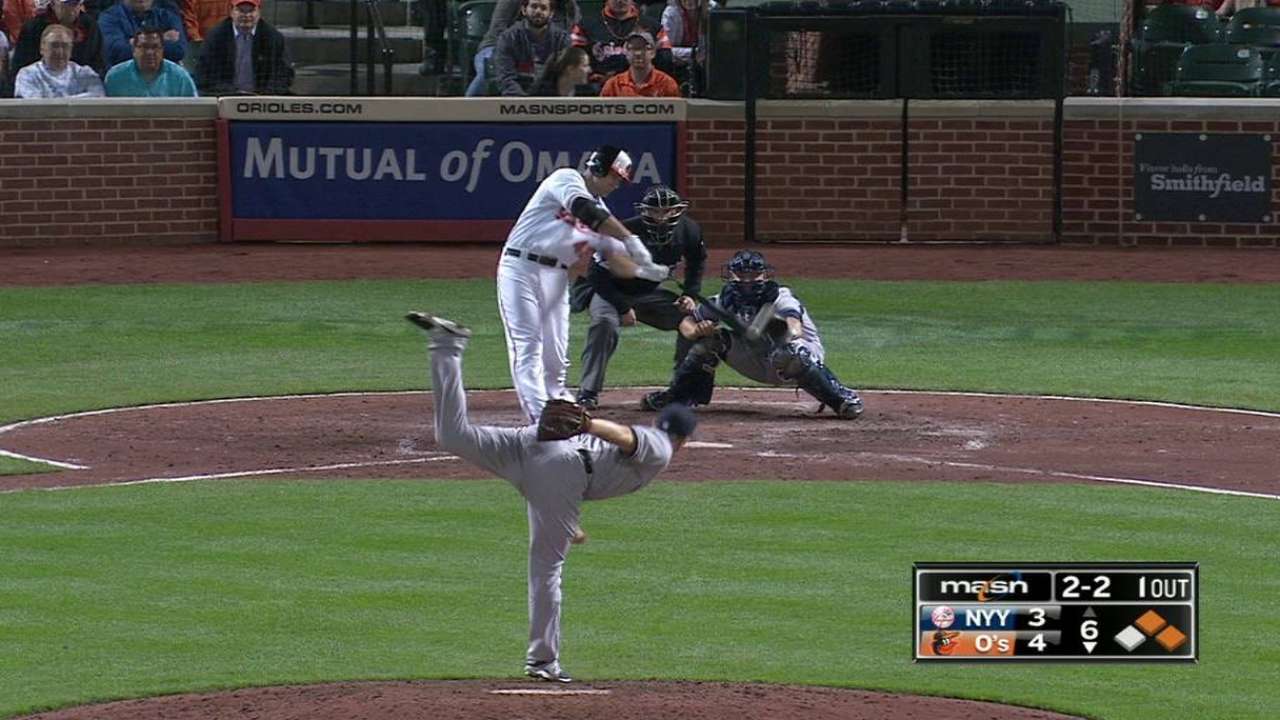 BALTIMORE -- Chris Davis always has struck out a lot. He's done that throughout his days with the Rangers and the Orioles. It's happening again this season, but Davis worked around the strikeouts for two big hits that helped the Orioles beat the Yankees Wednesday night.
The big first baseman had been 0-for-7 with six strikeouts in the first two games against New York. Davis struck out three times more in this contest but finished 2-for-5 with three RBIs, two of which came on a crucial two-run double in a five-run sixth as the Orioles rallied for a 7-5 victory at Camden Yards in the series finale.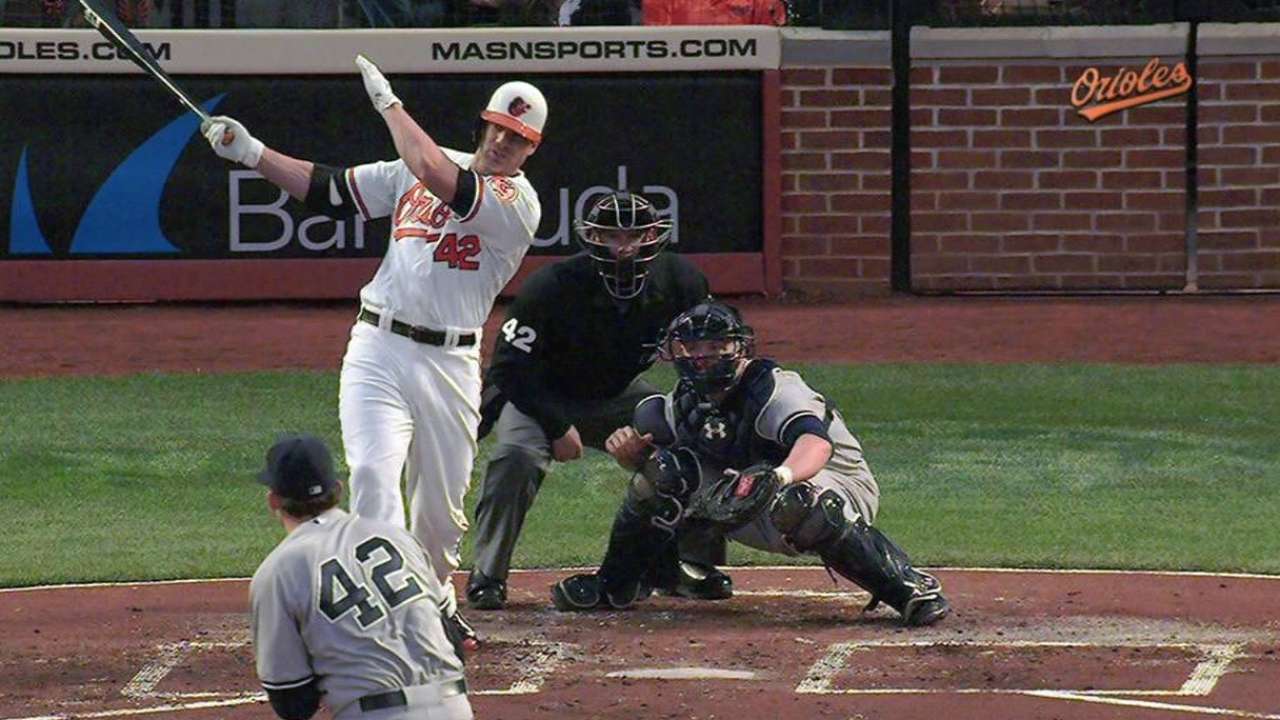 Davis comes out of this series with a .226 average, but he's also struck out 15 times in 31 at-bats. He said that's just a problem to work through in the first days of this season.
"That's just one of the things that goes with the power," Davis said. "When you're seeing the ball well, and you're swinging at good pitches, you're hitting the ball. But when you're not, you're swinging and missing, and that's notoriously how I've been my whole career."
Davis actually was hitless in his last 10 at-bats overall when he started the night with an RBI single to right in the first inning off Yankees starter Nathan Eovaldi. The right-hander then struck him out in the third and fifth. The first baseman came up again in the sixth against left-hander Justin Wilson right after pinch-hitter Delmon Young singled to give the Orioles a 4-3 lead.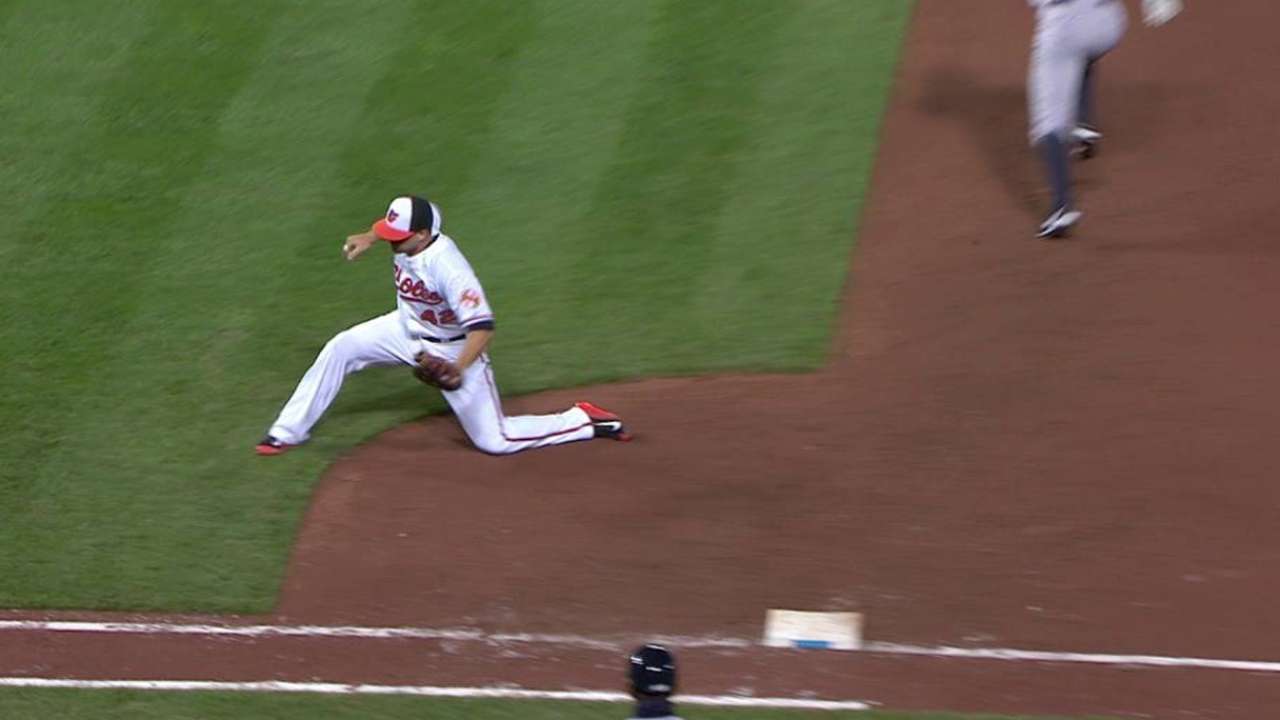 Davis lined a shot into the gap in left-center that rolled to the wall and scored two runs for a 6-3 lead. Manager Buck Showalter was glad to see Davis come through with a big hit in the midst of his early-season battle with strikeouts.
"[It's good], especially off a left-hander, but at this point I think Chris will take anything," Showalter said. "He doesn't give in. His contact-to-damage ratio always has been pretty good, but I know it's frustrating for him to strike out that much. Whether he's hitting the ball the other way, or pulling it firmly, [he's] just trying to string together some good at-bats."
It's easy to hear the frustration in Davis' voice on this subject. A lot of people are watching closely after all the problems he experienced in 2014, and the Orioles are counting on him.
Davis said he's really still working everything out at the plate and just wants to keep helping the team and work through this problem. But there are still 153 games left, plenty of time to do it.
Jeff Seidel is a contributor to MLB.com. This story was not subject to the approval of Major League Baseball or its clubs.