Teams across MLB honor Jackie Robinson's 'eternal' impact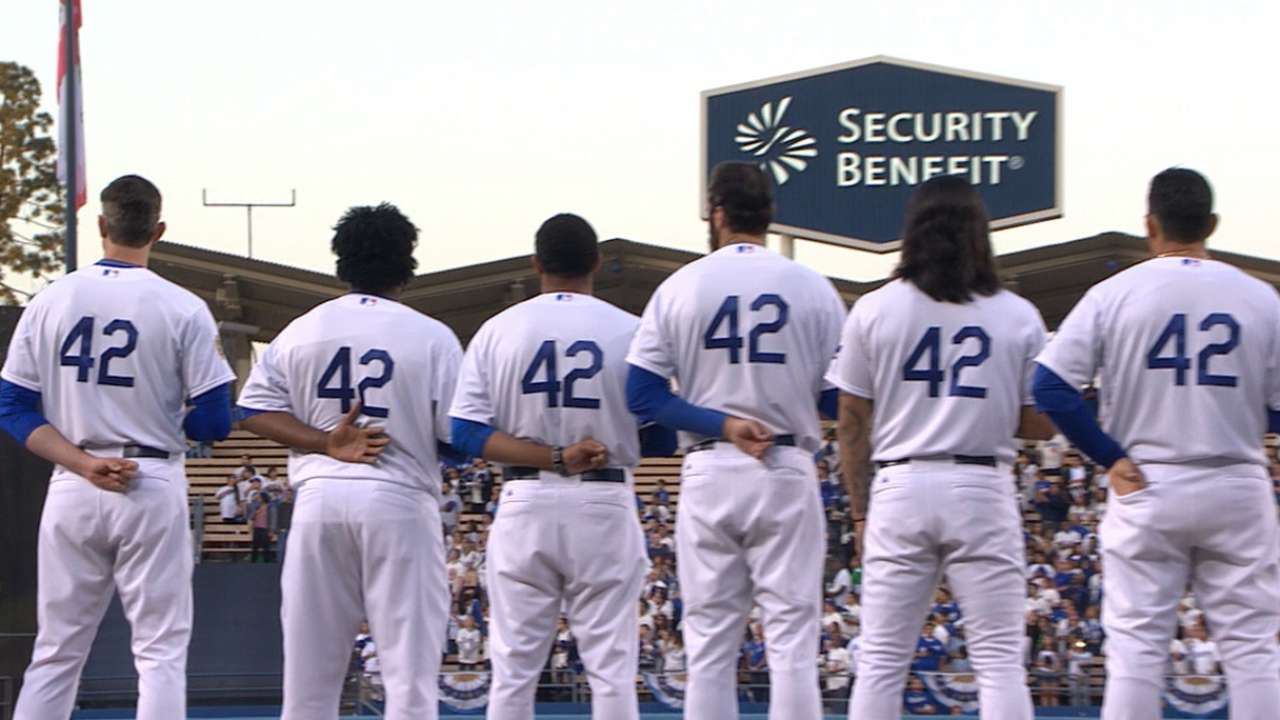 The significance and beauty of Jackie Robinson Day was felt and experienced throughout baseball on Wednesday. Sixty-eight years to the day on which the iconic societal pioneer first donned the No. 42 for the Brooklyn Dodgers at Ebbets Field and broke the sport's color barrier, the teams, players and fans of the Major Leagues honored his memory and eternal impact.
The epicenter of the celebration, as often is the case, was Dodger Stadium, not even 20 miles from where Jack Roosevelt Robinson grew up in Pasadena, Calif.
The Dodgers hosted the Mariners in MLB's ninth annual Civil Rights Game on Wednesday night, and the game was attended by Robinson's widow, Rachel, his daughter, Sharon, Commissioner Rob Manfred and other dignitaries, including former Dodgesr greats Sandy Koufax and Don Newcombe, the daughter of the late Dodgers catcher Roy Campanella, Hall of Famer Frank Robinson, team ownership partner and sports and business legend Magic Johnson, famed labor leader and civil rights activist Dolores Huerta, and a pair of Jackie Robinson Foundation scholars.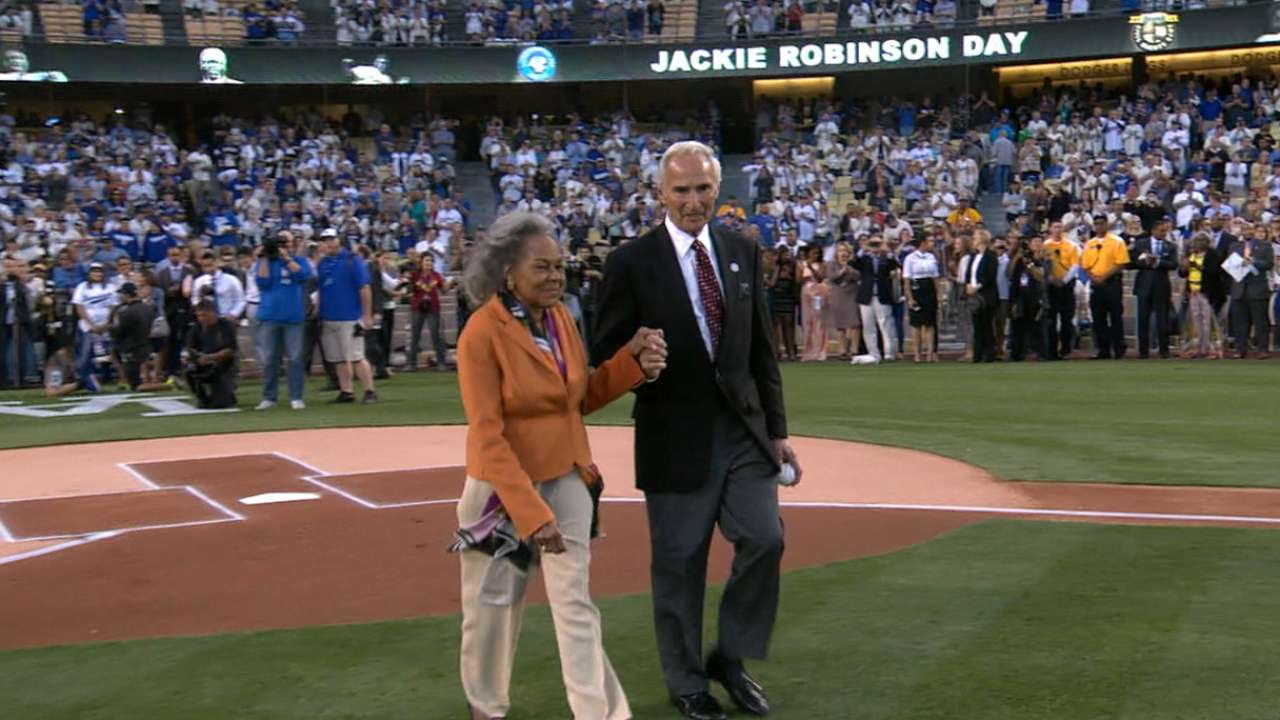 "It's a real pleasure to be here in Los Angeles, and it's especially a pleasure to be here on April 15," Manfred said. "For some people, they think about April 15 as tax day. In baseball, we know it's Jackie Robinson Day."
On the fields of the American and National Leagues across the country, there was a No. 42 at every base and every position. Robinson's uniform number was retired by MLB league-wide in 1997 and, beginning 12 years later, worn by every player, coach and manager in every game on every April 15.
As always, it was a magical day of baseball, and the personal experiences of the people involved in celebrating Jackie Day helped make it special as the day went from afternoon to evening, from East to West.
In Atlanta, the Marlins played the Braves and Miami's new second baseman, Dee Gordon, who was acquired in an offseason deal with Los Angeles, glowed. Gordon talked about how honored he was to not only be a baseball player of African-American descent, but to be a second-generation big leaguer. His dad, Tom "Flash" Gordon, was a standout reliever for many years.
"Jackie went through so much, and coming from the Dodgers, I got a better understanding of the history of it," Gordon said. "I was blessed to wear a Dodger uniform with 42 on it, and I'll take the same pride in it today in a Marlins uniform. It's a great day, I'm happy I can be a part of it."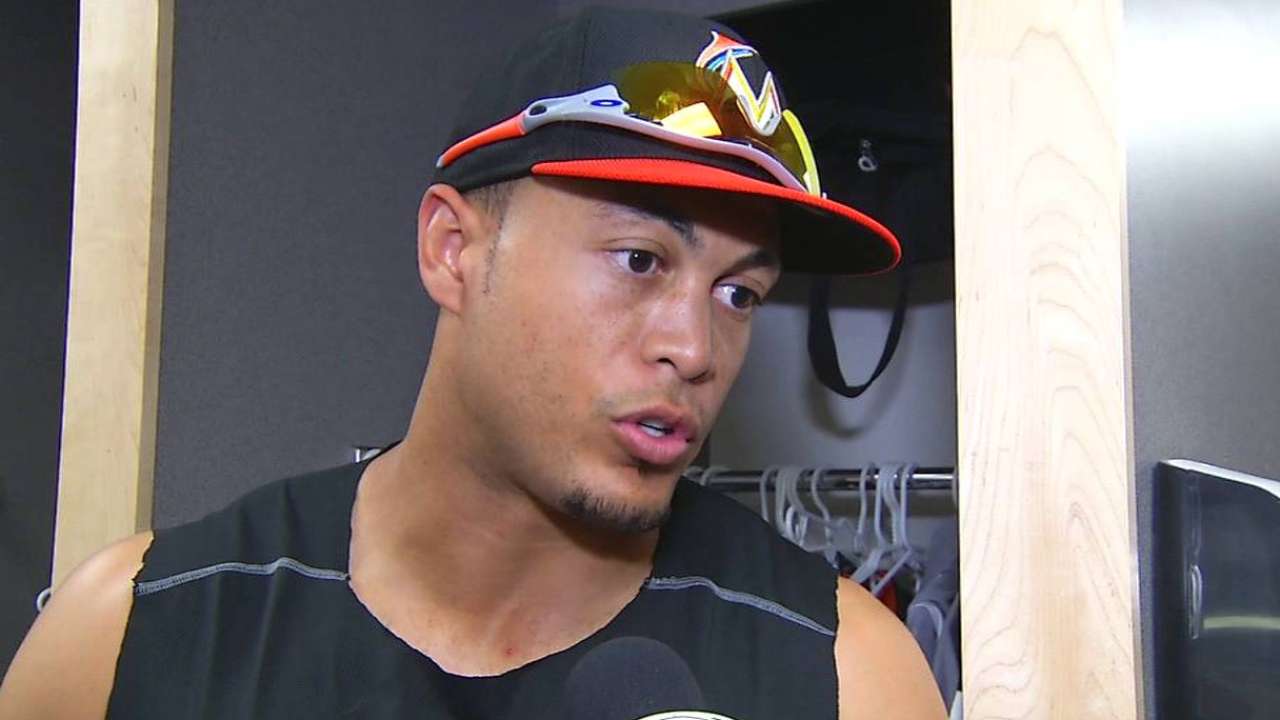 Those sentiments carried over to Cleveland, where the Indians hosted the White Sox and Tribe outfielder touched his No. 42 jersey before the game and offered a proud smile.
"Yes, it's special," Bourn said. "He went through a lot of turmoil in his day, just for us to be able to play. Of course, you never want anybody to go through that, but God chose him to be able to stand tall for us. He was able to do that. Otherwise, I wouldn't be sitting here right now. It's an honor to wear his number."
Bourn's manager, Terry Francona, offered a somber thought in the midst of the yearly celebration that spoke volumes for the perspective that this day provides.
"Because of his strength, it knocked some barriers down," Francona said. "I just don't know why they were ever up."
Francona's former club, the Red Sox, got in on the memorable day by hosting the Nationals at Fenway Park. There, 22-year-old Mookie Betts has been energizing his team and the game of baseball with an electrifying combination of speed, smarts, defense and hitting ability, much like Robinson did.
"I can only recall my own childhood upbringing, and that's when I watched someone on TV that I wanted to emulate," Red Sox manager John Farrell said. "Hopefully that's starting to resonate through New England, and specifically here in Boston. How our players can give back to the community, hopefully that's a way to draw a greater connection to young African-Americans here in Boston."
In Texas, the hometown Rangers played against the Angels, and another second-generation player got to revel in the majesty of the moment.
Delino DeShields Jr., whose dad played 13 years in the big leagues, played left field for Texas and led off.
"My dad, he loved Jackie Robinson," DeShields Jr. said. "Growing up, [Robinson] was always an impactful person to me because of my mom and dad. It was something they wanted me to follow and hear about. He was the first African-American to play, he gave me the opportunity to play, the people before me and the people after me. He did a lot of remarkable things."
Remarkable things were the order of the day, with the Pirates, Orioles, Blue Jays, Mets, Cubs, Twins, Astros, Cardinals and Padres also hosting games and Jackie Day festivities.
In Pittsburgh, Pirates manager Clint Hurdle shared the contents of his inspirational daily email. They were all Jackie quotes, including the most famous one: "A life is not important except in the impact it has on other lives."
On the field, Pirates center fielder Andrew McCutchen and third baseman Josh Harrison honored Robinson by wearing not only the number 42, but also cleats featuring the number.
During a pregame ceremony, the Pirates recognized 18 winners of the 2015 Pittsburgh Pirates Jackie Robinson Art, Essay and Poetry contest.
In Baltimore, the Yankees visited the Orioles and New York pitcher CC Sabathia spoke beforehand of how the 2013 film about Robinson's life, "42," is already an educational staple in the Sabathia household.
"I think the movie has kind of helped the newer generation appreciate what he went through," Sabathia said. "I thought it was awesome. I think [Robinson's experience] was probably a little harsher than the movie portrayed, but I think they did a good job where I can take my son to go watch it and he can get the effect of what he went through."
On the north side of Chicago, new Cubs outfielder Dexter Fowler said he gets to celebrate Jackie Robinson every day because his uniform number (24) has the same two digits.
"What he's done for the game in breaking the color barrier, being able to stand up for what he stood for -- obviously, I wouldn't be playing if he wasn't here," Fowler said. "It's definitely an honor to wear [No. 42]."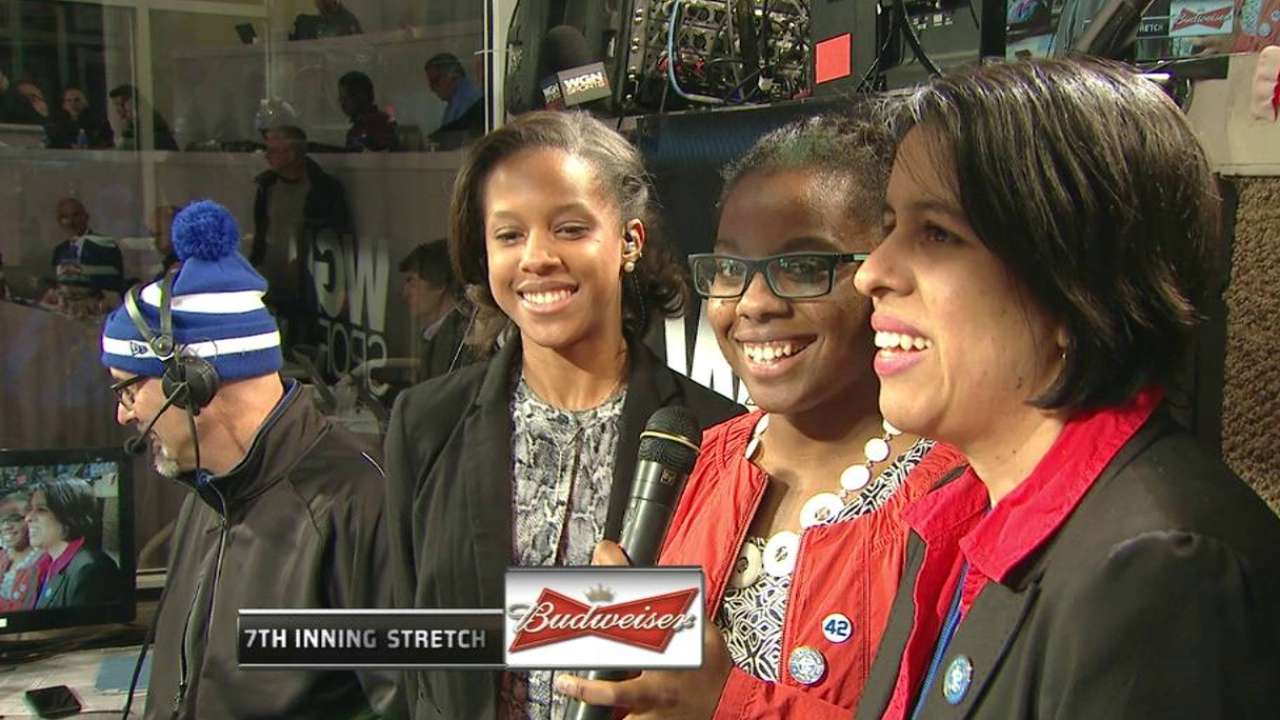 Those sentiments were echoed by Royals center fielder Lorenzo Cain, in Minneapolis to play the Twins and relishing the chance to wear that number.
"It's a special moment," Cain said. "It's a day we all celebrate wearing 42. We definitely will pay our respects.
"He was strong. I can't imagine what he went through. I can't imagine anyone having to deal with what he had to deal with."
In St. Louis, Cardinals manager Mike Matheny marveled at the historical and cultural significance of that moment 68 years ago.
"It was a turning point for our game and for our world," Matheny said. "He was courageous. And just following his life and the quotes that he had, he continues to make an impact on peoples' lives. That's success."
On Wednesday, in the spirit of Jackie, the Cardinals recognized Dr. Ralph Waldo Emerson Jones Jr., one of the first black scouts to work for the Cardinals.
And in San Diego, Padres pitcher Tyson Ross had honored Robinson in his own way, making a stop at the nearby Monarch School the day before Jackie Day festivities at Petco Park.
"It's a special day," Padres manager Bud Black said. "It's really cool that baseball does this. What Jackie Robinson meant to our sport, our country, goes beyond saying. I'm really proud to wear No. 42, and I know all of our players are, too."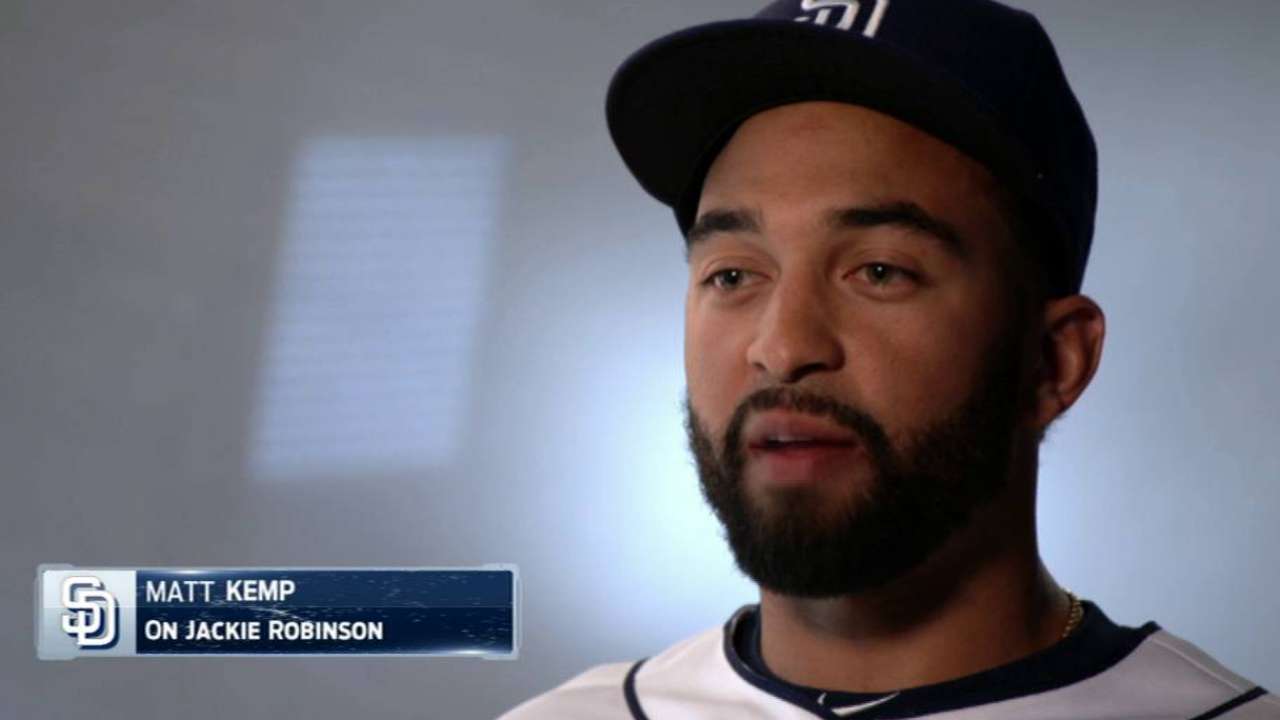 The defending World Series champions were, too.
The Giants had the latest start time of the night for a home game against the Rockies, and San Francisco outfielder Gregor Blanco, who was born in Venezuela, spoke of how he tears up while watching the film "42."
Reliever Jeremy Affeldt said seeing the 42 on the backs of the men playing the game he loves hits home on this day every year.
"I think, for me, what I see when I see that number is a man that stood for something greater than himself, and a lot of things that I do off the field are the same way," Affeldt said.
"I feel very thankful that he did what he did and he was able to go through the struggles and he persevered, and he made a breakthrough for a lot of great athletes to play this game."
Doug Miller is a reporter for MLB.com. Follow him on Twitter @DougMillerMLB. This story was not subject to the approval of Major League Baseball or its clubs.