Pederson robs Zunino of extra bases with diving catch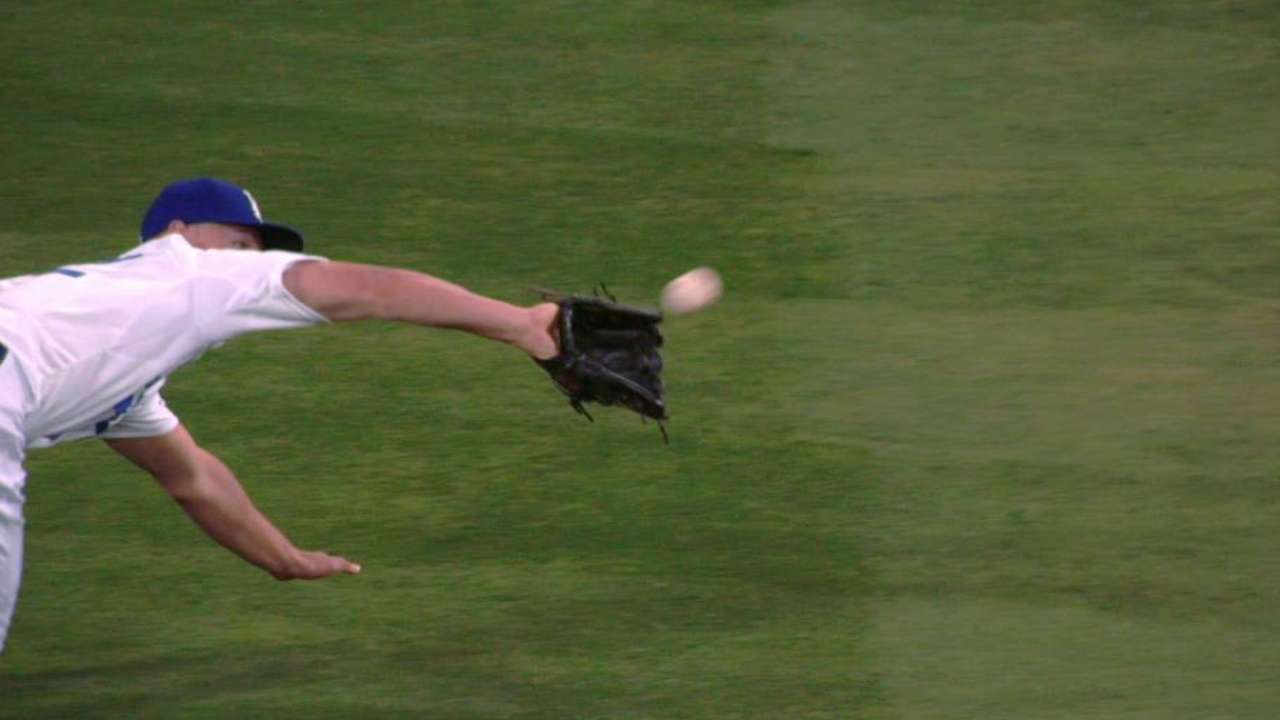 LOS ANGELES -- The National League Rookie of the Year award is named in his honor, so on Jackie Robinson Day, in the first Civil Rights Game hosted at Dodger Stadium, it was fitting that the Dodgers were led by their most likely Rookie of the Year candidate.
Center fielder Joc Pederson made a diving catch to rob extra bases, threw out a runner at the plate, singled in a run and walked three times as the Dodgers beat the Mariners, 5-2, to sweep the Interleague Series and extend their win streak to four games.
The Mariner on the losing end of both defensive gems was catcher Mike Zunino, and that only provided extra satisfaction for Pederson.
"He threw me out [trying to steal] twice," said Pederson. "You definitely know when someone gets you. He threw me out yesterday and got me out today. I'm glad I could return the favor."
Yes, there's also a fierce competitor in the 22-year-old, who has raised his batting average to .310 hitting in the difficult No. 8 spot in a Dodgers batting order that was missing outfielders Yasiel Puig (hamstring) and Carl Crawford (ankle).
But as their substitutes, Andre Ethier went 2-for-3 with an RBI and run scored, while Scott Van Slyke went 2-for-4 with two RBIs and a diving catch himself.
The web gems, though, belonged to Pederson. He had to make a long run and layout dive to backhand Zunino's second-inning drive to right-center. The next inning, he charged Justin Ruggiano's sharp single and fired a perfect one-hopper to catcher Yasmani Grandal to erase Zunino, who tried to score from second.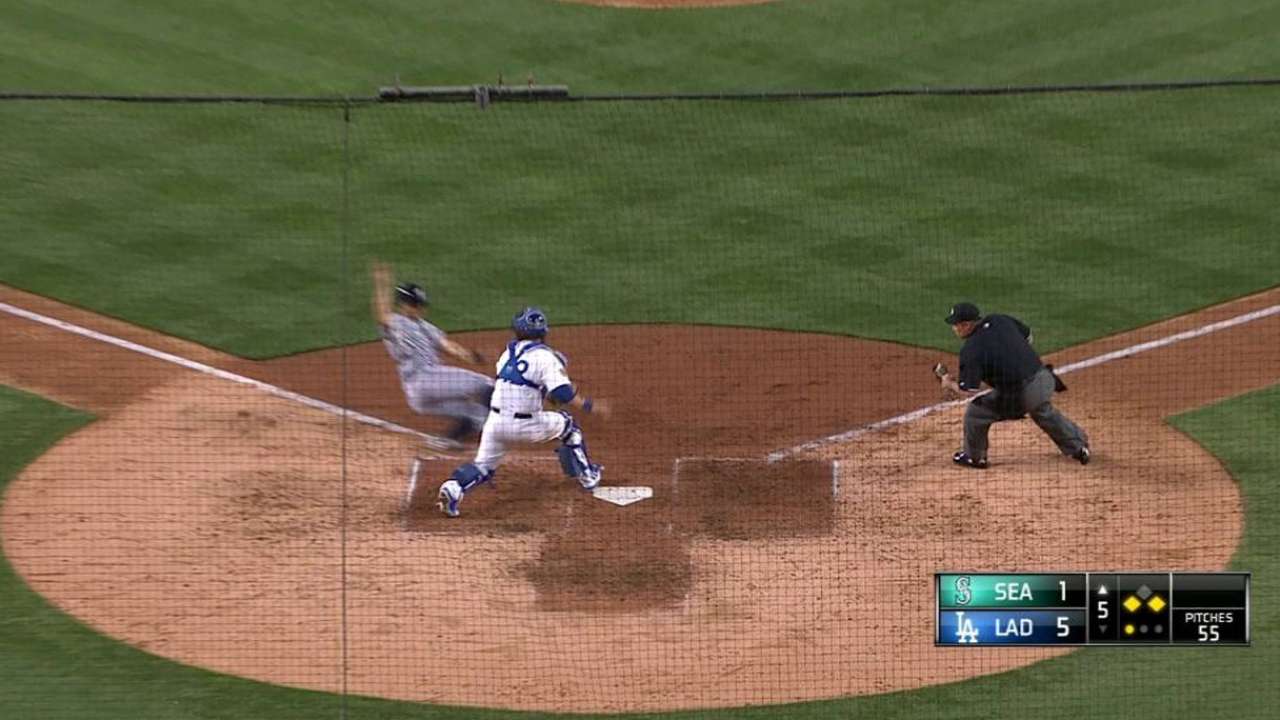 "We prepare before the game with [outfield coach] Lo Bundy, get the scouting reports to situate myself and he put me in position to make the play," he said of the catch.
"It's huge, because you know when you hit the ball and they rob you, you're pretty crushed. To do it is nice to do, it gives the team big momentum and gives the pitchers confidence that we can make plays behind them."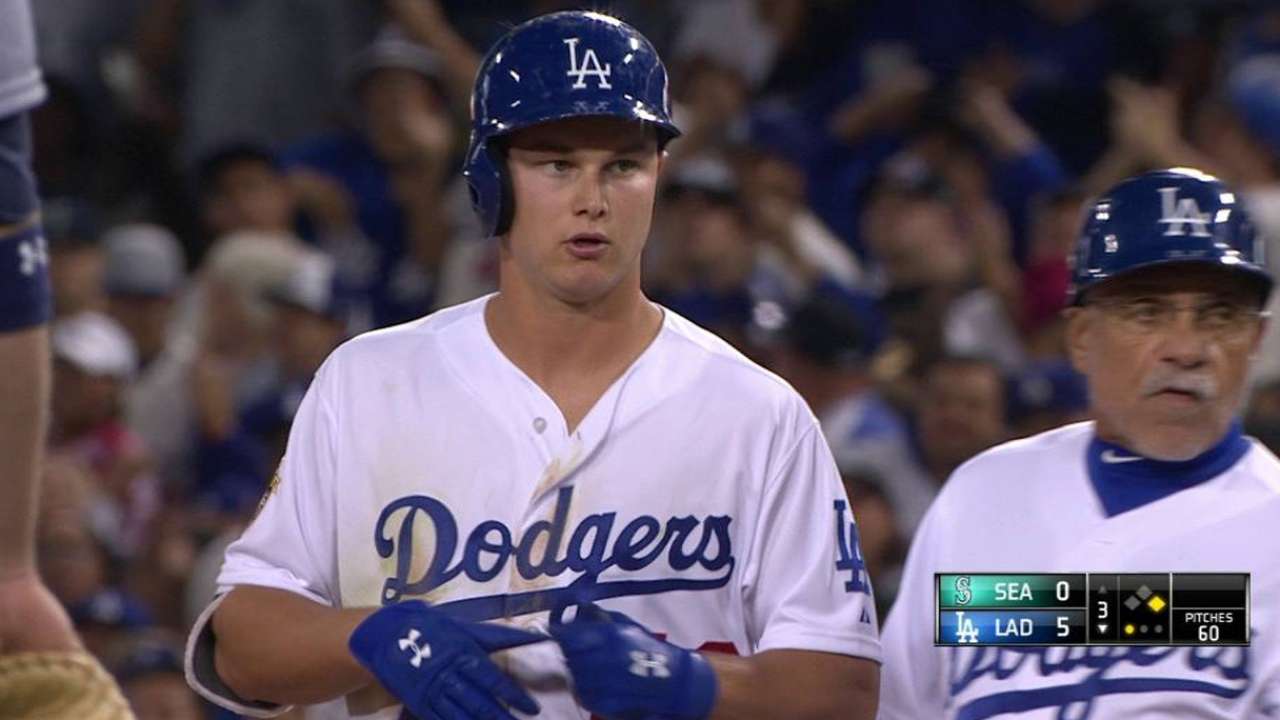 Both of Pederson's plays, and Van Slyke's diving catch of Robinson Cano's sinking liner, were in support of starter Brett Anderson, who in his Dodger Stadium debut, allowed only Nelson Cruz's fifth homer of the series until hitting the wall and leaving the bases loaded with no outs in the sixth inning.
The Dodgers' bullpen took over for the final four innings, even though manager Don Mattingly was constrained because Joel Peralta had upper back spasms and long reliever Juan Nicasio had pitched two innings in Tuesday night's walk-off win.
Paco Rodriguez allowed only one inherited runner to score in 1 1/3 innings. Chris Hatcher struck out both batters he faced in his second overpowering appearance. Pedro Baez was bailed out of a jam by a slick defensive play from third baseman Juan Uribe and J.P. Howell got the final two outs.
In the series, the Dodgers' bullpen pitched 12 innings, allowed one run and struck out 19.
Ken Gurnick is a reporter for MLB.com. This story was not subject to the approval of Major League Baseball or its clubs.