Meeting Rachel Robinson a special thrill for Rollins
Dodgers excited to honor franchise, MLB hero Jackie Robinson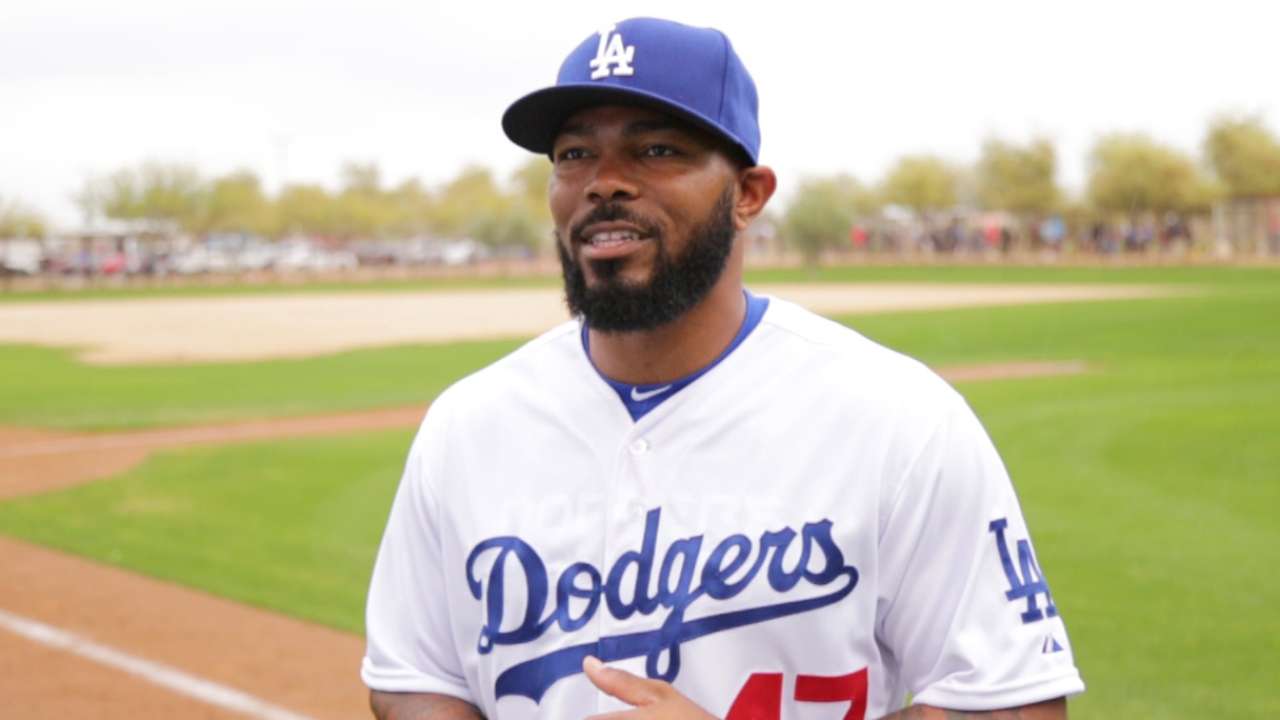 LOS ANGELES -- Everywhere you looked at Dodger Stadium Wednesday night there were Most Valuable Players celebrating the 2015 Civil Rights Game on Jackie Robinson Day. But Jimmy Rollins might have come away with the most valuable memory.
"The real cool thing for me was that I got to meet Rachel Robinson," Rollins said of Robinson's widow, an active participant in the pregame ceremonies at age 92. "I talked to her and thanked her for everything. It was a real honor."
Rollins said he has known author and educator Sharon Robinson, daughter of Jackie and Rachel, for many years.
"Sharon said, 'Let's go meet mom.' It was so cool," said Rollins.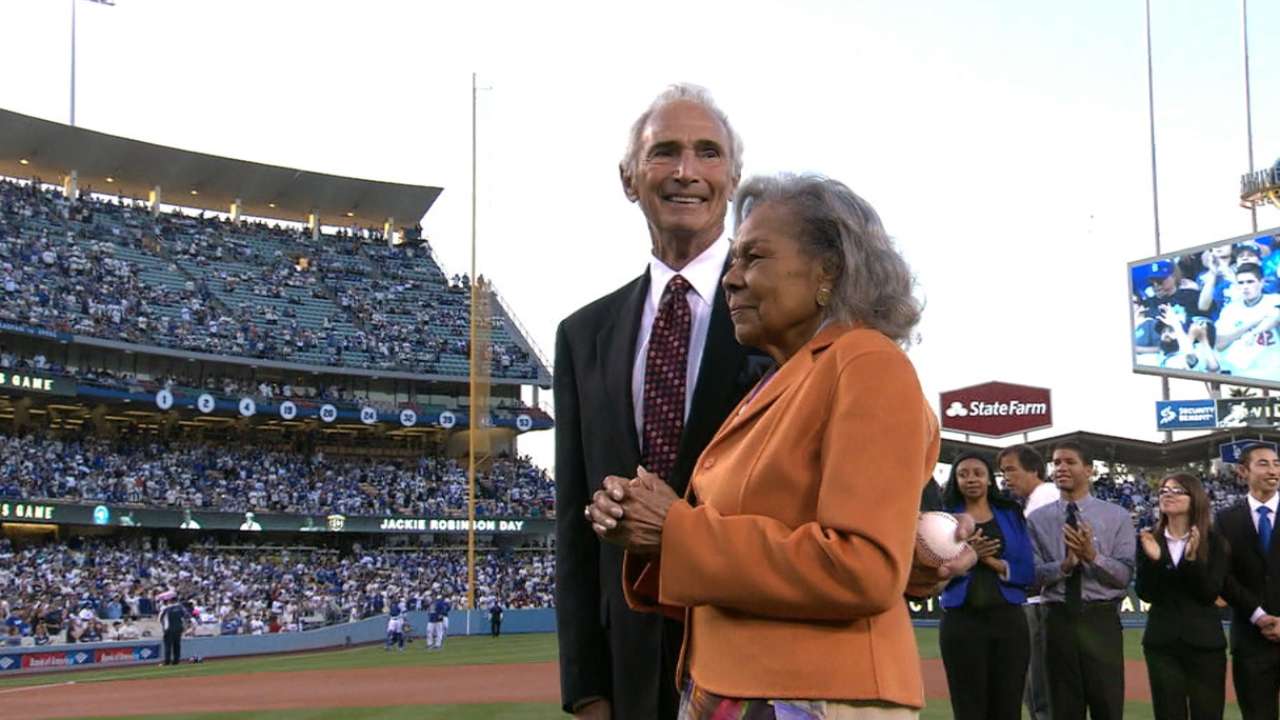 The list of MVPs at Dodger Stadium joining Rollins included teammate Clayton Kershaw, Hall of Famers Sandy Koufax and Frank Robinson, Dodgers legend Don Newcombe, manager Don Mattingly and owner Magic Johnson (NBA).
For Rollins, and for each of the new Dodgers, this was the first time they wore the No. 42 in the uniform of Robinson's team. The same was true of rookie Joc Pederson.
"It's a blessing, you know?" Pederson said. "It's the first time I put on No. 42. It's an honor to the man and what he went through for baseball and how he changed the game."
Mattingly, who has an appreciation for the ballplayers who preceded him, said hosting the Civil Rights Game was an organizational honor because of the ties to Robinson.
"We were a trailblazer as an organization and he was a trailblazer for what he did for the game," he said.
Carl Crawford's pregame role was to catch the ceremonial first pitch thrown by former NBA star Kenny Smith.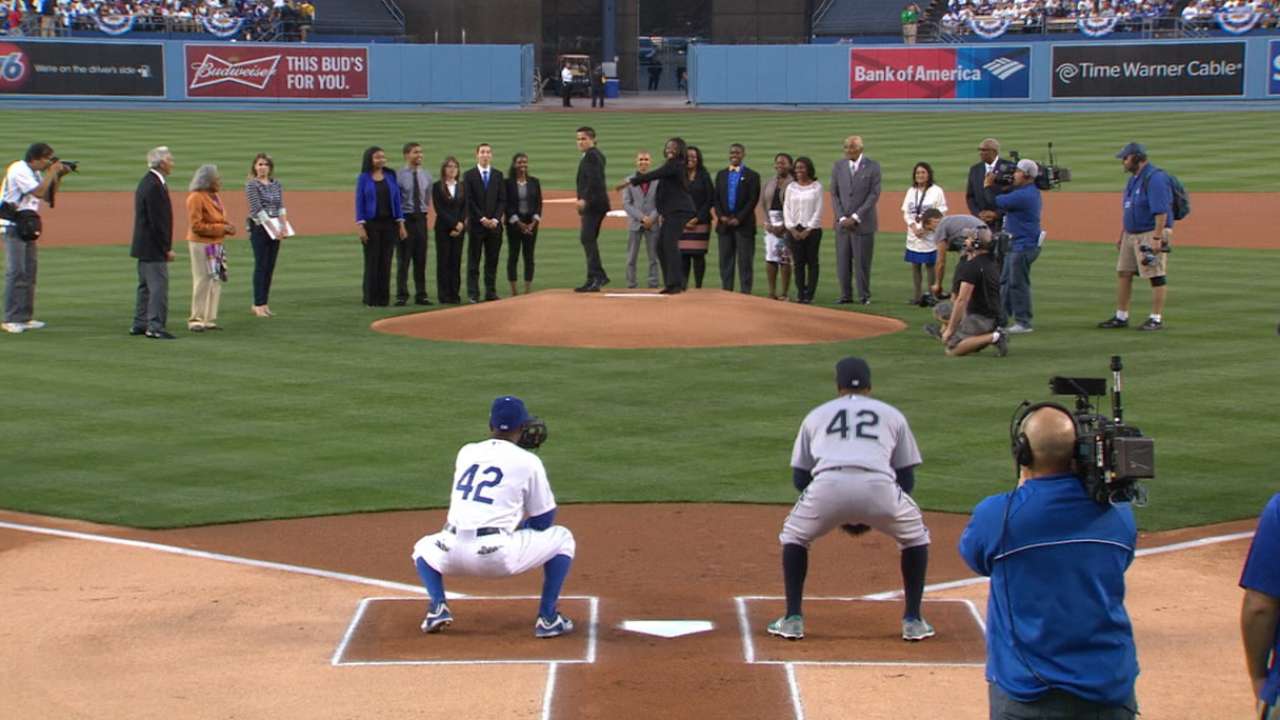 "It means a lot to me to be able to play on Jackie Robinson Day," Crawford said. "He stood up for civil rights and sacrificed a lot so guys like me could play. This game represents that, so I just want to play hard and remember everything that happened in the past. It's definitely an honor for me, to keep the tradition alive."
Ken Gurnick is a reporter for MLB.com. This story was not subject to the approval of Major League Baseball or its clubs.