MLB.com Columnist
Lyle Spencer
Magic's altruism teams well with Jackie's grace
Key to building up local community, Dodgers partner joins Civil Rights Roundtable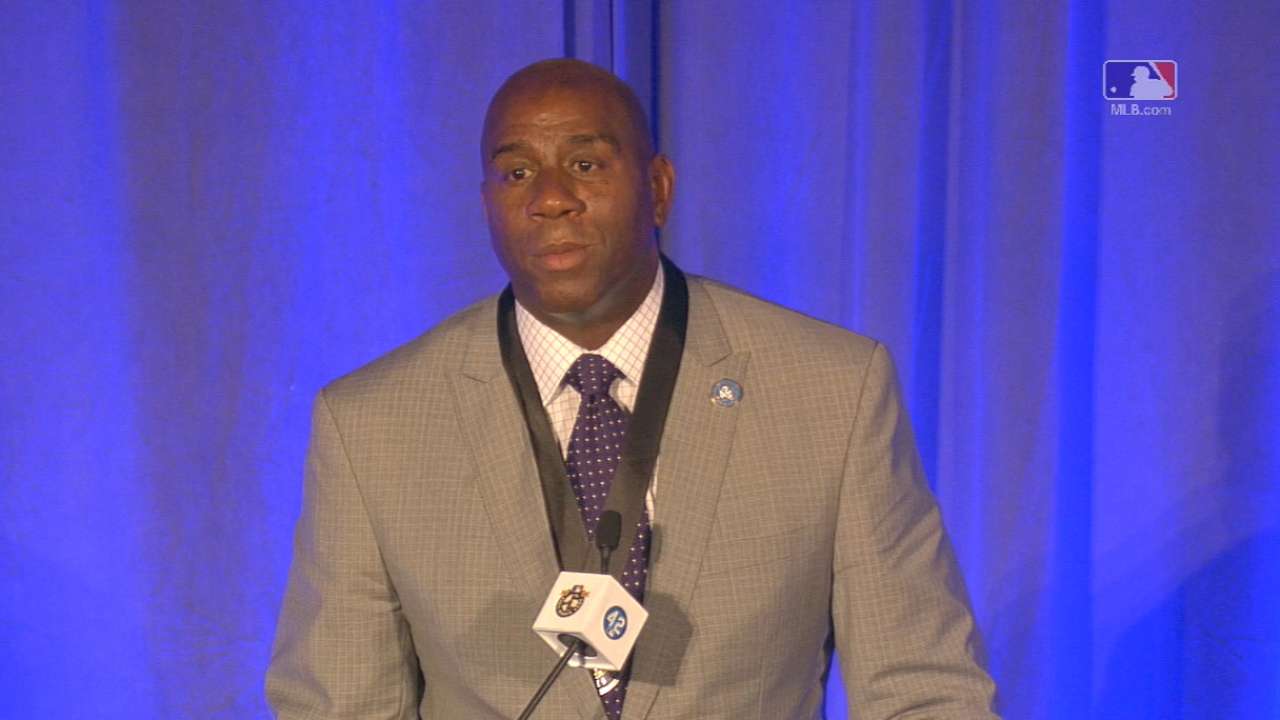 LOS ANGELES -- A man of many words with a long history of speaking freely and openly, Earvin "Magic" Johnson once paraphrased President John F. Kennedy in making a point about the secret to the success of "Showtime." It seemed perfectly fitting on Jackie Robinson Day.
"Ask not what your teammates can do for you," Magic said. "Ask what you can do for your teammates."
Over the course of his remarkable career as arguably the most popular athlete in the city's history, Johnson stood alone in his ability to make those around him better. In basketball history, perhaps only Bill Russell was his equal in that respect. In his second life as businessman, philanthropist, social activist and Major League Baseball owner, Johnson is lifting those around him in greater numbers than he ever imagined.
Accepting the 2015 MLB Beacon of Hope Award emblematic of the spirit of the civil rights movement on Wednesday amid the annual celebration of the life of Jackie Robinson, Magic expressed the philosophy that touches every part of his incredibly busy life.
"It has to be in your DNA," Johnson said, describing how the Dodgers have come to represent their city of diversity on the field and in the organization. "Look at our fan base. They're wonderful ... passionate about our team and city. We want to take it to another level on the field and in the community -- and we've done both."
The example set in Michigan by his hard-working father and loving, gracious mother took hold of Johnson at a young age and still runs through his veins.
Referring to the 68th anniversary of Jackie Robinson's 1947 breaking of the color barrier, Johnson, preceding the Civil Rights Game at Dodger Stadium, said: "I think he would be proud of the Los Angeles Dodgers and the diversity we have. I will not change. I will always be about making people's lives better."
Focusing his speech -- delivered at a downtown hotel -- on the values of family and teamwork, the all-inclusive Johnson praised wife Cookie, principal Dodgers owner Mark Walter, club president Stan Kasten, 2015 MLB Beacon of Life Award winner Dolores Huerta and Sharon Robinson, daughter of the great man.
There was also a moment of levity involving Frank Robinson, the Hall of Fame player who was honored on the 40th anniversary of his hiring as MLB's first African-American manager by the Cleveland Indians.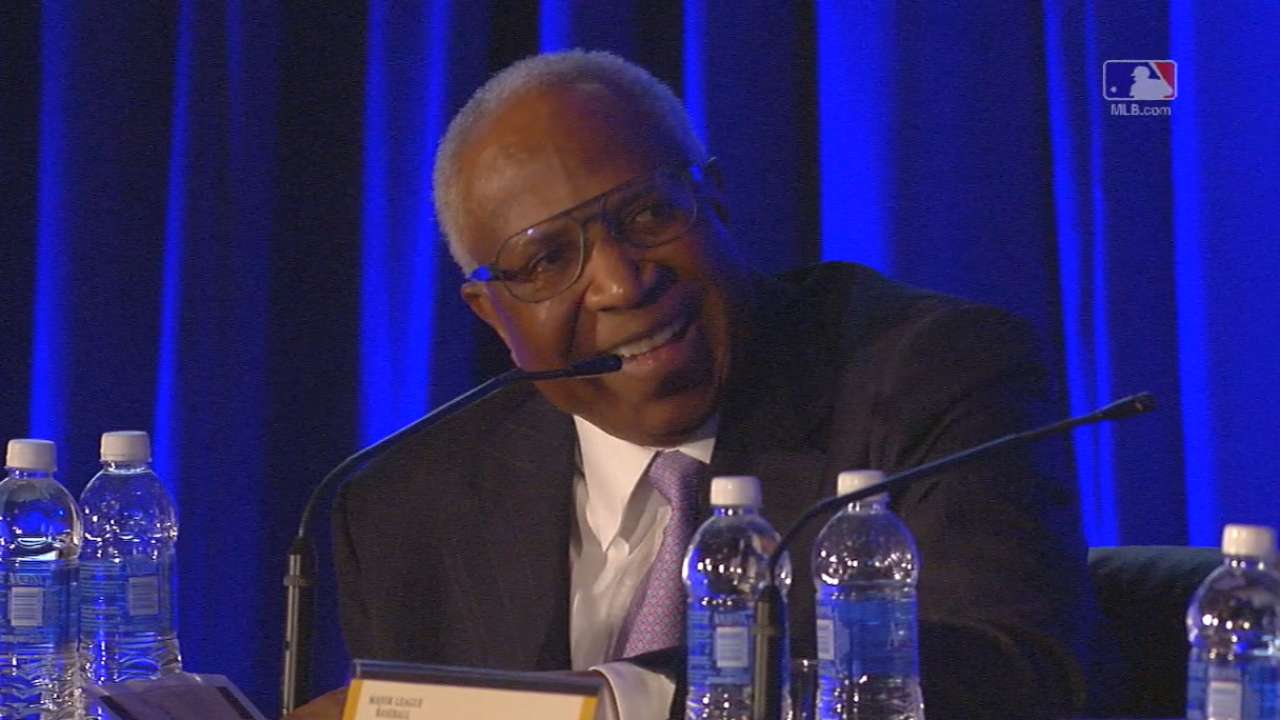 "We didn't really know each other well," Magic said of Robinson, a Lakers fan for decades. "Frank came to my home and gave me a jersey and signed it. I still have it."
Johnson glanced over at Robinson, who, with a bemused expression, replied, "You owe me one, too."
As laughter filled the room, Magic said, "You got it."
Listing Johnson's business and charitable ventures takes almost as long as running down his achievements as the greatest point guard ever to lace up sneakers for the five-time NBA champion Lakers.
Johnson is CEO of Magic Johnson Enterprises, launched in 1987, and presides with Cookie over the Magic Johnson Foundation, which reaches about a quarter-million people a year in promoting educational opportunities for youth and helping with healthcare for HIV/AIDS patients.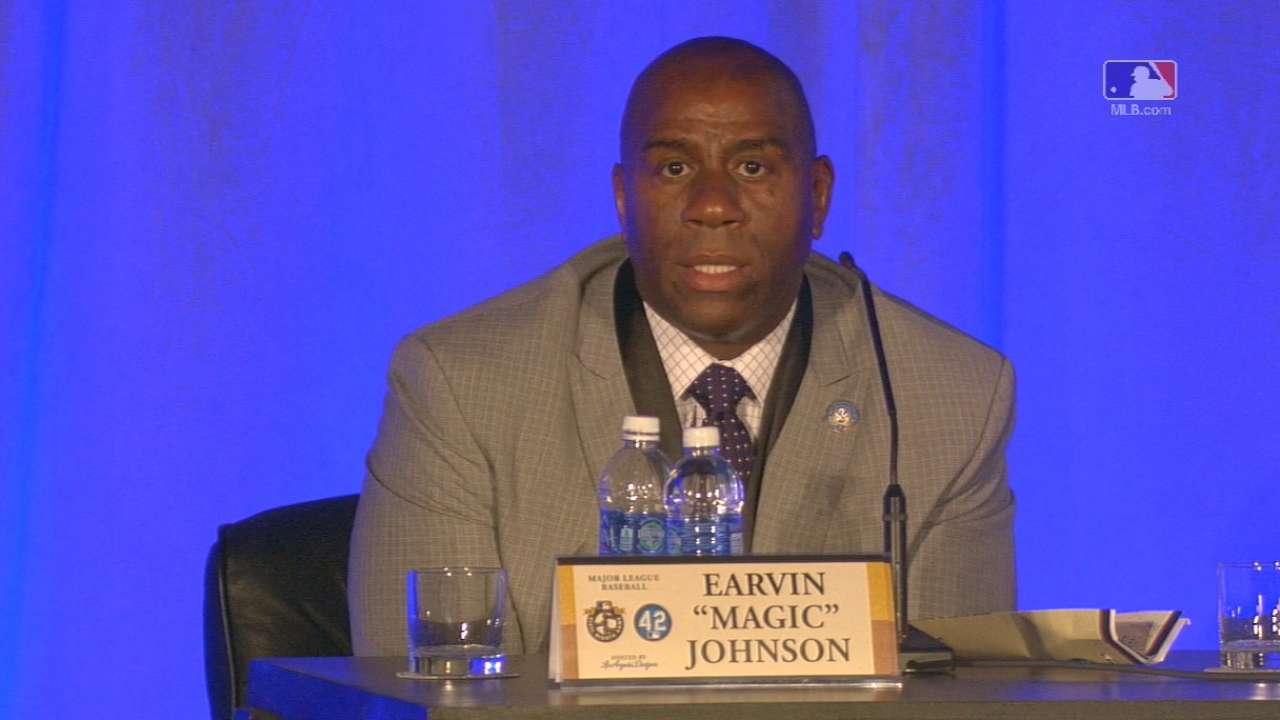 Johnson's many businesses in urban areas, notably the Magic Johnson Theatres, brought employment opportunities along with entertainment venues to locales widely avoided by mainstream corporations.
"If I build it," Magic said of his chain of movie houses, invoking another familiar expression, "they will come."
Johnson has built and built, driven personally to revive the inner cities through economic avenues.
Huerta, co-founder the United Farm Workers with Cesar Chavez and a Presidential Medal of Freedom recipient, said she is a baseball fan because of Jackie Robinson and his far-reaching impact on society at large. Johnson, she feels, is carrying on the struggle to care for those who need it most "by putting resources in our youth -- our youth are our future."
To Sharon Robinson, with a beaming Magic leaning down to get closer to her level, went the distinction of draping the Beacon of Hope medal around the head of the first African-American team owner in the Major Leagues.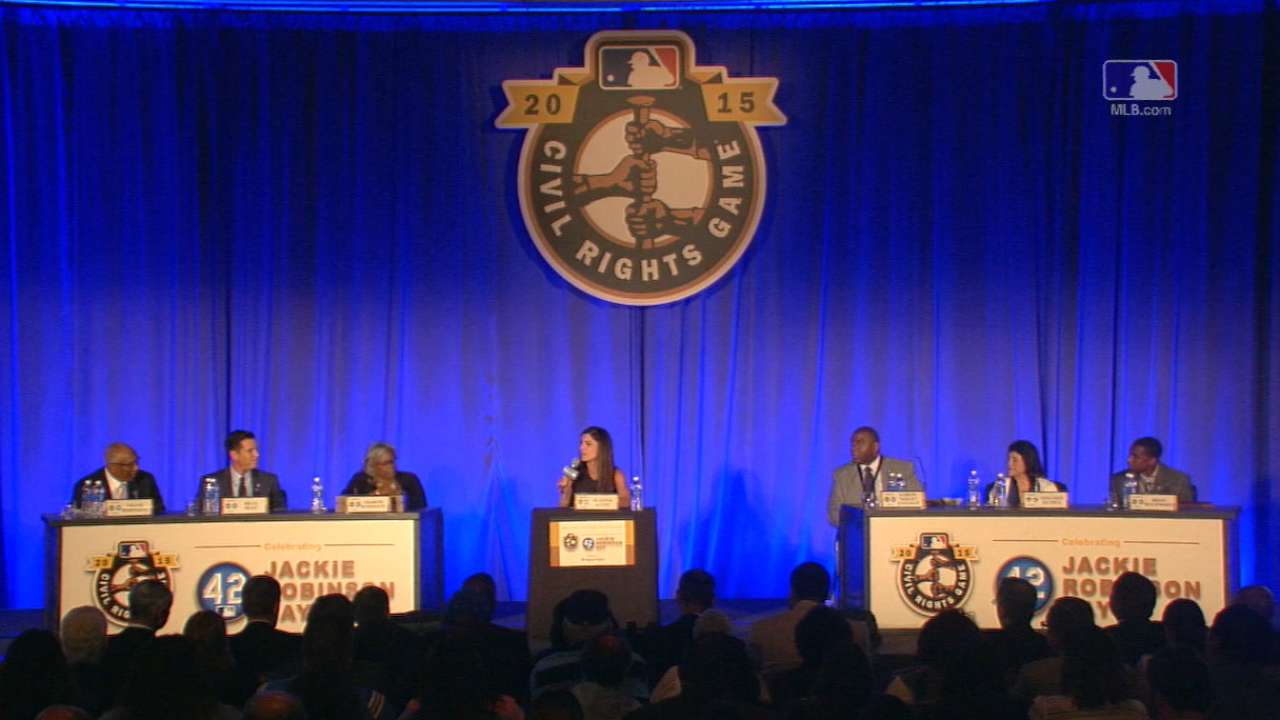 "I didn't get to meet or know Jackie," Magic said, "but what a hero. He paved the way for a man like me to do what I do today. With no Jackie Robison, there is no Magic Johnson as owner of the Los Angeles Dodgers. It's not only about baseball; it's about this great country of ours and the opportunity it gives.
"I'm still amazed a man had to take that much hatred and never fought back. That's the type of class I want to have as a man."
Lyle Spencer is a national reporter and columnist for MLB.com. Follow him on Twitter @LyleMSpencer. This story was not subject to the approval of Major League Baseball or its clubs.