Statcast provides best look at Springer's grab
Astros right fielder robbed Rangers' Martin of a walk-off grand slam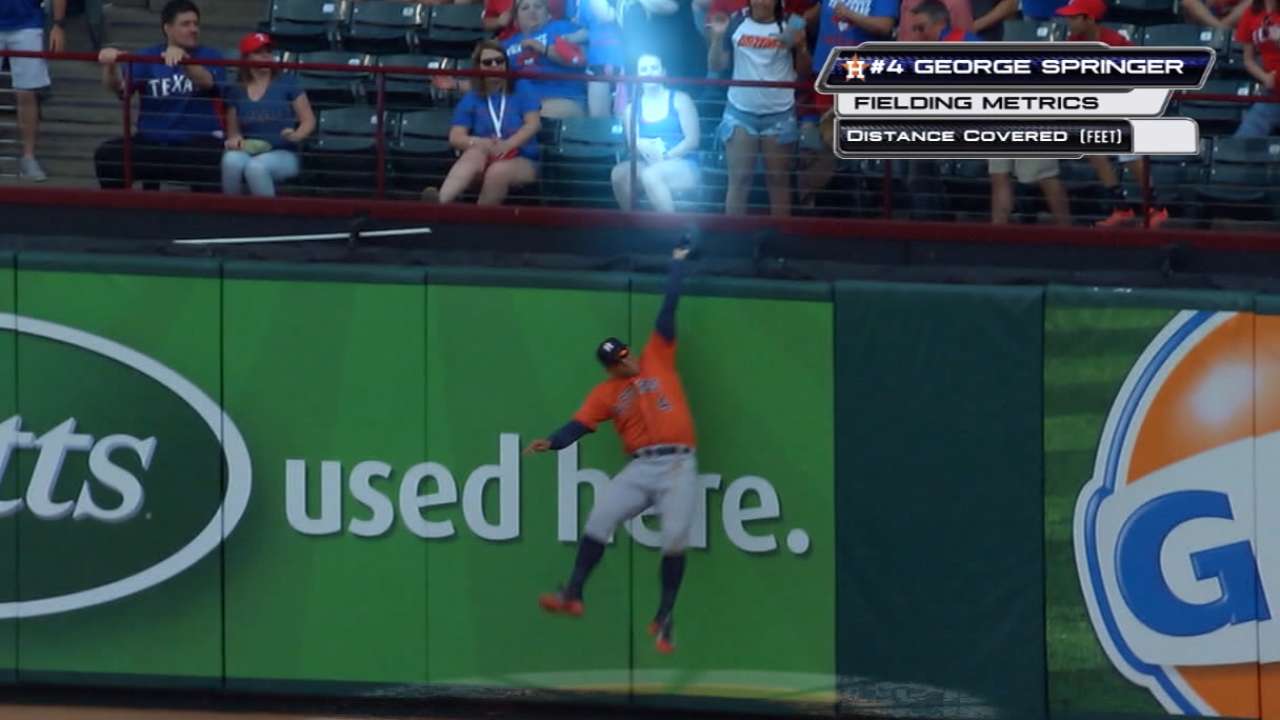 Everyone who saw Astros right fielder George Springer's catch to rob Leonys Martin of a walk-off grand slam in the 10th inning in Arlington on Sunday knows how spectacular the play was.
And now everyone knows why.
Thanks to Statcast, the revolutionary technology that will be making its 2015 debut during Tuesday's MLB Network Showcase game between the Cardinals and Nationals, analysts and fans can break down just about every move made on a baseball field, get the pertinent data and crunch the numbers into explanations for the previously unexplainable.
"This is like Christmas morning, except it's every day of the year," MLB Network insider Tom Verducci said, introducing the Statcast-enhanced video of Springer's play. "It's better than a BB gun."
Verducci walked viewers through the play, which began on a pitch by Astros reliever Tony Sipp. Statcast provided the actual velocity of the pitch, the perceived velocity and the spin rate; and once Martin swung, it showed the exit velocity off the barrel of the bat (91.4 mph) and launch angle of the ball (73.9 degrees) to help explain how the ball carried over the wall.
Of course, it didn't go far enough over the wall, and Springer was the reason for that.
Statcast showed that Springer's unbelievable first step to the ball was 0.59 seconds, his acceleration was 3.19 seconds and he hit a maximum speed of 17.7 mph while running back to catch up to it. Even more impressive were the Statcast-revealed facts that Springer traveled a distance of 93.7 feet in right field to jump up and catch the ball, and that amounted to a route efficiency percentage of 99.1.
Not bad at all -- Springer and Statcast, too.
"We used to just eyeball that and kind of guess," Verducci said of the incredible play. "Now we've got the data to show it. … It's already changing the game. Major League teams are using this to evaluate players, even to evaluate Draft picks."
Doug Miller is a reporter for MLB.com. Follow him on Twitter @DougMillerMLB. This story was not subject to the approval of Major League Baseball or its clubs.